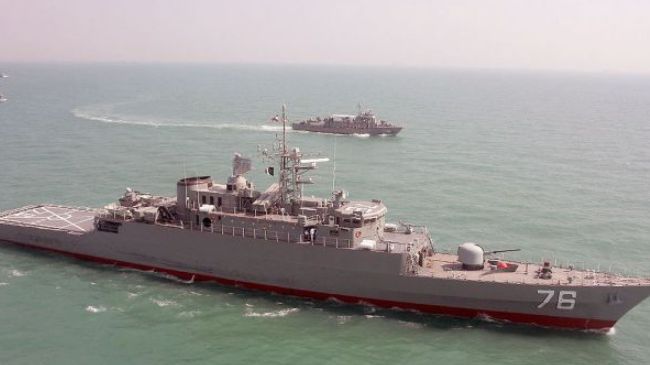 Iran's Navy will unveil a domestically-manufactured destroyer capable of carrying helicopters and launching missiles in the near future, an Iranian commander says.
"A domestically-built destroyer will soon be unveiled which can carry helicopters and fire missiles," Deputy Navy Commander Rear Admiral Hossein Khanzadi said at a Friday ceremony.
Khanzadi pointed to the Iranian Navy's remarkable achievements in acquiring the know-how for the production of its required military equipment, underlining the need for maintaining the security of maritime borders, as they constitute one-third of Iranian borders and 93 percent of the country's transactions are conducted through the sea.
Meanwhile, the Iranian Navy recently announced plans to unveil the country's state-of-the-art Damavand destroyer, equipped with advanced sea-launched drones as well as cruise missiles.
The Iranian Navy launched its first domestically-built destroyer, Jamaran, in the waters of the Persian Gulf in February 2010.
The 1,420-ton destroyer is equipped with modern radar systems and other electronic warfare capabilities and has a top speed of up to 30 knots and a helipad.
The vessel, equipped with torpedoes and modern naval cannons, also features highly advanced anti-aircraft, anti-surface and anti-subsurface missile systems.
Damavand, however, is longer but lighter than Jamaran destroyer and is capable of tracking and targeting aerial, surface and sub-surface targets simultaneously.
It is equipped with a cruise missile system, torpedo launchers, 40-mm and 76-mm cannons, radar processing systems as well as tactical surface and aerial radars.
Iran's Navy also launched the domestically-developed Jamaran-2 destroyer, which features cutting-edge navigation equipment and complex defense systems, in the Caspian Sea near the northern port city of Bandar Anzali on March 16, 2013.
On Sunday, Iranian Navy Commander Rear Admiral Habibollah Sayyari expressed Iran's preparedness to export its products to the naval forces of other countries.
–
Source: http://www.presstv.ir/detail/2014/11/28/387906/iran-to-unveil-advanced-destroyer/