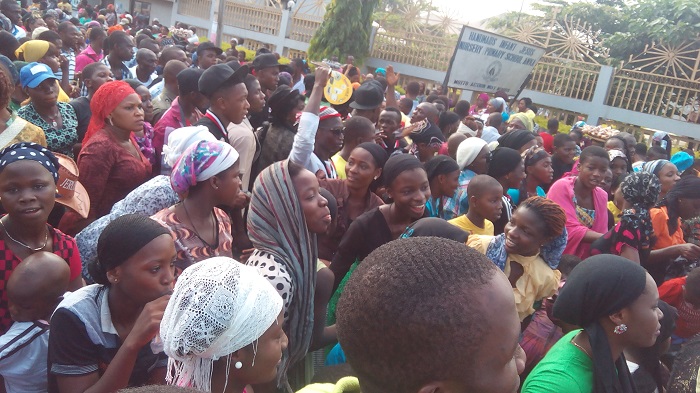 BY ABUCHI IFESINACHI, AWKA
As the Nigerian Catholics join their counterpart all over the  world to celebrate the feast of Christ the King otherwise known as Corpus Christi the Catholic bishop of Awka Diocese Most Rev. Paulinus Ezeokafor has reminded Christians of the supremacy of Jesus Christ over every other king saying that no matter what happens Jesus Christ remains the redeemer of the world.
Bishop Ezeokafor who stated this while interacting with newsmen at St. Patrick's Catholic Cathedral, Awka explained that the actual period for the celebration was in June every year  but do to excessive rainfall in Nigeria at the time the universal Church decided to shift it to November when the rain must have been subsided.
He however said the celebration which would start with a procession by the adherents from their various parishes to the Cathedral where they would all assembled needed rain – free weather adding that it was done to remind the people of God about Christ ' s triumphant entry to Jerusalem.
'Today Sunday 23 November 2014, is the date we set aside for the celebration Corpus Christi procession. Actually this procession would have taking place in June, that is the proper time. We now do it as the feast of Christ the King in November .
' While in other parts of the world it is done in June because of the rainy season in Nigeria, the universal Church said no, let us remove it because it is something we do in the open ground and it involves movement of people.
'You know Christ came into this world suffered, died and was buried and then he rose again and the Church continues , 'Bishop Ezeokafor explained.
He recalled that Christ rode on a horse to enter Jerusalem as the King and the Church recognizes Him as the King of the Universe noting that as Christians Christ remained their King and redeemer.
Bishop Ezeokafor enjoined Practicing Catholics to turn out en-masse to Herald the arrival and triumphant entry of Jesus Christ to Jerusalem and for them to always regard Him as the undisputable King of kings noting that the Bible stated that in the name of Christ Jesus all knees must bow.
The man of God, further said even though Christ had departed the world but he was still present among them in the Holy Eucharistic adding that the Universal Church deemed it wise to always commemorate His historic and eventful stay on earth.