The Media Office
Senator Aziz Gubernatorial Contest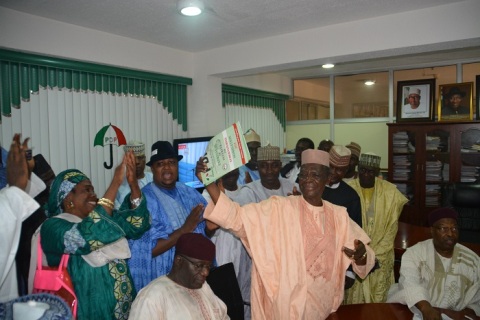 Press Release
The dawn of change is upon us and once again we have the unique opportunity to reach for this change through the ballot box as we prepare to vote in the forth coming general elections.
It is my intention to take a stance for the Kaduna State I love and believe can attain true greatness but .. only if we are ready to make an attitudinal change. This change has to begin within each and everyone  of us and it starts with the realignment of our thoughts and actions for the greater good of the collective rather than the individual.
I believe I can be that  catalyst for Change and that is why I am here today to demonstrate it by picking up this Expression of Interest form which is a formal indication of my intention to serve the people through the exalted, yet noble office of the Governor of Kaduna state.
Recently someone is purported to have said "PDP in Kaduna State is gone, it is history." I laugh! Let us show the likes of this person that we still dey DARAM and we are here for the long haul.
Never again shall a PDP led government in this state be called 'grossly incompetent, clueless and a non-performing government which is making people poor'. Our party has no business with poverty and this can be seen from the giant transformational strides of President Goodluck Jonathan with able support from our own son Vice President Namadi Sambo in whom we pride.
Let us go back home today, dust off our voters registration cards or go and collect it from the polling unit if you haven't done so to arm your selves for this battle for which we are assured of victory by the grace of God almighty for I am tested, tried and ready to lead our people and party to victory. Aziz said while displaying his gubernatorial form to hundreds of his supporters in Kaduna shortly after he returned from Abuja. The forms were handed over to him by the National Organising Secretary of the PDP, Abubakar Mustapha.
Abubakar Mustapha said the party has resolved to have a level playing ground for all aspirants. He said Aziz always play politics without bitterness adding that as a man of God, who believed in peace, should continue.
Sen Haruna Zego Aziz, Gubernatorial aspirant, Kaduna State
–
Loading ...