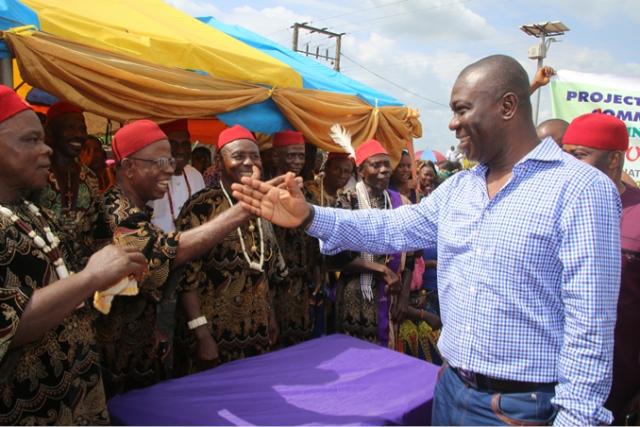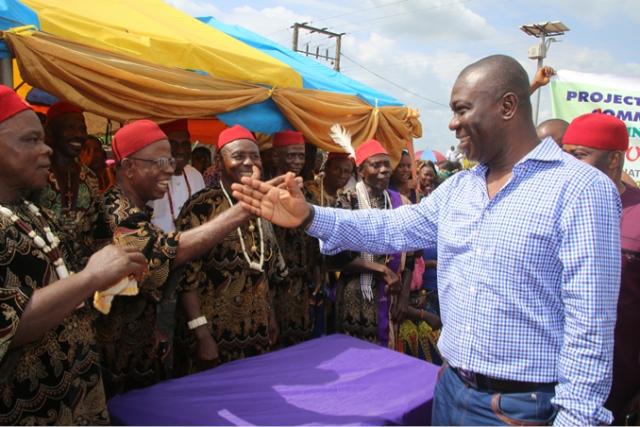 The kinsmen of Governor Sullivan Chime in Udi Local Government Area of Enugu State at the weekend trooped out en masse to receive the Deputy Senate President, Chief Ike Ekweremadu whom they endorsed to continue his quality services to the people of Enugu West Senatorial zone come 2015.
Senator Ekweremadu who was accompanied by Peoples Democratic Party, PDP, stakeholders and supporters to Udi, which is the hometown of Governor Chime for a condolence visit over the demise of their illustrious
sons, Obiora  Onyia and Emma Onyia, was overwhelmed by the massive turn out of the natives who turned the event to a carnival.
Several dancing troupes performed as they sang solidarity songs for Senator Ekweremadu who was applauded for the numerous development projects he had executed in Udi area also known as Umuneke clan, as they assured him of their support to enable him continue his good works at the Senate.
Chief Mike Ugwu, a member of House of Representatives in the Second Republic and a native of Udi, said that Ekweremadu had the capacity to be a Senator, unlike Governor Chime, who is angling to take the Enugu West senatorial seat from him.
He said: "I am a stakeholder of PDP in Enugu West and therefore I know everything about PDP. What I'm saying is that Ekweremadu has the capacity of being a senator. Sullivan Chime hasn't got the attribute, what it takes to be a Senator. I was a member of National Assembly. You have to talk to people; you have to lobby to get projects to your own zone and somebody who have been executive governor, who is very arrogant, should after eight years have a rest, because he will just be resting in the National Assembly. He will achieve nothing.
"Ike Ekweremadu has performed very well. He has worked hard and that is why we are supporting him."
Also speaking at the occasion, head of the Transformation Ambassadors on Nigeria, TAN, Enugu State and PDP Stakeholder, Chief Anayo Onwuegbu said extoled Ekweremadu's performance.
 He said: "Ekweremadu is one who fully embraced his opponents, we are speaking in the domain of my good friend and brother (Chime) whom I was told only yesterday that he is aspiring for the office of the senate of Enugu West district which is presently being occupied by the Deputy Senate President.
"I think it is historical that the people of Umuneke decided to come out en mass like this to sound it loud and clear that they want to identify and endorse Deputy Senate President against his opponent who happens to be the Governor of Enugu State and it is historical because it is not normal, that's the importance of today."
In his speech, Dr. Nnamdi Ene, a native of Obinagu Udi, said  that the massive turnout at the occasion was a clear indication that Senator Ekweremadu has performed at the Senate and he was loved by his constituents.
"The people of Udi got the information, just a rumour that their senator will be coming on a condolence visit and they all thronged this place to show their solidarity and with this number of people gathered you can imagine what will happen by the day he will be coming on a campaign; that shows that the senator is doing very well and that he is love by the people and they will want him to go back to the senate", he enthused.
The Deputy Senate President while addressing Chime's kinsmen announced that he would set up a master plan for comprehensive development of Udi local government, which will make its major commercial centre, 9th Mile, a hub of economic activity in the South East zone.
Senator Ekweremadu declared that the master plan would be named "Obiora Master Plan" in memory of the deceased Obiora Onyia, saying Udi people have not received fair share of infrastructural development, good governance and youth empowerment that they deserve.
"Udi is the cradle of development in Igbo land where development started, so we are here to pay respect to the great people of Udi, who helped us to gain independence as Enugu people; They gave Wawa meaning, they made us proud because among the Igbos, you cannot speak about the judges without speaking about people like Justice Onyeama, Justice Nnaemeka Agu, Aniagolu and of course the late C. C. Onoh.
Earlier, leaders of the Peoples Democratic Party and elder statesmen from Udi local government area including; PDP chairman in Udi LGA, Hon Uche Ogbodo, Coordinator of Transformation Ambassadors of Nigeria (TAN) in Udi LGA, Hon. Emeka Ameka Aneke, Hon. Garry Ene, Dr. Nnamdi Ene, Youth Leadrer in Enugu West senatorial zone, Joe Anieze, Women Leader, Hon ( Mrs.) Ifeoma Azike and Chief Sam Ene had endorsed Senator Ekweramadu for another term in the senate.
They said that Enugu state and Igbo in general would lose should Ekweremadu not return to the senate, especially given his impressive performance.