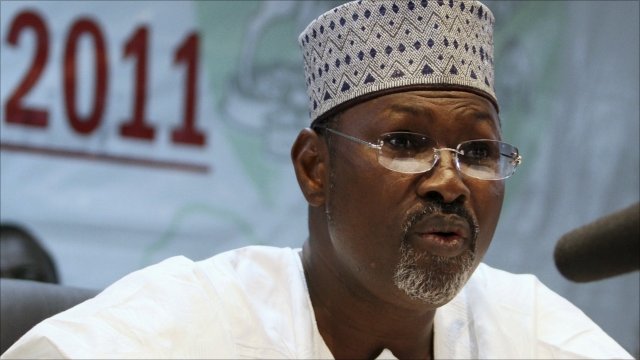 There are many symptoms that manifest the breakdown of the Nigerian
state. They are in form of status arrogance; repressive grandstanding,
peddling of falsehoods, corruption, undemocratic militarization of the
political space,  insecurity and electoral heist.

Some of these major symptoms are either spiritually exorcism or
through practical policy redemption. Now, the Independent National
Electoral Commission, INEC and its minders are primarily saddled with
the task of rescuing Nigeria state. There is no doubt that the
electoral body is incumbent with the responsibility as the crux of our
democratic nations.

Prof Attahiru Jega and the Independent National Electoral Commission,
INEC has some questions to answer. The electoral body has to explain
to Nigerians concretely – and we reserve the right to know – how true
or otherwise the allegations that Ekiti State Gubernatorial election
of June 21 was photo-chronically rigged in favour of the PDP. It has
to explain to Nigerians that the August 9th gubernatorial election in
Osun will not be sullen by unwanted crises of militarization, votes
buying, and incredibly supersonic rigging through pre-thumb-printed
ballot papers.

It seems that the issue of militarizing election in Nigeria has become
a tradition and has been permanently shoved down Nigerians throats by
President Goodluck Jonathan's Presidency. The people of Osun woke up a
few days ago to encounter armed and dreadful looking masked men of the
Department of Security Services, DSS, shooting sporadically into the
air. This show of force should be demonstrated in Sambisa forest where
Chibok girls have been held over the last four months. The
power-besotted Presidency has one thing in mind: intimidation and
muffling of the people of Osun's voices comes August 9th.


There is corollary to the deployment of these unwashed security
predators. Prof Jega has argues that the only way to achieve free and
acceptably credible election is the militarisation of Osun State; just
the same way Ekiti electorate and opposition party loyalists were
hounded and brutally repressed and assaulted by the security
apparatus, prior, during and after the June 21 governorship election.

Prof Jega's argument is simply clear – but ultimately convinces
himself and his paymasters. His argument fails to address two major
flaws that are basically the ethos of democracy. First, INEC refuses
to consider the sheer number of people who will stay at home and be
disenfranchised on August 9th than to allowed themselves to be treated
like common criminals for trying to exercise their civic rights as
citizens of Nigeria.

Without further argument, it is the Peoples Democratic Party, PDP that
will be profiting from a militarised Osun election. Being the
government at the centre, which is largely ascribed – and practicably
so – as the owner of security apparatus in the country, it stands a
chance of reaping from that thoroughly misapplied security forces.

This show of force was missing when the DSS was almost completely
routed in the Boko Haram jail break attempt a few months ago in Aso
Rock in a gun battle that last for several hours. It took the military
intervention to restore normalcy to the abode of the DSS on that
fateful. The security apparatus must not be used as political tools to
achieve predetermined political gains.

We have seen the bizarre and unprofessional conduct to which the
military and other security agencies were put to during the Ekiti
governorship election. This accounts for why the Osun state's chapter
of the PDP is the most vehement in collusion with INEC to repeat Ekiti
military invasion in Osun.

The second flaws in the Prof Jega's argument of military incursion in
Osun is that they will screen out political violence and forestall
probable insurrection in the invent that victory is swinged in favour
of their preferred and PDP candidate. Of course, it would be naive not
to think that the PDP, Presidency and INEC would want a free and
credible election in Osun. The rigging of Osun State election is part
of the larger agenda of President Goodluck Jonathan to wrestle South
West from the All Progressives Congress, APC.  The calculation is
that, once governor Rauf Aregbesola is out of the way as the
emblematic symbol and militant personage of the APC, the 2015 election
would be a jolly ride for President Goodluck Jonathan.

There are few questions for the INEC to actually ponder about: Is it
true that the ink used by INEC during voting was not an indelible ink
as provided for by the Electoral Law? Is it true that vanishing ink
was used in all the polling units across Ekiti State? Is it true that
the Ballot papers used were photo-chronic and thermo chronic, and
glossy in nature and as such they could not retain ink beyond the
programmed time?

Were the "photo chronic" and "thermo chronic" ballot papers already
programmed to favour the PDP candidate used in the Ekiti election?
Were there instructions to the Presiding officers in all the Polling
units throughout the Local Government Areas in Ekiti State to
carefully and strategically fold the Ballot paper into two,
vertically, to activate the concealed and programmed thumbprint
impressions on the Ballot papers?

The extremely respectable Ekiti people who are the unfortunate victims
of PDP's unprecedented electoral debacle are yet to come off it.
Though, it happened in Zimbabwe's 2013 Presidential election where
election of that year was photo-chronically rigged. The Ekiti election
of 21, June 2014, was clearly a test-run of what is to come in both
Osun State and the general elections of 2015. It still remains a
mystery that a sitting, performing governor – Fayemi  who outperformed
all Ekiti governors, dead or alive – not winning a single Local
Government area.

INEC seemingly got away with the photo-chronically rigged Ekiti
election because the U.S embassy in Nigeria, have commended INEC for
conducting what they call a transparent election in Ekiti in the face
of odious military intimidation and other scientific rigging. The U.S
jumps to this conclusion because it is used to barefaced elections
riggers who snatch ballot box, visitation of mayhem and murder which
were obviously not the case this time round in Ekiti.

There is no election since the beginning of the present Fourth
Republic that the PDP did not rig. In 2007, the governorship election
and the rerun which the Appeal Court held were both criminally stolen
by the PDP in Ekiti, is a case in point.
Who can be certain that the transfer of Osun State Resident Electoral
Commission a few weeks to the election was not meant to pave the way
for another with Omisore's insistence, and INEC's subsequent
acquiescence, in the  transfer of the state's Resident Commissioner?

This is one reason INEC must prove to Nigerians that the use of
indelible ink in the Osun election as specifically stipulated by the
Electoral Law has not been jettisoned. Osun electorate and Nigerians
must hold INEC accountable to prove that it didn't use the alleged
photo-chronic in Ekiti State and not about to using it in Osun
election.

There would be no excuse in State of Osun, as regards with "Stomach
Infrastructure" for a governor who puts in place welfare scheme for
the elderly in the state, paying N10,000 to the Osun elders; who have
employed over 40,000 youths through O'YES, Osun Youths Empowerment
Schemes from which the Federal Government adopted its YESSO programme.

No Osun citizenry can deny the fact that Ogbeni Rauf Adesoji
Aregbesola has not positively touched the lives of the very ordinary
people through the numerous initiatives that were aimed at restoring
Osun back  from its ruins. There is no way Osun people would suddenly
forget Ogbeni's universally celebrated school feeding programme; the
over three thousand women whom he employed to prepare the highly
nutritious meals for the school children, the fertilizers and farm
inputs which the APC Administration has subsidized to the tone of N6
billion in the last three and a half years and several other
empowerment schemes of the governor.

Osun people have seen the PDP for what exactly it is: an ensemble of
political desperados and power mongers who would stop at nothing to
win elections. This has been demonstrated by the distribution of
kerosene and expired 2.5kg bag of rice in some parts of the state. The
people of Osun are united on their part to continues development. No
about of stolen money and bags of rice can change that, comes August
9th.


Erasmus Ikhide wrote in from Lagos, Nigeria

Tell : 23480 5622 5515