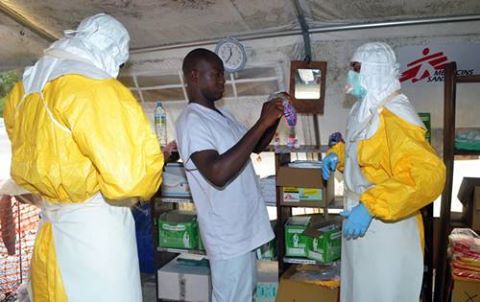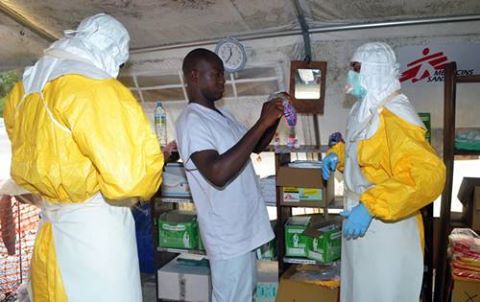 As Nigeria battles its worst case of an epidemic outbreak in recent history, its worth pointing out some certain issues concerning the deadly virus called Ebola. These issues shouldn't be allowed to go under the radar as our failures has helped in further making Nigerians realise the helpless situation they are caught in, living in a country like Nigeria and the kind of incompetence our leaders display.
As far back as March of this year Foreign ministers of West African countries including Nigeria met under the auspices of ECOWAS in Ivory Coast to discuss the Ebola epidemic then breaking out in Guinea and gradually spreading into Sierra Leone and Liberia. They declared Ebola a 'serious threat to regional security' in a communiqué issued after their meeting. The question is, asides from the usual issuing of statements, what memo did our Minister for Foreign Affairs Aminu Wali or the two Minister of States Violet Onwuliri and Nurudeen Mohammed write to the presidency about the seriousness of the issue especially after attending the ECOWAS meeting? Did anyone of them write to the Ministry of Internal Affairs, Department of State Security – DSS – Police, Immigration and Port Health Authorities about the seriousness of the Ebola virus and its threat to our homeland security? Off course the answer would be no as they believe the usual communiqué issued after the meeting would be sufficient.
In April of this year, Minister of Information Labaran Maku informed Nigerians on national TV that the Federal Government had taken all measures to prevent the outbreak of Ebola in the country. To say he was just joking and making a fool of himself would be an understatement. This is so as it turns out there were no health screening checks at the nation's airport until after Liberian terrorist Patrick Sawyer had attacked the nation with biological terrorism – bioterrorism – and it makes one ask the question how long would we continue this childishness and immaturity of not taking public service serious? When would people elected or selected into office begin to see it as a true opportunity to provide service to Nigeria and indeed Nigerians? We had the better part of six months to prepare our borders and response to Ebola, to identify it as a strategic threat to our national security and well-being but we did nothing until we were suddenly attacked and then we rushed into action.
Compare that to more serious nation like for example the UK who on hearing of the outbreak of Ebola in Nigeria convened a COBRA meeting chaired by their Foreign Secretary Philip Hammond based on the fact that they realise that Nigeria is the most populous nation in Africa with lots of visitors and residents to the UK. The circumstances of the disease arriving in Nigeria also means it could arrive on their own border too if all the necessary precautions were not taking. Isolation units were quickly prepared at some major hospitals, Port health officers and Immigration put on alert, while internal memos was sent out to all NHS doctors and GPs across to the country to look out for cases of people just returned from Africa with complains of fever or malaria. That is a country that understands what it is like to handle public service. Its the same with Senegal who closed their borders with neighbours Guinea since March, Mauritania followed suit same month by closing most of its borders with Senegal, Gambia suspended air travel and a launch of a new air carrier to Guinea. This shows just like the UK, there are other African countries who understand what public service means and are not into the buffoonery of joking with the lives of their people like Maku, Wali, Onwuliri et al. have done with Nigeria.
Can one also ask what is the work of our National Intelligence Agency (NIA) and the DSS if they cannot protect the homeland from external and internal attacks? These agencies like the DSS as confirmed by their spokeswoman Marilyn Ogar are well paid by the government, and yet they can't prevent a case of bio-terrorism as we were just recently attacked by Liberian Patrick Sawyer. Would the NIA in future as soon as the Ebola epidemic clears across West Africa do an extensive investigation as to why Sawyer came into Nigeria knowing fully well he was carrying the Ebola virus? There is the possibility the Liberian government might have a hand in it with the thinking that if Nigeria is attacked with the virus, it would bring international attention to their plight and rescue their country from the epidemic. I'm not making accusations against the Liberian President Ellen Sirleaf-Johnson as she might not be aware of such decisions within her government but its a possibility someone in her government could have ordered the attack. What about the possibility that sympathisers of ex-Liberian warlord Charles Taylor could have set-up the attack to teach Nigeria a lesson. There are many of his sympathisers still in government in Liberia and possibly not happy in the role we played in handing him over to the International Criminal Court in the Hague for trial on war crime accusations.
Would we have an investigation in future by the NIA to unravel all this? In saner climes that is definitely what their government would do, whatever they find out from their intelligence services would usually be made known through press leaks. It took investigations from Premium Times to realise Sawyer worked for a private company – Acelor Mittal- and not the Ministry of Finance in Liberia as claimed. The Deputy Minister of Finance in Liberia Sebastian Muah who authorised his travel now claims Sawyer was a Public Health officer. It all shows there is a cover up somewhere with Sawyer having used false identity to be allowed to travel and Nigeria has been attacked biologically for reasons quite unclear. I do not even need to go into all of Sawyer's actions before he left Liberia while caught on CCTV and his contrasting actions when he landed in Nigeria including borrowing the mobile phone of the ECOWAS contact who met him at the airport – who is now dead – the fact he told lies about his condition at the hospital in Lagos, yanking off his Intravenous (IV) infusion and splashing blood all over his bed sheets and hospital ward. Reports that he urinated on the floor and on nurses treating him deliberately all shows it was a predetermined bio-terrorist attack, but what we need to unravel is who were behind it and why? You wonder why he insisted on been allowed to proceed to Calabar to do more damage especially considering Calabar was Charles Taylor's last known base in Nigeria and whoever sent Sawyer might have wanted to payback the people of Calabar who reported Taylor's movement to security agencies and prevented his escape the year he was arrested and handed over to the Hague.
I'm happy Sawyer's body was cremated by the Lagos state government and his ashes returned back to his fellow collaborators in Liberia, that should be the message we send out to people or countries who hate us as a nation. However, my grouse is with the government we have and the incompetence they show to public service. A public servant should be proactive in his thinking and always covering all the bases to ensure the nation is well served. Its when Nigerians realise they have a government that is proactive in taking care of their needs that you can engender loyalty, patriotism and nationalism from them. Its not only when you announce you want to build roads, bridges or award contracts every Wednesday that you believe you are serving Nigerians. At this stage of our lives we know all that is an avenue to loot our resources, but rather its the little well considered actions you take to show you care about Nigeria and Nigerians that foster patriotism and nationalism from the people. In a more civilised nation, you can't come to the people asking for their votes and talking about a seven point transformation agenda when you can't protect their lives or be pro-actively seen to be protecting them from bio-terrorists like Patrick Sawyer or you find it impossible to rescue 219 girls in captivity for close to 140 days and just hope people would forget about it and move on.
Say what you like about the Lagos state government, but their actions since the Ebola outbreak has not only been reactive but very much proactive. I take for instance their call on a well known pastor T.B Joshua, to ban people from West African countries coming to his church for Ebola miracle. It takes a proactive government to think about that and cover that base, otherwise you might see bodies transported into the country for miracles at T.B Joshua's church thereby endangering our lives. Its these little actions people see and distinguishes a follower from a leader, as not all followers would have thought of that angle and it makes people bond with their government staying loyal to them. Its not when you issue meaningless press statements and releases that you are on top of a situation or you have everything in place that shows you serving the people. Its about concrete proactive actions you take most times that makes people realise they have a government serving them.
Now due to the failure of our government, leaders and relevant homeland protection agencies we have a deadly epidemic on our hands. In case we don't know how deadly Ebola is I would explain. Asides from its near 90% fatality rate in most past outbreaks of the disease and the fact that it spreads by bodily contact of all kinds – skin, body fluids, sweat, semen etc. – of an infected person, the virus oozing out of the body of one dead Ebola patient is enough to infect the entire earth's population three times over. Put it this way, there are seven billion people on earth, the virus on one dead Ebola patient can infect all seven billion people three times over, meaning it can infect 21 billion people if they come in contact with just one dead body alone. Its the reason the Americans and Spanish had to fly their infected citizens at great risk back home, its not because they wanted to prove they could cure them but the risk of allowing them die in Liberia – with poor handling of the dead- and then bringing back their dead bodies to their family was far greater than having them brought in while still alive. Also a patient who recovers from Ebola may still spread the disease to others through bodily secretions up to seven weeks after their recovery hence the deadliness of the virus we allowed to slip into the country easily due to the incompetence of those we gave the mandate to watch over our affairs.
For me whenever we investigate via our foreign affairs ministry and intelligence services the reason for Sawyer's actions we have to exact some punishment on his collaborators and indeed Liberia, so other nations don't see Nigeria as a soft target. Its time we recall some loans from Liberia if they are owing us or dispense with some services we render to the country if and when proven Sawyer's attack was deliberate which it is. Its time we stop playing big brother to majority of African countries who hate our guts as a nation and always want to prove to us they are more clever and smarter and find opportunities to make a fool of us as they consider us a country that is unserious, weak and can't manage its affairs. Its also an avenue for us to find a cure for Ebola and turn a bad situation into a chance to truly claim that title of the Giant of Africa. I understand a Nigerian abroad has donated an Ebola drug he developed but this is calling on all our scientists and trado-medicine practitioners to come up with a possible cure. The ZMapp product was gotten from Tobacco plants thus a cure for Ebola won't be far off from plants similar to that which contain nicotine/caffeine and flavonoids. I would also suggest we hand out lots of Vitamin Cs to Nigerians to boost immune system as well remind them of regular infection control practices like hand washing, sterilisation, disinfection, washing of clothes and sun-lighting them. Not to mention the ban on eating of bats and sale of bush meats especially in towns and villages across the country. Above all we should handle corpses with serious care at this moment, with families of confirmed Ebola patients signing consent forms not to have public funerals for their loved ones should they succumb to the disease but leave the government's public health officials to either cremate the bodies or bury them in graves – which are to be dug a bit deeper as advised by WHO – to prevent the spread of the virus.
I sincerely condole all the families of the health workers who have needlessly lost their loved ones and pray for their sake the government at the end of the outbreak across the West African region investigate Patrick Sawyer's true mission and use this Ebola outbreak as a wake up call to their duties. To see public service as a chance to show their ability to deliver genuine service to the nation and not just attend meetings issuing communiques and press releases, we want a competent and most often than not a proactive government.
Ola' Idowu a Management Consultant and Researcher writes in from the UK.