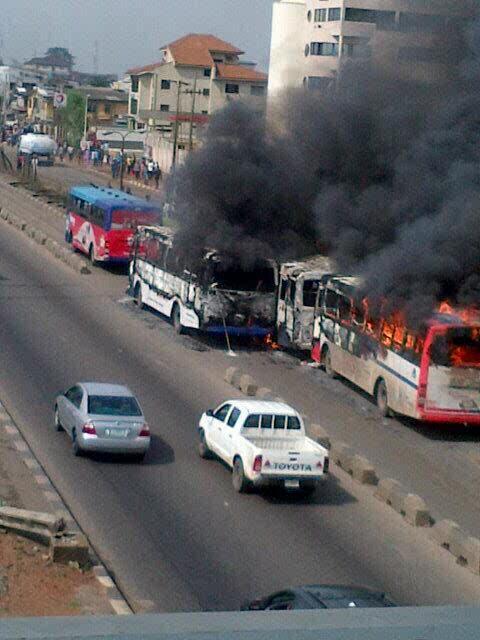 The Lagos APC Youth leader Mr. Omotayo Sanyaolu, has strongly condemned the Friday morning carnage perpetuated by men of the Nigerian Army on Ikorodu Road, Lagos.
A terse statement from the office of the APC's Youth Leader reads, "The destruction of state-owned property by men and women, who ought to be prepared to die while safeguarding our collective existence,  is incomprehensible. This has again raised salient questions begging to be answered; who is the Nigerian's military serving? Do they represent the interest of the Nigeria people or a certain section? Is the Nigerian Army serving the interest of those who are bent on 'capturing' Lagos come 2015?"
"It's day 81 today that our sisters have been kidnapped from Chibok, yet there is no hope of bringing them back alive. If men of the Nigerian Army feel the urge to unleash violence, their services is urgently needed in Sambisa forest where members of the Boko Haram terrorists are hiding.
"As much as the Youth in Lagos understand the angst of the soldiers whose colleague was alleged to have been knocked down by a BRT driver, we disagree that the incident excuses the mayhem that followed. The impunity with which those buses were burnt and others ruthlessly vandalised cannot be justified. There are procedures to be followed. In such a case as this, the RULE OF LAW requires that the driver be handed over to the civilian authority for prosecution in a civilian court.
"The Nigerian Army must understand that this is not military regime. They must remain in their barracks except a democratically elected authority request their services in quelling unrest beyond the capacity of the civil law enforcement agencies.
"Therefore, I call on the President, Chief of Defence staff and the Chief of Army Staff to see that justice is done in this matter. A failure to properly and conclusively probe today's events can have devastating consequences on our young democracy. A return to the dark days, which the young are happy to have missed and the old are eager to forget, is in no one's best interest.
"I also want to thank the ever-vibrant and indefatigable youth and people of Lagos for showing restraint in the face of today's unfortunate happening. Those who were physically manhandled and made to perform degrading acts of punishment are encouraged to seek legal redress.
"Ours is the State of Excellence and those uncomfortable with the peace and prosperity we enjoy are free to express themselves, but with less abrasiveness.
"Eko Oni Baje o!"