Abia State government has demolished a building belonging to one Ogbuonye Ogbonna Daniel due to his involvement in kidnapping activities in the state.
Security Adviser to Abia State Governor/State Task Force Chairman, Capt. Awa Udonsi Agwu (Rtd.), who spoke to newsmen after the demolition of the bungalow at Umuariaga Oboro in Ikwuano LGA, said the measure is to serve as deterrent to other kidnappers and those nursing the idea to enter the illicit business.
He said that the state government abhors kidnapping and would stop at nothing to stamp the menace out of the state.
According to him, other kidnappers who have property in the state will have them pulled down once the government identifies such property and assured that the process is an on-going one.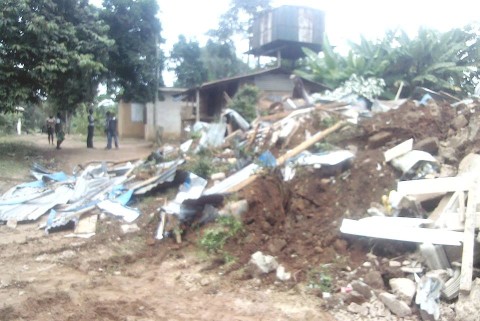 Meanwhile, residents of Umuariaga who spoke on condition of anonymity have applauded the state government for embarking on the demolition exercise,pointing out that they have been living in fear due the activities of some suspected kidnappers operating in the area.
It would be recalled that not long ago, a hotel belonging to another kidnapper at Afaraukwu was demolished by the state government in its bid to flush out kidnappers from the State.