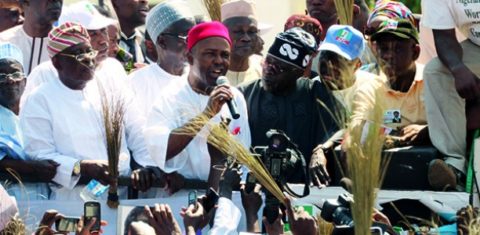 As Former Governor Of Edo State, Chief John Odigie Oyegun, Emerge National Chairman
Violence erupted yesterday at the secretariat of the Convention Committee of the All Progressives Congress, APC, Abuja.
Two APC members were beaten up by some delegates of the party from Abia and Ebonyi states while policemen looked on. One of them who was labeled as "Ngige boy" was stripped naked near the secretariat along Emeka Anyaoku Street, Area 11 Abuja.
Fighting erupted between delegates of different factions of the party from Abia and Ebonyi States. Some of the aggrieved delegates from both states who spoke to newsmen alleged that although they were democratically elected as delegates for the party's convention, they had been denied accreditation by the Convention Committee headed by Sokoto State Governor Alhaji Aliyu Wammako with Senator Chris Ngige as secretary.
APC National Convention: Convention Committee Members Senator Olorunbe Mamowora discussion with Senator Chris Ngige and others at the Convention . Photo by Gbemiga Olamikan
One of the delegates from Abia State who identified himself as Uche Emeka accused Ngige, Imo State Governor Rochas Okorocha, former National Chairman of All Nigeria Peoples Party, Dr Ogbonnaya Onu and National Vice-Chairman of the party for the South-East, Mr Nyerere as being responsible for their plight.
"We were reliably informed that Ngige and Okorocha have instructed that our Chairman who is Fabian Okonkwo and the rest of us from Abia State should not be accredited.
"We have been calling to inquire and we also have it on good authority that they are directly responsible for this. Our state chairman, has been making calls to find out what is wrong, but no answer has been provided," he said.
Another delegate from Ebonyi State who identified himself as Christian Ali, told newsmen he was the secretary of the party in Ishielu local government.
He said,"There are two factions of APC in Ebonyi. One is led by Chief Ogbonnaya Onu while the other is led by Senator Julius Ucha and because of that, there seems to be a power tussle between the two of them.
"We conducted the state congresses and elected Hon Ben Nwobasi who belongs to Senator Ucha's camp as chairman. Accreditation tags have not been handed over to us because the trio of Ngige, Ogbonnaya Onu and Okoroacha directed that the congress in Ebonyi be re-conducted."
At the end of the convention Former governor of Edo State, Chief John Odigie Oyegun, has been elected National Chairman of the All Progressive Congress (APC).
Also, interim National Secretary, Tijjani Tumsah emerged the substantive National Secretary after the withdrawal of Alhaji Kashim Imam from the race. His withdrawal was announced by former Vice President Atiku Abubakar.
Though voting was still going on as at press time, indication to the fact that Oyegun is the new chairman emerged when no mention was made of the other remaining contestant, Chief Tom Ikimi.
Former governor of Bayelsa, Timipre Sylva had earlier announced his withdrawal from the race in the interest of the party.
With the development, what was still being awaited was his formal announcement as the substantive National Chairman of the party.
Similarly, former governor of Ekiti State and Peoples Democratic Party (PDP) decampee, Chief Segun Oni emerged Deputy National Chairman (South) unopposed. Oni occupied the same position in his former party before he was removed through a court order. Former national secretary  of the defunct Action Congress of Nigeria (ACN) Lawal Shuaibu was also returned unopposed as deputy national chairman (North).
The interim spokesperson of the party, Alhaji Lai Mohammed was also returned unopposed as national publicity secretary.
Oyegun's emergence was said to be a product of an intense horse trading that culminated with the withdrawal of other contestants.
Virtually, the entire officers were returned through a consensus.
That notwithstanding, delegates were still voting to ratify the selection apparently to meet Independent National Electoral Commission's (INEC) guideline for party convention.
Voting commenced at 12:32am with delegates from Abia State, under the control of the chairman of the election subcommittee Alhaji Kawu Baraje who had read the number of contestants for each office.
Meanwhile, prominent members of the party who addressed the delegates before the commencement of voting said the 2015 elections is an opportunity for loyalists of the party to join hands in effecting a regime change at all tiers of government.