Borno State Government has dispatched fifty of its citizens to India for a course on Irrigation Agriculture, a move Governor Kashim Shettima said is part of his administration's 3-approaches to fighting the Boko Haram attacks in the State.
The 50 citizens left Nigeria on board an Ethiopian airline in Abuja yesterday soon after Shettima addressed them at a farewell held at ogbeh farms in Kuje area council of the FCT, belonging to former National Chairman of PDP, Chief Audu ogbeh. Ogbeh is a honorary adviser on Agriculture to Governor Shettima and he is also a key member of the Borno State Agricultural Transformation Team.
Shettima said at the farewell that his Government has since discovered that in addition to misguided beliefs, Boko Haram insurgents have over the years been recruiting foot soldiers they pay salaries who accept their offers as a result of joblessness, hopelessness and extreme poverty, a condition, he said, can be addressed with massive investment in Agriculture.
The Governor said he believes that Boko Haram can best be contained through a combination of Military socio-political, and economic solutions, maintaining that none can be effective without the others.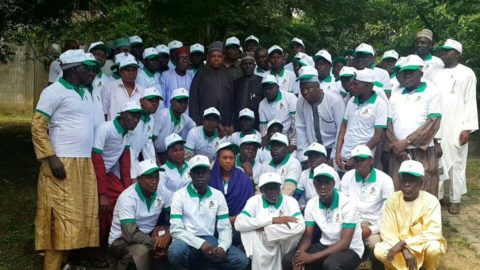 Shettima said the fifty citizens, selected across the 27 local government areas of the State are to undergo a three weeks train-the-trainers course on Irrigation equipment installation, effective utilization and maintenance after which they will train farmers across the State. A world leader, Jain Irrigation of India which is currently installing drip and center pivot irrigation equipment in the State is to conduct the training as part of a contract between the State and the Company.
Shettima had noted that in addition to Indian irrigation equipment, an American company from Nebraska State which the world headquarters of irrigation equipment, is installing 50 units of centre pivot and sprinkler irrigation equipment along Maiduguri -Konduga farm areas as a pilot program, revealing that 400 units of such equipment from U.S, India and China are expected for installation across private farms in the State with a view increasing cropping in the State to revolutionize agriculture and create millions of jobs so that Boko Haram wouldn't find easy recruits as they have been enjoying.
The Governor recalled that the Government has found cases where citizens were paid as little as N5,000 to set schools ablaze or spy on soldiers due to absence of job opportunities.
" besides those driven by spiritual motives, there is also the economically induced Boko Haram. This can be seen where some youths were paid as low as N5,000 to burn schools and spy on our security men. So that goes to show that Boko Haram is not only propelled by evil spiritual motive but also by economic motives", the governor said.
Shettima maintained that while the State will continue to support the military and volunteers as a coercive unit, focus must also be accorded to social re-orientation to de-radicalise citizens as well as provide jobs for majority of them, without which, he noted, Boko Haram would hardly be addressed in the immediate, medium and long term because so long as people can be recruited, the group can always grow.
Shettima said Borno has so much land resources with 67,000 hectares of irrigation land in just one corner of the northern part of the State which if properly harnessed, can bring an end to Boko Haram insurgency in the State.
The Governor explained that 50 unemployed graduates of Agriculture had undergone a different train-the-trainers course for three months in Thailand, some citizens had been trained in sobore farms in Adamawa and others in Benin Republic. He said the State is currently taking delivery of 400 containers of agricultural machinery and has taken delivery of 500 mobile rice mills and groundnut processing units while the State has established a micro finance bank it will capitalize to provide loans to farmers and finance agricultural activities through policies that will be friendly to farmers. Shettima said all the steps were being taken to wage an economic war on Boko Haram by making the group a small minority so that it can be overcome by majority of employed citizens.
"Land rather than oil is the most precious of all natural resources. Borno is the largest state in Nigeria even though some records say Niger is bigger than Borno. Borno is 20 times bigger than Lagos. Nigeria spends nearly 20 billion dollars annually imported food stuff. We are the greatest food importing nation. Borno has the singular advantage of diverting so much of the funds Nigeria spends on food importation, we are the only State bordering three countries and this makes Agricultural trade easier. We can use that to take people off the streets and fight insurgency" he said.
The Governor advised the trainees to live up to the trust that the government bestowed while realising that they are entrusted to help in addressing a serious crisis through knowledge based Agriculture.
Meanwhile, the trainees arrived Mumbai in India in the early hours of Sunday
In his remarks at the farewell event, honorary adviser on Agriculture to Shettima, Chief Audu Ogbeh called on the trainees to heed to the lessons they will learn in India, just as he eulogized the Borno governor for his steadfastness in developing knowledge based Agriculture in Borno, noting that the opportunity provided by the governor was one that had become really revolutionary.