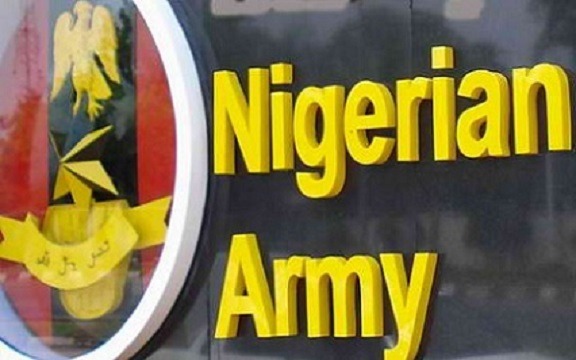 …  Decorates 9 Soldiers to various ranks

By Ebere Suzy

The Commander of 302 Artillery Regiment, Onitsha, Col. Jibrin Fagge, yesterday denied the allegation that a soldier injured a masquerade in Oko Community crisis, said that what is been paddled in the print media "is malicious lies with no definite source''.
 
He noted that the rumour must have been planted by those who are threatened by the army's role in the joint security task force currently ridding Anambra of hoodlums and criminals.
 
Fagge said that Soldiers were never there when the incident of masquerades clashing happened adding that he personally contacted the DPO, SSS and President-General of the community and they confirmed that there was no such incident.
 
"So I keep wondering where the report, which although has no attributable source, came from and who is sponsoring such,'' he said.
 
Fagge noted that as an institution, the Nigeria army respects religion and traditional-cum-cultural institutions; adding: "no officer or soldier will leave his professional duty to meddle with religious and tradition affairs''.
 
He, however, urged journalists to crosscheck their facts; adding: "I operate an open door office and when you call, I would give you immediate reply concerning the activities of officers and soldiers on the field''.

On decorating the nine soldiers in his command to various ranks, Fegge
urged to make the welfare of members of their families priority by providing their basic needs.
 
He noted that the essence of working and living a good life was for the benefit of ones' immediate family and extended family.
 
 
He assured residents of Anambra that officers and soldiers on internal security duties would continue to carry out their duties with a high sense of professionalism.