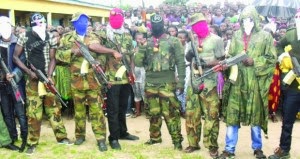 Academic activities were brought to an abrupt end on Thursday when gun-wielding boys suspected to be cultists invaded Urban Secondary School, New Owerri in the Imo State capital, leaving teachers and students scampering for safety.
Some of the fleeing teachers and students were said to have sustained various degrees of injuries while running for their lives.
The suspected cultists were said to have invaded the school to attack the principal, Dr. Nma Olebara, who it was learnt had been frustrating their activities in the school.
In a save-our-soul(SOS) message titled "OUR LIVES ARE IN DANGER IN THESE PUBLIC SCHOOLS" and posted on her facebook wall, Dr, Olebara who is also a social critic, said she ran the race of her life when the hoodlums invaded the school.
She said the Thursday's invasion was the third time the hoodlums would be invading the school in the last one month, saying their acts were deadly and they wielded dangerous weapons.
On why they should be after her, the school principal said "they are after me because I counseled them to be useful citizens to themselves and the society".
She however said she was not surprised about the attack because it had her experience as a teacher in the state having experienced the worst of attack in her former school, Nekede Secondary School where the cultists deflected her car four tyres and locked up the school gate.