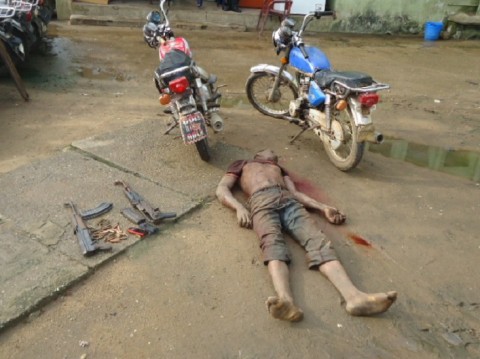 A volley of bullets rent the air in Owerri, Imo
State Tuesday and silenced a suspected serial killer and kidnapper whose
identity could not be established at press time.
A team of police who executed the job were said to
have been in the trail of the suspected malefactor.
They had closed in on him at a hotel (name withheld)
located in the Works Layout area of the town.
Sources said he had attempted to flee in his
ash-coloured Jeep when he sensed danger but was not fast enough to outwit the
security agents.
The bullets pock-marked his Jeep even as they
blasted his body resulting in his death on-the-spot.
Our reporter who visited the scene of the incident
at about 6p.m noticed a heavy presence of armed policemen.
The body of the suspected kidnapper was later
ferried out of the scene of the incident in a black Jeep belonging to the
police.
But the Infinity Jeep of the suspected killer with Registration
Number LAGOS 65 AZ as still at the scene of the incident at the time of filing
this report.
The Police Public Relations Officer (PPRO), Joy
Elemoko (DSP) confirmed the incident when contacted last night on telephone.
She disclosed that the police had been on the trail
of the suspect.