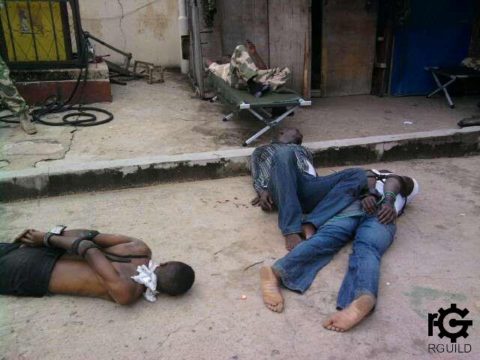 Nigerian troops killed 13 suspected Boko haram fighters and arrested 15 others following a raid on their camp after they massacred at least 37 people, a defence spokesman said Friday.
"Two were arrested on (Thursday) while 13 others were arrested today (Friday) while 13 of them died following a raid on their makeshift camp," Major General Chris Olukolade said. He did not give details of the raid.
The camp is located between Borno and Adamawa, two of the three northeastern states where a state of emergency was imposed by the Nigerian government last May following a wave of Boko Haram attacks, he said.
He said that some of the militants who escaped from an earlier raid have also been arrested in and around Maiduguri, the capital of Borno state.
Suspected Boko Haram gunmen late Wednesday killed at least 37 people in three separate attacks in northeast Nigeria in Adamawa state, including at a theological college.
The attacks came just a day after the militant fighters were blamed for killing between 43 and 59 people, most of them students, as they slept at a boarding school in neighbouring Yobe state.
The ongoing military offensive has failed to crush the insurgency and nearly 300 people have been killed in a range of attacks already this year.
The United Nations meanwhile said on Thursday that nearly 300,000 people, more than half of them children, had fled their homes in the three states from May to January 1 because of the violence.
Nigeria's presidency on Friday said the country was at war with the Islamist sect.
Presidency spokesman Doyin Okupe told the private Channels television station that the Boko Haram conflict was a "war situation".
"We are dealing with a very, very serious enemy," he said.
"We are engaged in a war that has been internationalised," he added in an apparent reference to Boko Haram's reported but unconfirmed presence in neighbouring countries like Cameroon.
"It is very difficult, very costly in terms of lives lost. But we will overcome," Okupe said. "We are in the dying phase of this insurgency."