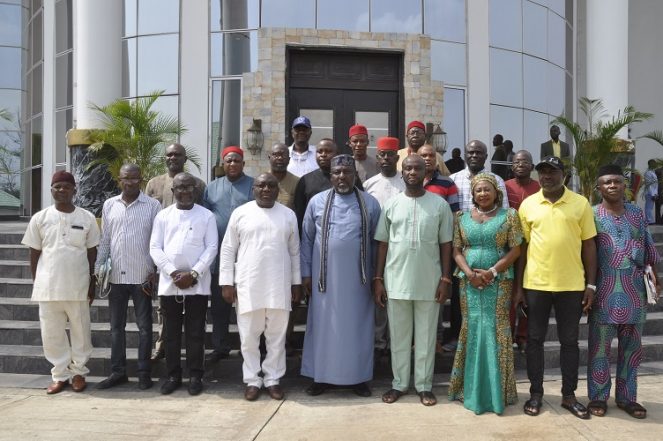 -Says Ohanaeze Should Distance Itself From Partisan Politics
Governor Rochas Okorocha has called on Ohanaeze Ndigbo to Champion Reconciliation among the Igbos, and also set out a day for atonement for Ndigbo, stating that the Igbos need God more than anything else.
The governor also advised the body to distance itself from partisan politics to avoid Ndigbo losing when the Party or Candidate the organization supports loses, adding that Ohanaeze should be smart when it comes to the issue of partisan politics so that no matter the Candidate or the Party that wins, Ohanaeze can move in to do the needful.
Governor Okorocha spoke weekend when members of the National Organizing Committee for the 2018 Igbo Day Celebration being organized by Ohanaeze slated for December 16 to December 18, 2018 in Owerri, visited him at the Government House to brief him on the extent of their preparations, adding that Igbos should dramatize their Unity since there is no absolute Unity anywhere in the World.
On the issue of Reconciliation, the governor stated "I have told the National President of Ohanaeze about the need for Ohanaeze to Champion Reconciliation among Igbos. I said at Evan Enwerem's book launch, Jim Nwobodo and Chief Emmanuel Iwuanyanwu were there, that when I was growing up, all I heard was that Iwuanyanwe never saw eye to eye with Enwerem. Jim Nwobodo never saw eye to eye with Ekwueme. I asked Iwuanyanwu, where is Enwerem today to fight and Jim, where is Ekwueme to fight"?
He continued "And this ugly development has been transferred from your generation to my generation. Rochas Okorocha and Ngige. Obi and Obiano, and so on. So, our generation has also taken that way. And we are not helping matters. So there should be a very emotional moment for everyone in form of reconciliation. And Onanaeze should champion it".
On atonement, the governor remarked "There should also be an atonement for Ndigbo. There could be a prayer programme for atonement for Ndigbo. Igbos need God and God is closer to them. There is need for Ndigbo to bow down their heads in adoration to the Most High God and Ohanaeze can champion that. We must begin to do things a bit differently. We can do something new. This is where I specially disagree with the elite of Igboland. Let's try something new since there is no harm in failure, but an invitation to start again".
He explained "My heart sometimes bleeds for the Igbo nation and when I see you people, I tell you how I feel. One of our major pivots upon which the wheels or faith of the Igbo man revolves is the Church and it has also been tainted. Look at the statement by Mbaka of recent, it's the most embarrassing, but nobody will speak out. We must act quickly now under the present ugly situation before we destroy the psyche of Ndigbo yet unborn."
He continued "I am excited to host Ndigbo and I am prepared to host them. As you are aware, we have been making every attempt to unite Ndigbo over the years. And years and years, it has always looked like there is no light at the dark end of the tunnel. We must keep trying in pursuit of peace. There's no end to it".
Earlier, Chairman of the National Organising Committee for Igbo Day Celebration who led the delegation, professor Gregory Ibe said "Ohanaeze Ndigbo, the umbrella body of Igbos across the globe, annually organizes the Igbo Day Celebration as a way of sustaining, projecting and celebrating the unique Igbo traditional heritage. Against the backdrop of the current challenges, Ohanaeze Ndigbo has decided to use the annual Igbo Day Celebration for 2018 to mobilize Igbos across the globe to once again rediscover the power of unity".
According to him "Activities for the 2018 edition of Igbo Day Celebration have been scheduled to hold from Sunday 16 to Tuesday 18 December, 2018 in Owerri, the Eastern heartland, with the theme "IGWEBUIKE".
He said "On behalf of the entire structure of Ohanaeze Ndigbo, under the leadership of our President General, Chief John Nnia Nwodo, the National Organizing Committee of 2018 Igbo Day Celebration wishes to express profound appreciation to the government and people of Imo State, under the helmsmanship of Owelle Rochas Okorocha, for accepting to host this year's activities here in the Eastern heartland. History will surely remember the governor for accepting the challenge of graciously hosting Ndigbo in Owerri".