Ikpeazu Wastes Billions On Drinks As State Plunges Into Perpetual Debt
While other states borrow to invest on income-generating projects, Abia Government does so to meet overhead cost even as Governor Okezie Ikpeazu reportedly spends millions drinking Hennessy Paradis Imperial – a bottle costing no less than $3000.
Recall that analysis of capital development fund documents obtained by The Realm News indicates that Abia State government has spent in advance, substantial parts of the state's FAAC allocations on overhead cost alone up to 50 years.
The net amount it receives monthly from federal allocation hardly covers its overhead cost, hence it resorted to heavy borrowing from internal sources to meet its paltry obligations.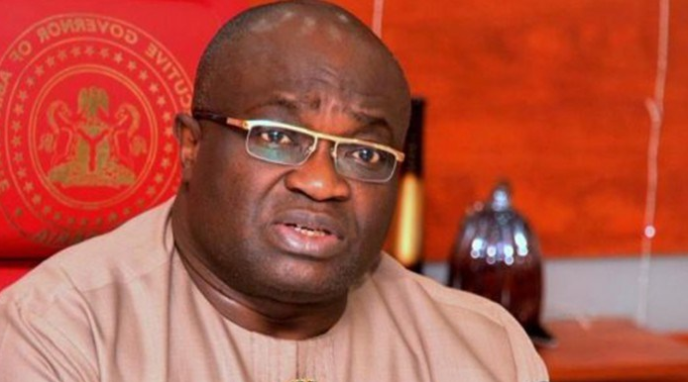 This explains why civil servants and pensioners in the state are owed backlog of salaries and pension gratuities. It also underlines why no capital projects were embarked upon and/or completed by the state government since May 29, 2015 it came on board.
For example, in 2016 and 2017 the gross FAAC allocations accrued to Abia State were N54.4 billion and N69.3 billion respectively. But the state ended up receiving the net sums of N30.72 billion and N38.9 billion correspondingly.
In other words, the sum of N23.68 billion – representing monthly average sum of N1.97 billion – was deducted from the source by the FG to repay debts accumulated by Abia State government in 2016, while N30.4 billion (representing monthly average sum of N2.53 billion) was deducted in 2017.
Out of the N30.72 billion net sum received in 2016 and the N38.9 billion net sum of 2017, the governor's annual security votes alone gulped N16.8 billion, while N4.680 billion was spent on the salaries of 3000 Senior Special Assistants (SSAs), Special Assistants (SAs) and Technical Officers recklessly appointed by the governor.
A top government official who craved anonymity told The Realm News that cost of running government in Abia State is very high. He accused the governor of spending money on frivolities and abandoned his responsibilities to the people of the state.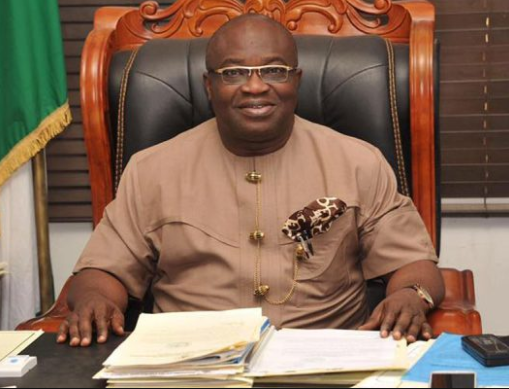 "During this drinking splurge, what is consumed is Hennessy Paradis Imperial. A bottle of this cognac cost $3000 (N1.02 million) and they consume roughly 10 bottles (N10.2 million) in a week," our source said.
What this means, is that the sum of N40.8 million is spent on drinks every month. In other words, a whooping sum of N489.6 million is spent annually on drinks alone in Abia State. That will amount to N1.96 billion in first four years of Dr. Okezie Ikpeazu's government.
Our source further said that most of these SSAs, SAs and Technical Officers appointed by the governor live outside the state.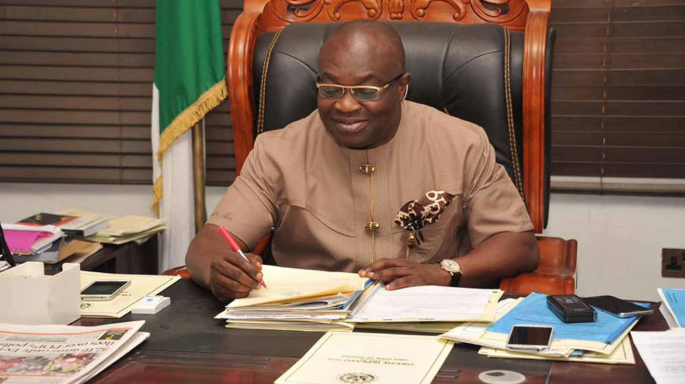 "Some live in Lagos, some outside the country, while other are civil servants mostly in level eight who were nominees of some powerful political stakeholders in Abia State," our source said.
"This category of appointees receives double salaries every month. First, as civil servants and secondly as SSAs, SAs and Technical Officers.
"This is the level we have condescended to in Abia State," our source bemoaned.
This is not the only thing reportedly wrong with Dr. Ikpeazu's government at the moment.
One disturbing revelation we discovered was that contrary to the lies peddled by Abia State government, the N14.2 billion bailout fund was converted to bond used to offset billions of loans Abia government owe banks through back channelling, by Federal Government in order not to create a banking crisis.
BudgIT lead, Mr Atiku Samuel said that the only cash given to Abia State government was the first and second tranche of the Paris Club refunds. He said Abia State government and some other state governments were owing banks and were underreporting it. The banks became strained and reported to the Central Bank of Nigeria (CBN).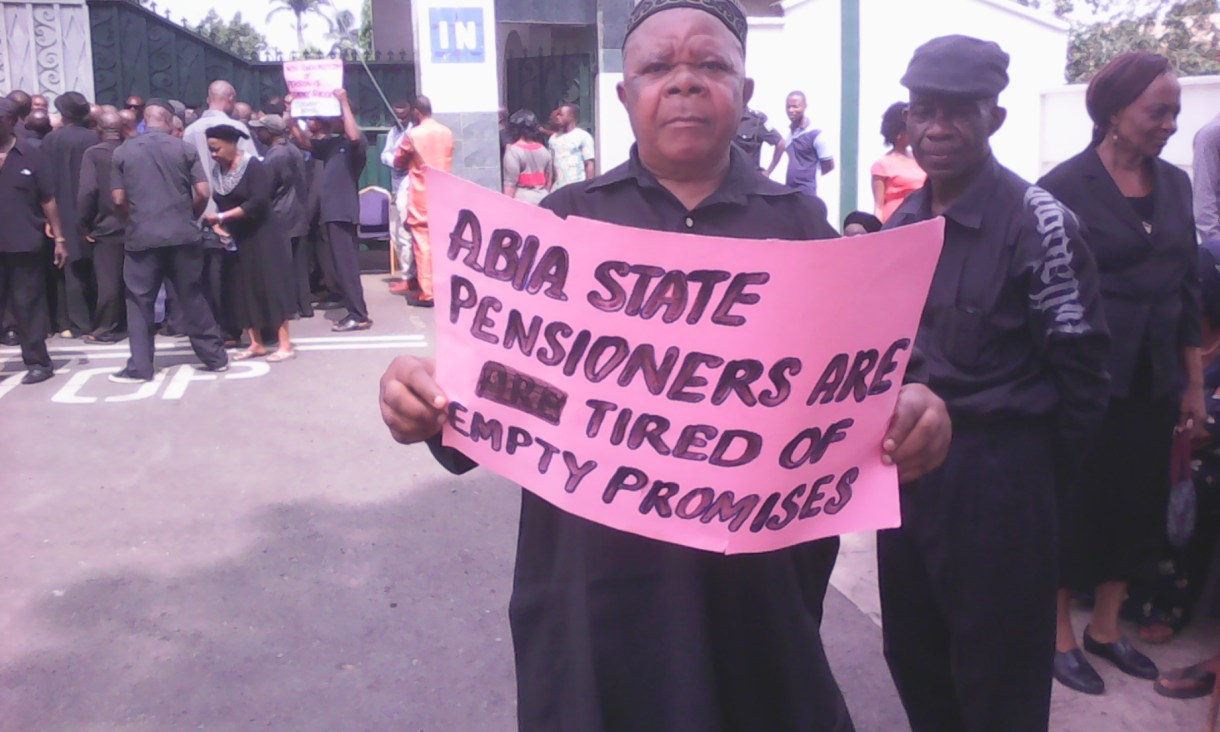 "To forestall the banking system from collapsing just like you had in 2009, the government had to step in," Atiku said.
"And what they did was simple. All the debts they were owing banks were converted to real assets," he said.
According to him, "CBN compelled the banks to submit to them how much state governments were owing. Collectively, if I am right, it was close to about N300 billion across board. That's how much the states were underreporting. So what CBN did was agree to pay the banks the debts, so state governments would now owe CBN.
"So CBN gave state governments the loans at concessionary interest rates to actually ease it off…maybe because of a political arrangement.
"That was the opportunity Abia State used to renegotiate its debt (the 20-year bond). That money is being deducted from FAAC. You notice the net FAAC of Abia State has actually been declining.
"The reason is the fact that they are now deducting at source to pay back those debts," Atiku added.
The so called committee set-up to ostensibly workout modalities on how best to put to good use the bailout fund was an apparent prank by government to borrow time to finalise the N14.15 billion loan with 20-years interest of nine per cent it got from the CBN.
The biggest issue in the case of Abia State in terms of debts is that the government is using back channel to borrow money. If you looked at Abia State government and the antecedent of its revenue over the last three years, you'll discover that the state government's revenue from FAAC is declining seriously.
This is because the state is taking external loans at alarming rate without investing it on projects that will repay the loans without affecting FAAC revenue. For the past three years, if you add Abia FAAC revenue to the internally generated revenue (IGR), it cannot pay salaries and overhead, meaning that the state government must borrow.
"So, if you are borrowing to pay salary, how can you embark on a project? That's a big issue," Atiku queried, giving credence to the analysis that Abia State government is not the one financing few scanty construction ongoing in the state.
Abia government is also not helping itself in terms of collection of Internally Generated Revenue (IGR).
The administration of collecting this money (IGR) is not clear. How do you have a state as big as Abia with all the industrial complex and people paying tax and you come back and say your IGR is N10 billion? Apart from the lock-up shops
In July 2010, the National Bureau of Statistics (NBS) puts the number of persons working in the informal sector (traders, artisans and commuters) in Abia State at 1.7 million (male 958,186 and female 806,822). Okezie Ikpeazu's government will generate N1.7 billion just taxing each of these informal workers N1, 000 monthly. If calculated annually it amounts to N21.1 billion.
But traders pay N2000 for business premises revenue, N2000 for infrastructure and N1800 to local governments monthly. These amount to N5800 head tax on each lockup shop owner monthly. Bus and tricycle (keke) riders purchase five annual emblems: ASEPA, LG, Ministry of Transport, ASATOA and ASPEN for N500 each as well as daily tickets of N200 and N20. When summed up, it amounts to N2720 each.
Abia has about 100,000 keke operators. If calculated, based on this figures, the total amount of revenue Abia state government generates on tricycles alone, is N22 million daily, N660 million monthly and N8.17 billion annually. Then multiply N5800 by 1.7 million informal workers, it will give you N9.86 billion monthly as against less than a billion government claims it generates.
In Abia State, it is also very important to actually look at that. It is a very big conduit for stealing money. And that explains why they have a lot of money to campaign for elections but do not have money to pay workers salary. This is because the money government would have used for salary has been converted for political considerations and there is no accounting system that can be used to capture that.
If things continue the way they are going in Abia State in less than four years, the state would not have FAAC allocations to collect from the FG. The bitter truth is that Abia State is financially handicap and runs on deficit. To make matters worse, loans that should be used to shore up deficits are allegedly being diverted to fuel frivolities.
All efforts by The Realm News to get Abia State Government to comment on this decaying state of Abia proved abortive as one of the SSAs who craved anonymity told us that they are under instruction not to respond or grant interview to us.
–
Source: http://dailyadvent.com/index.php/2018/08/27/abia-gov-ikpeazu-allegedly-wastes-billions-on-drinks-frivolities-as-state-plunges-into-perpetual-debt/
277 total views, no views today