Exposed: Okowa, DTHA Plans To Murder DESOPADEC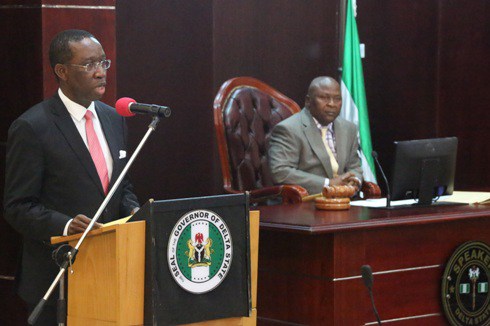 It is no longer news that since the entrant of Senator (Dr) Ifeanyi Okowa into the leadership of Delta State, things have never been the same as he clannishly abort, altered or completely scrap what was on ground to implement his own policies to bring in his people on board.
Loading ...
This lead to oil bearing communities in the state to warn Governor Okowa and the Delta State House of Assembly (DTHA), against any plans to cripple the Delta State Oil Producing Areas Development Commission (DESOPADEC) and divert its fund.
Delta State Oil and Gas Stakeholders Group (DOGSG), which comprises of Itsekiri, Ijaw, Urhobo, Isoko and Ndokwa ethnic nationalities, said they were aware of the 'clandestine move' to systematically kill the commission by starving it of fund.
DOGSG, in a statement by Dr. Tagbiretse John, Joseph Ebidenwei, Gregory Eze and Obakpo Goodluck, said that the state of oil bearing communities in the state have deteriorated since the inauguration of the present administration in the state.
The group said: "The reason for the comatose state of DESOPADEC is not farfetched. The non-passage of the 2015 budget of the commission, with barely four months to the end of the year cannot augur well. If the government is organised and the House of Assembly is effective, the 2017 budget would have been at the final stage of its development."
"It is a shame of colossal magnitude that the 2016 DESOPADEC budget is still 'lost in transit.' The most painful part of the debacle is that as at today, nobody knows what the budget looks like or how much is contained therein. Nobody knows if the N28 billion budget presented to the House in March remains or if it has been changed and how it has been altered.
"The laws setting up DESOPADEC is emphatic that half (50 per cent) of 13 per cent derivation fund accruing to the state's coffers from the Federation Account is to be paid directly to DESOPADEC for the development of the oil bearing communities.
They maintained that failure to do the needful would further worsen the already tensed atmosphere in the Niger Delta region particularly in the state.
The delay is not unconnected to the N1 billion bribe demanded by the Speaker of the House, Rt. Hon. Monday Ovwigho Igbuya from the Chairman of the Board, Olorogun Williams Makinde before passing the budget.