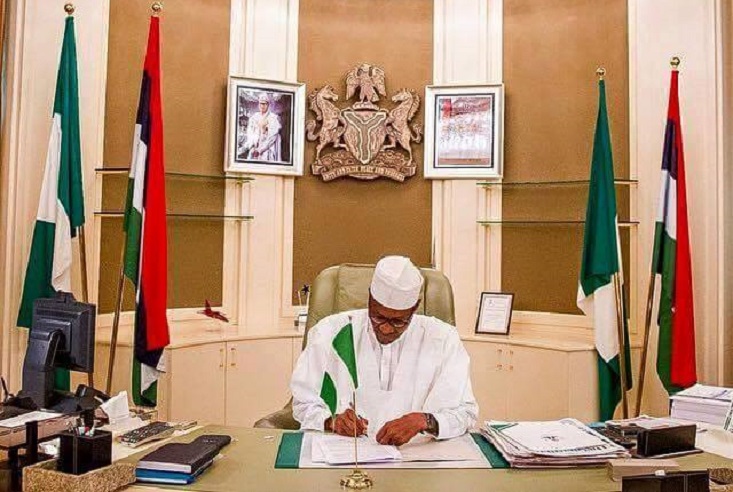 From Vincent Egunyanga
There is a philosophical saying that an unexamined life is not worth living. It is in this connection that I have chosen the one year of President Muhammadu Buhari in Office to once again share my views about  the geographical expression called Nigeria. We will never stop writing about Nigeria whether good or bad as for now the country remains our only country at least for now.
Let me also take this opportunity to congratulate Nigerians for the 17 years of Democracy which the country has attained so  far and also to congratulate President Muhammadu Buhari for his one year in office so far.
The most pertinent question to have asked at this time of our celebration would have been how has democracy faired   in the country in the last 17 years  good or bad. I leave the readers to judge. One thing is however clear. In the last 17 years of our democracy, Democracy has come to stay in the country, the country has remained united, we' ve seen a peaceful  transition from one government to another from one political party to another without a military coup in between, There was freedom of speech and Religion, No political prisoner, no Nigeria was ever arrested or detained for his views on National issues even when they were different from Government views,  Nigeria grew to become the largest economy in Africa. But there has also been some sad moments in the last 17 years. We have seen Terrorism entered the country etc
But the new administration of Muhammadu Buhari would not want to have anything good with the last administration headed by the Peoples Democratic Party [PDP]. The administration of the All Progressives Congress [APC]  and Buhari will want the world to be believe that nothing was ever achieved by the  PDP administration in the last 16 years and that the only achievements so far in 17 years was that by Buhari in the last one year.
Therefore I will concentrate on the achievements recorded under Muhammadu Buhari administration. I will not pass judgment. Let the readers do that.
I have read the achievements released by the Buhari administration. The question I first asked myself who wrote those achievements.  Certainly not Buhari. The achievements were written either by the Vice President Yemi Oshibanjo or Lai Mohammed or better still one of the hired Media Consultants or lairs or even  Packaging Executives which were hired right from when they were in the opposition.
Some of the achievements  they are claiming is very funny indeed. They talked about achievements in SECURITY, ECONOMY, FIGHT AGAINST CORRUPTION, NATIONAL IMAGE bla bla bla.
Among the achievements in Security is that the administration has contained Boko Haram terrorist group. Fine  but the country has also witnessed the worst insecurity since after the civil war. Fulani Herdsmen have unleashed the worst attack on the nation in the last one year especially in the Middle belt and Southern parts of the country. About 3,000  Nigerians are said to have been killed in the last one year. Boko Haram has been defeated but it has since transformed itself into Herdsmen. Kidnapping has increased, cultism has increased and Nigeria has become more divided now in the last one year than in the last sixteen years of our democracy.
The administration said they have recorded some success in the area of the economy. Nigerians are still unemployed, no Power, no fuel, high cost of living is at its worst situation, no security, no foreign investors except some Chinese thieves who have  invested on loan. The Finance Minister last week said Nigeria is broke while the Governor of Central Bank said recession is on the way. These are the achievements of APC government.
They talk of improvement of our  National Image. See what they said about our National Image.
NATIONAL IMAGE
On assumption of office, the President undertook some foreign trips both within and outside Africa to re-establish Nigeria's position in the global arena and solicit support for Nigeria and Africa.
President Buhari has continually pushed the agenda for enhancing Nigeria's global image by always demonstrating Nigeria's credentials in the 2015 general elections, which saw the country scoring high on peaceful transition.
President Buhari strongly supported the emergence of a Nigerian, Dr Akinwumi Adesina, as President of the Africa Development Bank. (NAN)
The administration is celebrating the emergence of Dr Akinwumi Adesina as the President of Africa Development Bank  as an achievement but refused to give credit to Goodluck Jonathan who nominated him for the job in the first place. It did not  see the  emergence of  Aruma Oteh Vice President of World Bank  and Okonjo Iweala appointment as achievements.
Secondly they talked about peaceful transition as achievements but shouldn't credit for this be given to Goodluck Jonathan who despite all the problems encountered during the election accepted defeat.  Would Buhari given such circumstances have accepted defeat. The same party  the APC that has refused to accept defeat in Ekiti, Bayelsa and Rivers state election.
How could Buhari administration be said to have pushed agenda for enhancing global image when he tell the whole world that Nigeria is corrupt. Buhari's  foreign trips abroad has earned Nigeria the most 'FANTASTICALLY CORRUPT'  nation on earth.
WAR ON CORRUPTION LETS ADOPT DONALD TRUMP POLICY
Let me talk about the war against corruption which this administration has been celebrating in the last one year. I will not defend the PDP in this article as I do not have the mandate to do that. Let them defend themselves. All those who stole our commonwealth and common heritage especially in the PDP  must not go unpunished.
My point is that all those who have corruptly enriched themselves should be punished. But I will not accept  a  dummy that only Jonathan administration is corrupt. Let us fight corruption  holistically at least from 1999. There are three tiers of government namely Local Government, States and the Federal Government. Let us probe all these people from 1999 to date. Since the Buhari administration has decided to probe Jonathan's Security vote am aware that all state governors in the country has security votes. Most governors in the country in the last 17 years are now in APC as chieftains. They include Bola Ahmed Tinubu, Raji Fashola, Rotimi Amaechi, Chris Ngige,  Kayode Fayemi, Rabiu Musa Kwankwaso.  APC deputy chairman Segun ONI, etc the  probe should include those who played prominent role under their administration like Yemi Oshibanjo who was the Attorney General of Lagos state under Bola Tinubu and Lai Mohammed who was Tinubu Chief of Staff. They should be probed. What of Obasanjo's security vote, Yar Adua security vote etc.
Some Ministers are being probed. The probe should be extended to past Ministers such as El Rufai, Audu Ogbe etc.
This is the only way I will accept that there is actually war against corruption in the country.
While we are waiting Buhari probe and its outcome I will appeal to the International community particularly the United States of America not to return any stolen money to Nigeria. Let us adopt DONALD TRUMP theory. Donald Trump who is seeking election as the President of America to succeed Barak Obama was quoted to have said that America will re colonise Africa. I agree with him in its entirety. The recolonisation should not be as it was done in the 19th century where some European countries took over and shared Africa among themselves after the end of slave trade. The new recolonisation should be in form of stolen wealth and stolen money starched  abroad. The Buhari administration is only interested in recovering money stolen by Jonathan administration so they can use it to develop areas that gave them 75 percent of the vote or at best re loot the loot.
I want to appeal to the international community, the World Bank, International Monetary Fund [IMF] UK, USA etc to seize all money stolen from Africa and kept abroad. Let us start with Nigeria. They should confisticate  all money stolen by Nigerians and kept abroad. The monies and assets should be administered directly  by a special finance group controlled by the World bank or the United Nations. It should be invested directly into the states or Regions of origin not given to Nigerian government.
For instance James Ibori was the governor of Delta state for eight years, whatever money he stole belonged to Delta state not Nigeria. The United Nations should invest it directly to develop infrastructure in Delta state especially Asaba the state capital.
Secondly whatever money Dieziani Madueke might have stolen should be invested directly to improve infrastructure in Bayelsa and Enugu state. Dieziani is Bayelsa by birth but Enugu state by marriage. Whatever money Alameisigha had stolen and saved abroad should be used to develop Bayelsa state etc. If you want to know the amount of money stolen by Northerners go to Dubai, Saudi Arabia and United Kingdom. That's where they have their stolen assets especially in properties. If this monies are recovered and invested directly in the North by the United Nations it will it will end Terrorism, street begging in the North. It will also send more children to school. The money stolen by Nigerians and saved abroad is more than all the money in the country. So if the money stolen and taking abroad are confisticated  and administered directly Nigeria would have been recolonised and will forever be grateful to Donald Trump  and the world. What the administration of Buhari is doing is to rubbish everything that the last administration did. It's like saying all that were done under Jonathan were illegal even though Nigerians voted for him in 2011.  Other African countries are watching the developments in Nigeria.  It may be difficult for other governments to allow for free and fair polls.  No government in future will want to hand over peacefully in future as all Presidents will vow  to die in office than  be disgraced after leaving office. The world has a duty to help entrench Democracy in Africa.
BUHARI ANNIVERSARY BROADCAST
LET me start with President Muhammadu Buhari  first anniversary broadcast. I will not dwell on the broadcast  as I did not see any thing in that broadcast.
First he said he did not believe in the constitutional reform conference that was conducted under Jonathan administration. He said the past administration wasted nine billion naira [N9billion] organizing the conference. He has decided to send the report to the archives. I disagree with the President on this. There were certainly some good things the report  produced that can help  move this country forward. There are different ethnic militias and militants in the country today. Only good government and popular participation in governance can prevent or stop them from transforming into a full blown terrorists.  It is better to use dialogue and Negotiation to deal with National issues than the few people in government thinking they know it all  and using force and Soldiers to suppress opposition. It can only take Nigeria to the path of countries like Syria, Afghanistan, Libya, Egypt and the like. We must learn from other peoples  stupidity.
The President spoke on the Ebola. He thanked China, USA, UK  for their role in tackling what he called recent Ebola scourge in the country. This made me to be ashamed of my President. What role did they play. First the Ebola scourge was in 2014. Two years ago so it is not recent.  How can you thank China, the country that refused to give some of our nationals visa because of the Ebola. He refused to thank the World Health Organisation that did a lot to prevent other countries from discriminating against Nigeria during that trying moments of our national life. The most important contributors  that checkmated the spread of Ebola in the country were particularly Nigerians who set aside Political, Religious and Ethnic differences to come together to combat it. It would have been an opportunity for the President to use the Ebola fight to galvanise the support of all Nigerians that if we can come together as one irrespective of our differences we can overcome  our current challenges as a nation and as a people. Am not surprised anyway at the President.  He  probably did not know the extent of the sacrifice  Nigerians made as his party  the APC were more interested in making some political gains from the epidemics.
He did not say anything about the  herdsmen that has killed so many people in the country in the last one year.  Even  a traditional ruler somewhere in Anioma area of Delta state was kidnapped by the herdsmen and killed.  GOD WILL JUDGE HIM.
CONFEDERATION
I have always said that the best way to save Nigeria from complete break up is to adopt confederation as a system of government. It will allow all the different regions, states and group to develop at its own pace. Nigerians ordinarily love themselves, they are ready to live together, work and do business in any part of the country they choose. The problems of the country is centered around political leadership. Political leadership of the country is always a fight for the control of the resources of the country. The way it is now, if you want to have access to the national cake all you need to do is to gang up with other ethnic or religious groups and deny other competitors access to the cake  as we saw in the last general elections.
We all desire a better country that has economic development and political stability. Those Nigerians who have a good job now or have access to government think it is well with the country. But they should be reminded that the only permanent thing is life is change and that no condition is permanent. We must all contribute to a better tomorrow so that when you leave your present employment or job you can stand on your own and be self employed. Tomorrow may be too late. Many states in the country have collapsed and cannot even pay workers salaries without federal government bailout  or borrowing. This is not healthy.
174 total views, no views today