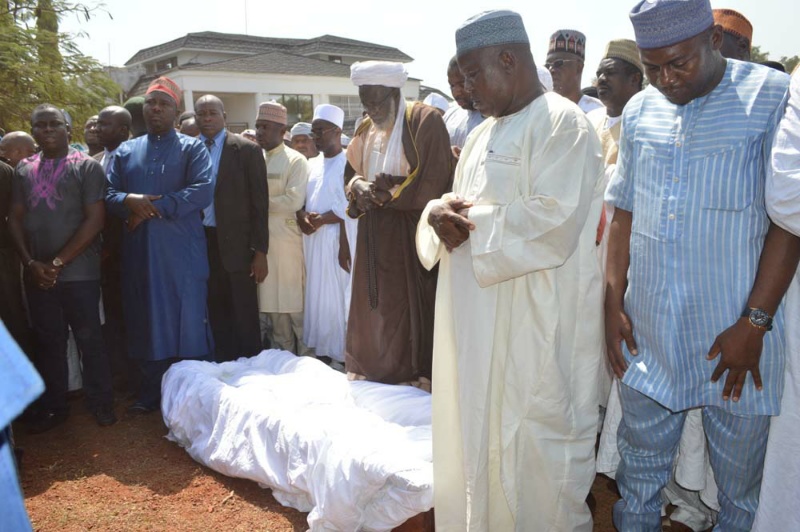 Loading ...
The finality of death is the coldest and starkest reality every man must confront. Indeed, this is what we are repeatedly told but in truth, it rarely sticks in our minds because, we falsely act as people living in a fairyland where death never occur.
 What recently happened in Kogi state regarding the sudden passing away of Prince Abubakar Audu is a painful loss that drives the point home. The post events of his demise presents a touching picture of our real value for human life and how ludicrous we act on certain vital issues.
Indeed, since Prince  Audu's passing to the great beyond,  it is really unfortunate that most of the actions and decisions from those believed to be beneficiaries of his political dynasty thus far do not recognise the many sacrifices and contributions he made while in this sinful world.
 No doubt, this must be a hard fact and lesson for others left behind. They now know what may confront them and their so called legacies after death which is the inevitable destiny of  everyone. For emphasis, I have watched people send their condolences, express their emotions to the deceased family, participate in the funeral and say their last goodbye before Abubakar Audu's burial only for them to immediately turn around and drop all assumed sympathies to focus attention on a struggle called succession just like men going for a fierce battle.
Such a disrespectful act in the mourning period of the same man, they called 'leader' in less than a week is not only strange and ridiculous but exposes the sad reality of existentialism especially on how greed can make men negate the significance of another man's death.
Even though such ignoble acts and feud happen all the time and we hear them as stories but Abubakar Audu's betrayal is coming too soon especially for a man that accomplished a heroic status in his society and political endeavour. This why I think we must apply caution and come to terms with the fact that at least, we should first extinguish the pains of his demise by allowing the process of psychological  healing from his loss to take place for at least  the next forty day Islamic prayer period before attempting to dismantle his relevance with unnecessary ravenousness.
Commonsense sufficiently suggests that Kogi people must resist the temptation by some persons to lead them to quickly fall into the gulf of forgetfulness for a man whose existence was very impactful as a major source of inspiration and encouragement to all his friends, political associates and members of his constituency. Indeed, it is really sad that very limited attention has been given to Abubakar Audu at death even by his close associates.
But this piece is in no way intended to utter direct condemnation or  expose the failings of  anyone or group for a man they so claimed to love. My aim is that this piece may serve as a modest reminder to our dear Kogi people that the late Audu Abubakar deserves to be mourned properly by being  honoured for his immense contributions and remembered as a politician with candid belief in his ability to make Kogi better rather than allow some persons to use his death  to create serious cracks in the unity of the state .
For me, Abubakar Audu lived a life worthy of remembrance and emulation  but his abrupt exit should be a standard reminder that in whatever we do or claim we are, for every man, there is certainty of death, irrespective of the record of lives touched. We should always bear in mind and retain the knowledge that the people we consider dear, may make a make a hasty reverse of so called loyalty  when we cease to exist.
Howbeit, the man Abubakar Audu will be greatly missed because in life he earned the esteem of a significant population of Kogi people and this will remain an undisputable fact.  Indeed, it is apt to state that he contributed in vast ways in laying the foundation for the development of the state and his achievements helped to establish an immutable fact that he served his people with great dedication as the first democratic civilian governor and remained a mobilizing political figure until death.
The best way to remember such a great man like Abubakar Audu ought not to be by the multi-faceted irrelevant responses and ill conceived actions by those that claimed to be his close political associates. As a sign of my tremendous respect for Abubakar Audu, I decided to mark the shock demise of this great man by withdrawing from social events and desisting from commenting on politics in the past week to enable me join wholeheartedly with  the family, friends and the people of Kogi state in the observance of the religious and customs protocols  of the passing and funeral of a heroic Kogi indigene.
As such, I deliberately resisted the urge by many people to comment on the death and post events even in my dual capacity as a public affairs analyst and the Chief Communications Manager to his Excellency, Captain Idris Wada, Governor of Kogi State who graciously declared three days of mourning in honour of the dead.
Ordinarily, what I have read and heard since Audu Abubakar's death were enough persuasions to warrant  prompt response from me as call to duty but I chose to remain mute not because my mouth failed me or my ink ran dry but for the simple reason that until we would have honoured our great politician with the 8th day Islamic prayer, it will be unwise to expand any debate outside pains of our collective loss. However, in this short period, I have learnt much. In my silence and pensive thoughts about death, I have seen the birth of many turncoats.
Specifically, as I watched Prince Audu Abubakar's body being lowered by his male children into his grave while wrapped in a white shroud, I could not hold back tears in my shock. The constant thought in my mind was could this really be the great Abubakar Audu's journey to finality? Indeed, in a long while, this is one death that has brought me close to revisit the complex issue of death, man's real essence and basic understanding of the value of life. Even though the official three day mourning declared by the Kogi state government  has elapsed, many people will remain in an almost permanent season of grief and many others like me will continue to remember Audu  for months and years ahead.
Prince Audu Abubakar was a man I met about two decades ago. Then, after my close interaction, he left me with a positive lasting impression that strongly influenced my thoughts about him as a person of unshakable desire to contribute to the development of Kogi state. He was a man that was not afraid to speak openly on issues especially those that were not in line with his convictions.
His remarks were not just about the usual rhetoric from the mouth of a politician  but  he exhibited the philosophy of a man that had firm belief in his convictions and unwilling to compromise on issues that made no sense to his beliefs. Perhaps such self opinionated trait could have largely contributed in earning him the label of arrogance.
Nevertheless, in my discussion with the late Prince of the Niger he shared some pressing concerns on Kogi state which no doubt made me richer in knowledge about politics and some of these will remain difficult to dismiss even with the passage of time.  As the years rolled by, we met severally but by then, I had pitched my tent in a rival political camp but this neither diminished my respect and love for him as a person nor did he express hatred over my activities. My only obvious but mild disagreement with him was that he called me a 'wahala' young man for my outspokenness against some passionate issues he considered unfavourable to his nature of politics. This was the Abubakar Audu, I knew and respected.
Consequently, I feel very disturbed about the post events of Abubakar Audu's death especially given that in this period of sorrow people ought to focus on offering strength to the family of the deceased by comforting them to overcome the hurting consequences of the loss of their bread winner, a man that died in active political service in his quest to better his society. Instead, some persons are more concerned about who takes over the likely benefits of a political empire Abubakar Audu solely built.
Such a naked display of greed and insensitivity is a direct affront to the family of a dead man but of great significance is that the Audu's family have exhibited right conduct expected of good Muslims by accepting death as God's will despite the many controversies and rumours about Audu's sudden death that pervaded the political sphere of Kogi State, which ordinarily should portray the persons agitating to take over his political empire as primary suspects, especially given their rapid quest to reap where they never sowed.
While the show of shame and disregard for is ongoing, I will not waste precious time honouring them with a response since we are still focused on the grief that accompanied his tragic death which happened in the heat of the Kogi State governorship inconclusive elections. Instead, let me honour the dead by affirming that despite our political differences, he was a wise politician, an unbeatable campaigner in politics especially having gone through six elections.
In death Abubakar Audu remains an admirable politician of rare courage with special traits of courting followership because he had a special way of conveying his message to his people to make himself a voters delight despite the many odd against him. Simply put, Audu was a political icon that no opponent in an election would wish to ignore his influence on the electorate.
It is really unfortunate and a matter of great pain that the cold hands of death has snatched away one of Kogi's best at a time he was almost coming back to attain a new status of political relevance. A significant section of the Kogi people are pained by the death of Audu.
 The incumbent Governor, Captain Idris Wada exemplified this in his condolence speech where he clearly stated that he is still in great shock because Abubakar Audu was his friend and brother despite their political rivalry and this has been the Governor's only but worthy public remark since the grief thrust upon us by the untimely death. As such, the Kogi state government must not be reminded to erect  an edifice with Abubakar Audu's name because it is a well deserved honour.
Let us however not forget that every man has his less respectful moments and neither Abubakar Audu nor the highest placed man in the world is exempted from this rule. Nobody is perfect but it remains our responsibility to promote the positive values of a man like Abubakar Audu, protect his rights and alleviate the burden of his bereaved family.  Whatever be his assumed sins, it is obvious they have since been blotted, more so since no guilt verdict by any court of law was pronounced before the journey to the great beyond.
Indeed, it will not make good logic for any sensible person to now dwell on his shortcomings because that era is gone and the many unanswered questions about Abubakar Audu may never find answers. This is where it becomes very necessary to state that even the hitherto popular EFCC Vs Abubakar case has now become infamous and no matter how self opinionated this may sound, the man should be allowed to rest in perfect peace as judgement is now for God.
This is considered apt because the Economic and Financial Crimes Commission, EFCC had over six years to prove its case against Abubakar Audu but failed woefully to do so. Therefore , it will amount to self delusion for the same EFCC to pursue the case any farther because the accused till death claimed retained his innocence.
Whilst I wish not to dwell on INEC's relinquishing of its independence by announcing a date for what it termed supplementary election as presumably directed by the Attorney General of the Federation, a political appointee and biased umpire on electoral issues, it is sufficient to state that the new leadership of INEC should be informed that its ill advised action and insensitivity to Audu's death has already thrust the Kogi people into greater confusion.
The truth is that INEC has also opened our eyes to know the people that shed crocodile tears over Audu's demise  in their selfish struggle for succession.  The fact remains that INEC's decision on an issue that is clearly beyond its jurisdiction is certainly substantially  immaterial to the rule of law and the Kogi people. Kogi people should not tear their shirts on an issue that is alien to our constitution and totally inferior to the decision awaited from a competent court of law.
What the INEC has succeeded in doing is to polarize the Kogi electorate not necessarily along party divides but an intra party wrangling within the APC. This INEC induced disenchantment is clearly visible in the way the APC is conducting itself. But there is a popular adage in Igala land of Kogi state which literally means that there is really no need for anyone to quarrel over how a hunter's bush meat will be shared when there is no news that the  hunter will make a harvest for the day.
As such, before the Kogi people are misled into unnecessary political battles,  let the highest respect be accorded to the great Abubakar Audu, as a man that directly impacted on his society. For now, no one knows what the court will rule, as such violence is  unnecessary and the on going struggle will be the least befitting way to honour Abubakar Audu. The emphasis on who becomes Audu's political successor should be rested until the court decides because it is apparent that the death of Audu will certainly give rise to a new addition to the Nation's jurisprudence and the constitution.
Let the energy of the Kogi people be channeled in areas of utmost significance like reminding the CBN Governor Godwin Emefiele to urgently release the long overdue Kogi bailout funds it has mischievously held back for disbursement. We do not wish our workers to die to avoid Kogi becoming a mourning society. Kogi citizens deserve to enjoy this season of relief that the bail out provides  like their counterparts in other states.  Perhaps this will help console them in their period of grief. May Abubakar Audu's soul continue to rest in the bosom of the Almighty.
*Shaibu is Chief Communications Manager to Governor Idris Wada