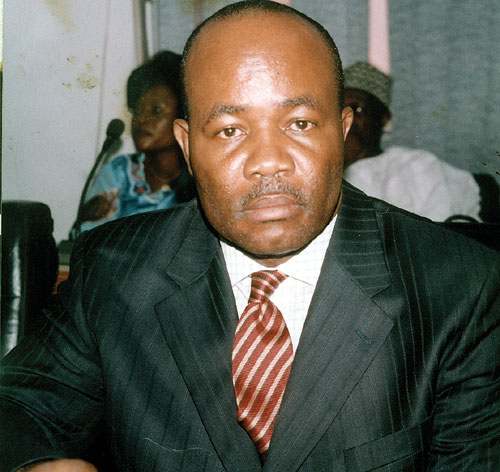 The All Progressives Congress (APC) Akwa Ibom state chapter has reacted to the victory of the Senate Minority Leader and former governor of the state, Senator Godswill Akpabio, at the Elections Petition Tribunal, describing the judgement as a desecration of justice, even its vowed to appeal the judgment.
The party also accused Akpabio of conniving with the Tribunal judge, Justice Goddy Anunihu, by fraudulently enticing the latter to deliver the judgement in his favour, a situation it said has brought the Nigerian judiciary into disrepute as well as raising questions about its integrity.
Addressing a press conference in Abuja at the weekend, the state chairman of the party, Chief Attai Amadu, in company of other party officials, further described the judgement of the tribunal in favour of the Peoples Democratic Party (PDP) chieftain as "a miscarriage of justice."
"The All Progressives Congress, APC, in Akwa Ibom State observes with horror the wholesale miscarriage of justice in the outcomes of the various petitions filed by the party and its candidates at the Akwa Ibom State National and State Assembly Election Petition Tribunals.
"Nothing drives this point more forcefully home than the controversial decision of the Justice Goddy Anunihu-led Panel to dismiss the petition of the APC candidate for the Akwa Ibom North-West senatorial district, Chief Inibehe Okori, on the grounds that Mr. Godswill Akpabio's candidacy in Akwa Ibom North-East senatorial district rather than AKWA IBOM NORTH-WEST WHERE THE APC CANDIDATE CONTESTED was a "mistake" and that the  panel's admission of the card reader database analysis evidencing the fraudulent casting of 444,505 votes by only 205,519 accredited voters was done 'in error and had to be expunged from the tribunal records in deciding the case'.
"In our view, this fraudulently contrived and inconsistent verdict by Justice Anunihu has, once again, brought the judiciary in the country into opprobrium and raised serious questions over the integrity of the Nigerian justice system," Amadu said.
Amadu said that the state chapter is already on the process of appealing the tribunal verdict, adding that the 2015 general elections in Akwa Ibom state were adjudged by local and international observers as "electoral aberration unknown to civilization".
"Indeed, everything that played out in the violent and fraudulent elections was clinically executed in consonance with the character and corrupt disposition of Godswill Obot Akpabio," Amadu added.
82 total views, no views today