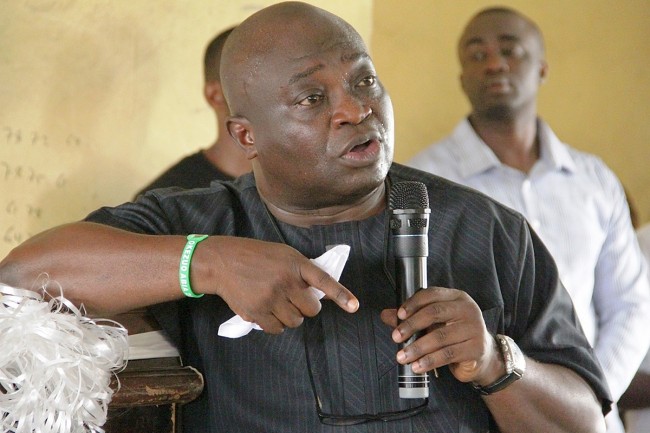 Contrary to speculations that Abia state government has received N3billion bailout from the federal government, the state has clarified that it is yet to get any bailout from the federal government.
Economic Adviser to the Gov. Okezie Ikpeazu,Mr. Obinna Oriaku, in an interaction with journalists explained that the N3b  received by the state is its share of the $1.7 b LNG fund shared among the three tiers of government by the federal government.
He explained that the request from governors for bailout from the federal government coincided with the payment of the LNG $1.7billion which was shared among the three tiers of government.
"When this was shared we got our own share, just like every other state, we got our own share amounting to N3.2bn inclusive of the LG. The local government got N1.2, the difference of   that N3.2 came to the state," he said.
On the resolution of the State House of Assembly authorizing the state to borrow, he explained that the resolution was the requirement of the Debt Management Office (DMO) to secure a federal government bond and not to borrow from commercial banks.
"The state governments are currently working out details with the debt management office in Abuja, the CBN and the Federal government," he said, adding that the exercise became necessary because some states have over borrowed that they could no longer pay salaries.
"These debts include all outstanding salaries, all outstanding pensions, all out standing obligations to commercial banks, when we sum up the total of these obligations the debt management office is expected to convert it to FGN bond which means that the tenure for these funds will range from 15 years to 20 years.
"The essence of this exercise is to allow states with this problem the freedom to still function. It means that the federal government is buying off this debt at a single digit of 7 or 8 % and spread it over 20 years. But the commercial banks payment period is three years.
"Part of the condition is that you must get House of Assembly resolution to convert it to bond. N30bn is not fresh borrowing but accumulations of all the debts made up of salaries, state pensions, local government pensions, contractors. The N30bn is a condition from DMO," Oriaku said.
He said that the state government has succeeded in saving close to N160 m from the staff verification exercise it was embarking on across ministries and parastatals in the state to fish out ghost workers, pointing out that the exercise was not meant to witch-hunt anyone, adding that the exercise was meant to  to ensure that only those working were paid.
65 total views, no views today