From Mohammed Nasir Shuaibu BAUCHI
Bauchi State Governor Bala Mohammed has call on his teaming supporters not to attack, destroy or cause any damage against the opposition party members in celebrating the victory over the Tribunal verdict in the state.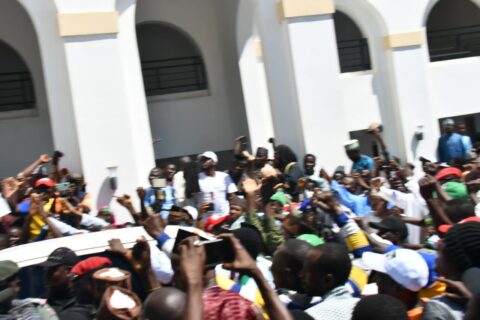 Governor Mohammed gave the strong message while addressing his teaming supporter's shortly after the Tribunal judgement at Ramat House Wednesday in Bauchi.
The governor said that the his victory today at the Tribunal has clearly proved and justify what the people of the state voted for at February gubernatorial elections in the state.
"The judgement is testimony of what the people of Bauchi want and who to govern them, it further shows the confident they've on us in the PDP",.
"I'm appealing to you not to engage in vandalization, destroying or attacking anyone from the opposition party in the name of celebrations, what I want to do is to organizing a Walima or Gate-together party and enjoy yourself",.
Mohammed further appealed to the opposition party to accept the well of God Almighty and come to joint his government to bring more positive changes and developments to the people of the State.
According to the governor, who said before we've pledged not to allow other people to come to our party, but now I've lifted the embargo everyone is now invited to joint us, but we knew our real supporters.
Mohammed thanked the good people of the state especially the youth and women by given him another mandate to serve the state for the second term tenure of four years.