By Izunna Okafor, Awka
The need for regular medical examination and regular consumption of natural foods as one of the measures to prevent spread of cancer, has been re-emphasized.
The Ag. Director, Anambra State Library Board, Mrs. Obioma Obalum gave the advice at a one-day event organized by the State Library, to mark the 2023 World Cancer Day.
Held over the weekend at Afọr market in Ukwulu community, Dunukofia Local Government Area of Anambra State, the event, which was greeted by large audience and warn reception by the rural traders, featured delivery of health talks on cancer and the World Cancer Day.
Addressing the participants, the Ag. Director, Mrs. Obalum explained that the annual event was aimed at creating awareness about cancer, as well as educating the people on the best preventive measures to keep them safe from the deadly disease.
Dissecting the theme of the year's event, "Closing the Care Gap", the State Librarian also advised everyone to regularly care for cancer patients around them and to also assist in creating awareness and disseminating information about the disease in their various localities and households, to help others avoid or minimize the risk factors, as well as enable them know what to do when they see some strange symptoms on their body.
Earlier in his lectures, the Keynote Speaker, Dr. Nonso Onu of the University of Nigeria Teaching Hospital (UNTH) described Cancer as an uncontrolled and abnormal growth of cells in the body, and revealed that anyone can suffer cancer, irrespective of gender, age, race or social status. He also explained that cancer can occur on any part of the body, and further enumerated some of the risk factors/things that can expose one to cancer.
While highlighting the various types of cancer and their symptoms, Dr. Onu, a urologist, told the people to regularly examine their bodies and to promptly consult health official for medical attention and advice anytime they observe any of the strange signs on their body, as, according to him, early detection of cancer and immediate action can help to achieve its treatment and also prevent it from spreading to other parts of the body.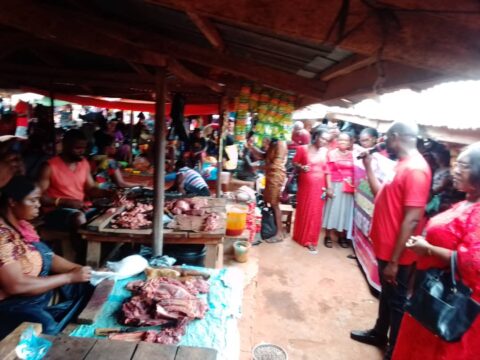 In their separate contributions, some of the villagers and traders in the market, Mrs. Ijeoma Okafor, Mrs. Ngozi Uche, Mr. Ogani Sunday, and Mrs Uche Ezekiel, asked some relevant questions about cancer, while some others appreciated the organizers of the event, the State Library Board, for the wonderful opportunity, and also promised to put what they learnt into practice, and to further share the message and the knowledge they garnered at the event with others.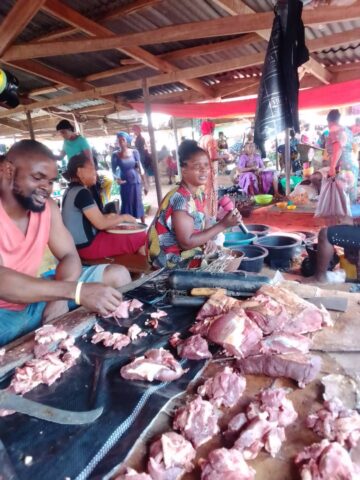 Originated in 2000 at the first World Summit Against Cancer held in Paris, World Cancer Day is an international day marked annually to raise awareness of cancer and to encourage its prevention, detection, and treatment.