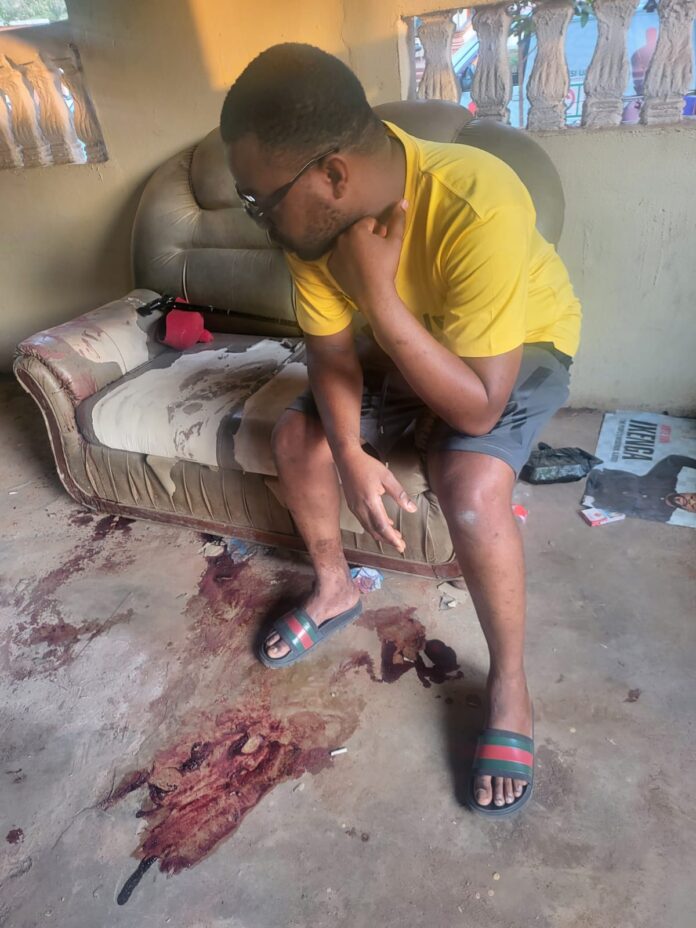 The Imo Government has said it has no hand in the gruesome attack on the Akokwa country home of the Spokesman of the Coalition of United Political Parties (CUPP), Mr Ikenga Ugochinyere.
Loading ...
The News Agency of Nigeria (NAN) reports that the state Publicity Secretary of PDP, Mr Collins Opurozor, had at a news briefing in Owerri on Sunday accused the State Government of being responsible for the attack.
Opurozor described the attack as "an attempt to intimidate and silence Imo PDP."
Below is the video press release that sparked the violence…
In a reaction, the Commissioner for Information and Strategy, Mr Declan Emelumba, denied government's alleged involvement in the dastardly act.
In a statement made available to newsmen in Owerri on Monday, Emelumba stated that "Ugochinyere does not pose any threat to the government, nor does he have any capacity to do so, to warrant any form of attention.
"Ugochinyere is so inconsequential, with microscopic importance in the political firmament of the state to warrant any attention, talkless of torching his house.
"At any rate, Gov. Hope Uzodimma has been in politics for more than 40 years and has never been linked to any kind of violence," Emelumba said.
He said it was "unfortunate and pathetic" that in his quest for attention, Ugochinyere did not hesitate to drag the State Government into his "habitual, messy, tissue of lies".
"His ordeal is certainly not from Imo Government," the commissioner added.
Emelumba regretted that Ugochinyere had become "notorious in levelling spurious allegations" against the governor, "all in the name of attracting undue national attention".
He, however, expressed delight that none of all the allegations made by the CUPP spokesman against Uzodimma had ever been proven to be true.
"From the so-called Omuma voter register's magic to all his insults on the governor and the current one, all are mere falsehood aimed at attracting undue attention to himself," he stated.
The commissioner further stated that it was curious that the PDP had found its voice to condemn the attack because their member was involved.
He noted that from the burning of the governor's country home to the recent attack on former Gov. Ikedi Ohakim, PDP had never deemed it fit to condemn the security breaches in the state.
Emelumba said that Ugochinyere "could have possibly stage-managed the burning of his property just to attract attention to himself and call the government a bad name".
He, therefore, called on security agencies to investigate the action with a view to establishing the culprits.
NAN recalls that the attack, which took place at Umukegwu, Akokwa in Ideato North Local Government Area, led to the death of three persons, including Ugochinyere's uncle.
The CUPP's spokesman, who is also the PDP House of Representatives' Candidate for Ideato Federal Constituency, reportedly escaped from the attack by the whiskers.