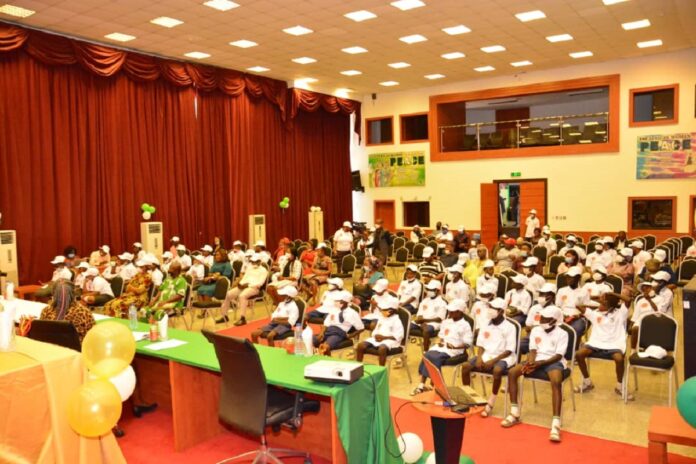 At an event to commemorate World AIDS Day, 2020, First Lady of Nigeria, Dr. Mrs. Aisha Buhari, charged health authorities to remember that they are obligated to reduce any potential risk to the HIV community as funding, researchers and healthcare diverted to COVID-19. She said it is essential that health services remain available to people living with and affected by HIV. Mrs. Buhari was speaking through the Special Assistant to the President on African First Ladies, Dr. Mrs. Mairo Almakura on Tuesday 1st December, 2020. The event was held at the African First Ladies Peace Mission Secretariat, Abuja.
Mrs. Buhari noted that no other epidemic has received as much global attention and support like HIV in the past two decades. 'Even though we are not there yet, we have indeed travelled a long distance from where we started.'
As the UNAIDS HIV champion, Mrs. Buhari said she advocates for the eradication of mother to child transmission of HIV in Nigeria and she has mobilised the support of Governors wives to do the same at the state level. She has also mobilized her team at Future Assured to collaborate with NACA on the inclusion of HIV services during the MNCH weeks.
She said a joint initiative by the Embassy of the People's Republic of China, African countries and international organizations has led to a three-year health promotion and HIV prevention advocacy among young people to ensure that HIV/AIDS is eradicated by 2030, this event, she said, is the second in the series. She thanked the Embassy of the Republic of China for their role in the successful collaboration.
Mrs. Gloria Laraba Shoda, President of National Council for Women Societies spoke at the event, highlighting the possibility of higher rates of HIV for women due to gender based violence exacerbated by the increased rates of insurgency, banditry, cattle rustling and domestic violence due to the COVID 19 pandemic. She called for concerted effort to ensure that this is prevented from happening.
Other speakers highlighted the need to stop discrimination and stigmatization of HIV patients, especially women, and advised that the search for solutions to the HIV Pandemic should be conducted from within, and not from outside, as the case of COVID 19 has shown that this is possible. Speakers also highlighted the need for more awareness among the public and political will by the government to meet the 2030 deadline.
Highlight of the event was the presentation of certificates to winners of the essay competition on HIV/AIDS.