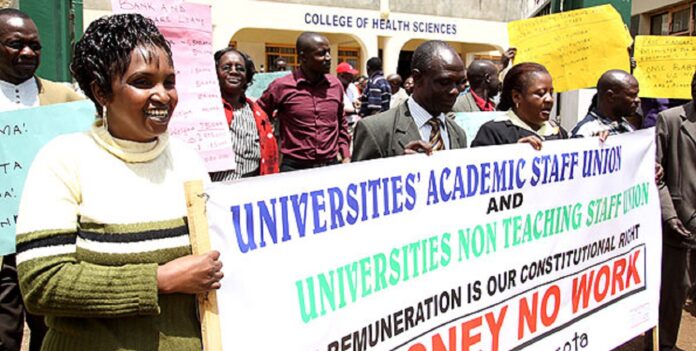 From Ali Galadima, Bauchi
The Academic Staff Union of Universities (ASUU) has said that enough is enough of Federal Government slippery offers, antics and deceit on the Union demands for the reopening of tertiary institutions in the country.
This was disclosed during a press conference at ASUU Secretariat, Abubakar Tafawa Balewa University Bauchi by Professor Lawan Garba Abubakar, zonal Coordinator ASUU, which is comprises of six Universities.
Professor Lawan Garba Abubakar said that when it come to education, President Muhammadu Buhari administration should be blame for under funding ninety three public universities across the country .
He said, "ASUU, Bauchi zone further calls on government officials to salvage the plight of the students and their parents by respecting, honouring and implementing agreements it entered with ASUU. We also call on students, their parents, civil society organizations and the general public to continue to understands and support ASUU in this struggle for the rescue of the Nigerian public University system by insisting that government lives up to its national responsibility by honouring the agreements, the MoUs ands the MoAs it signed with ASUU".
According to him, ASUU would not call off strike untill Federal Government solve five of its major demands, which include, provision of funding and funding for revitalization of public universities and reconstitution of visitation panels to Federal univeriaties.
Other demands are, payments of arrears of earned academic allowances up to 2018 in four equal instalments and the mainstreaming of further payments into the annual budget beginning from 2019, and reconstitution of government renegotiation team and the commencement and conclusion of such renegotiation within six week.
Professor Abubakar further pointed out that, "we are not enrolling on IPPIS. The AGF should understand that our searchlights are currently on him, and that we are going to take on him, past, present and future. He is hereby warned to stop wasting people's time henceforth.