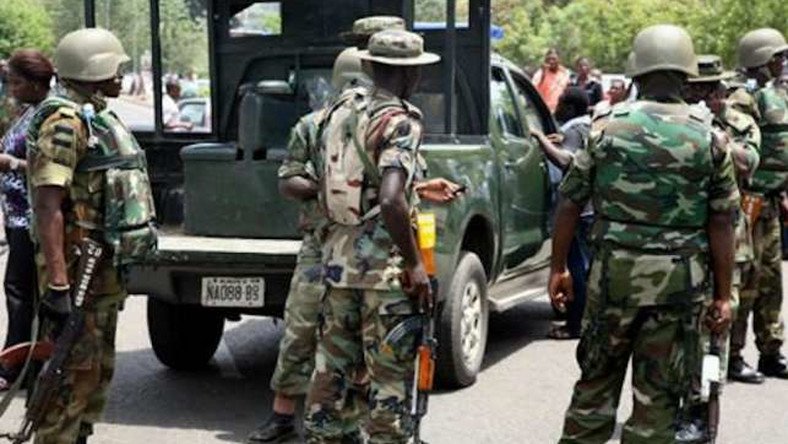 They recall the night with fear. A routine job of guarding an election results collation centre suddenly turned bloody for two soldiers.
Loading ...
Doctors are battling to save the lives of Capt. Adams Salami and Corp. Adeosun Adebayo of 6 Division, Nigerian Army, who were on guard duty on March 9 at the collation centre in Obio/Akpor Local Government Council Secretariat, Rumuodomaya, Port Harcourt, Rivers State. A crowd of thugs descended on the place, shooting. The soldiers were hit.
Capt. Salami and Corp. Adebayo are on the danger list in hospitals.
With the invaders was Governor Nyesom Wike (the soldiers alleged), who has dismissed it all as a joke peddled by "clowns".
The soldiers spoke to reporters from their beds in Military Hospital on Aba Road, Port Harcourt and the University of Port Harcourt Teaching Hospital (UPTH).
The 6 Division's Deputy Director, Army Public Relations, Col. Aminu Iliyasu, in a telephone interview yesterday evening, described the "unprovoked shooting" of the soldiers as "very sad and quite barbaric".
The three agents of African Action Congress (AAC) during the March 9 collation at Obio/Akpor Local Government secretariat, Dr. Lawrence Chuku, Chikordi Dike and Chief Alex Wele, also claimed that Wike led over 200 thugs to abduct and beat them up.
They were later dropped off his (Wike's) vehicle, but went with the LG's Electoral Officer (EO), a woman, the result sheets and other electoral materials.
A chieftain of the All Progressives Congress (APC), Edwin Oludi, urged the Independent National Electoral Commission (INEC) to disqualify Wike for invading the collation centre with thugs, abducting the EO and others and hijacking result sheets and other electoral materials, contrary to the Electoral Act.
Another APC chieftain, Ike Chinwo, insisted that no collation of results had been done at the secretariat, prior to the invasion, stressing that the hall was under lock and key. The EO sat in the office of the LG Chairman, Solomon Eke, before she was taken away, he said.
Captain Salami said: "At about 23.00 hours (on March 9, after the governorship and House of Assembly elections, we got information that hoodlums were trying to invade the Obio/Akpor LG collation centre. So, we were asked to provide security in that area, which we did, in liaison with policemen posted there. We agreed that there would be limited access into the premises.
"Five minutes later, to my surprise, the Rivers governor's convoy came in (into Obio/Akpor LG council secretariat) with about 30 to 40 cars with hoodlums and thugs. Some were in police uniform, shooting sporadically within the premises. As usual, we decided to step back. I was pleading with them, as a soldier, to resolve the matter amicably."
Corp. Adebayo said: "I was deployed in Obio/Akpor LG collation centre and the crowd was too much. So, we had to reduce the crowd. It was then that the policemen in the governor's convoy started mobbing us and hitting us with their weapons. I could not figure out the reason, because nobody asked anybody any question. The policemen were hitting us with the nozzles of their riffles."
The three collation agents of AAC, who are chieftains of APC, but decided to work for AAC, since APC had no candidates for the governorship and House of Assembly elections, also narrated their near-death experiences to reporters in Port Harcourt.
Dike, the leader of APC in Obio/Akpor, who is also a former Chairman of Obio/Akpor Local Government Council, said: "I am the collation agent for AAC in Obio/Akpor LGA. As an agent of the party, after the elections on that day (March 9), we proceeded to the collation centre, which is Obio/Akpor LG council secretariat. While we were in the council secretariat, wards' INEC officers were bringing their results. Different wards' INEC officers were coming to the LG council, though it was late; between 11 p.m. and 12 midnight.
"We had the presence of Nigeria Police inside the LG council secretariat while the military personnel were outside the council secretariat, at the gate, providing protection for the collation centre. Surprisingly, the Governor of Rivers State, Barr. Nyesom Wike, came with over 200 fully-armed persons. Some were wearing army uniform, some were wearing police uniform and some were in mufti. Their vehicles were over 100. They stormed the LG council secretariat.
"Before he (Wike) came, the Electoral Officer for Obio/Akpor LG was inside the council, at the LG council Chairman's office. The governor came and invaded the place. His men were shooting and everybody was scampering for their lives. In the process, I was abducted by Rivers governor, alongside with Chief Alex Wele and Dr. Lawrence Chuku. Also abducted was the Electoral Officer for Obio/Akpor LG. He (Wike) then carted away all the electoral materials."
Narrating his own ordeal, Chuku, a former Chairman of Obio/Akpor LG council, who was Wike's deputy when he (Wike) was chairman of Obio/Akpor LG council, described the experience as "highly traumatising and very horrible".
Chuku said: "As party agents, we arrived at the collation centre, which is Obio/Akpor LG council headquarters before collation started. When we got there, we noticed that the collation centre was locked. Some wards' INEC officers that had come in were only hanging around, probably waiting for collation to begin.
"The Electoral Officer and the Collation Officer were at Obio/Akpor LG Chairman's Office and we were waiting for the collation to begin, when Rivers governor and his men invaded the collation centre. We heard gunshots from the main gate and, suddenly, the governor's convoy came in.
"Later, after our abduction and carting away of electoral materials to an unknown destination, we were dropped off at Rumuola, Port Harcourt at about 1 a.m. by Rivers governor himself. We now heard that the military men that were posted to safeguard lives and property within the perimeter of Obio/Akpor LG council secretariat were manhandled.
"So, there was no collation in Obio/Akpor LGA on March 9. There was no single collation of any result from any ward, because we are the authentic agents of the party. We are calling on INEC to discountenance whatever result anybody will bring in."
Wele said on March 9 at Obio/Akpor Local Government Council Secretariat, while he and other collation agents of AAC were waiting at the venue, for the collation to commence, they were exchanging pleasantries across party lines, but later heard that Rivers governor was coming with his entourage.
Wele said: "It was like a war situation. I was thoroughly beaten and my AAC's agent's tag was torn."
Rivers State commissioner for Information and Communications Emma Okah, who doubles as the Director of Information and Communications of the PDP Campaign Council, described the  leaders of AAC and APC as clowns.
Okah said: "No such thing (invasion on Obio/Akpor LG council secretariat by Wike and thugs) happened. The APC and their ally, the AAC, failed in the elections. They are doing everything possible to divert attention from their shameful failure. Why would anybody abduct them? Of what use is their abduction? To gain what?
"They should bury their heads in shame that they were moving with soldiers to thwart the wishes of their people. How can people who were moving with heavily-armed soldiers and supervising rigging of elections, also be abducted?"
–
Source: Nation