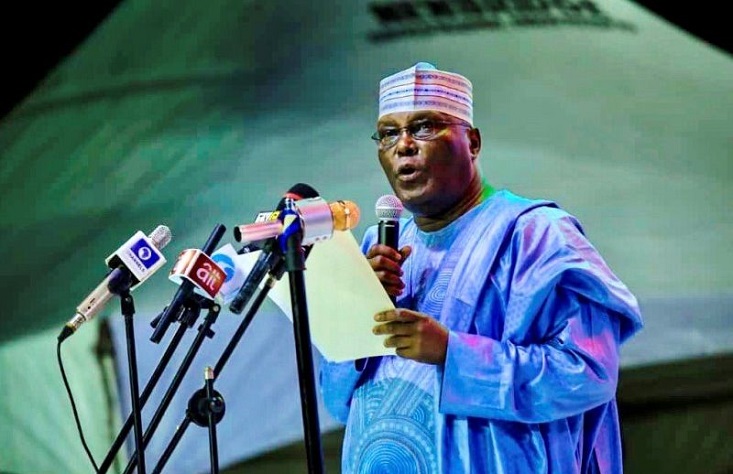 The presidential candidate of the Peoples Democratic Party, Atiku Abubakar, has said there will be no cabal in his government if he won the 2019 election.
While eliminating possibility of cabal in his government, Atiku Abubakar also said he would form a government of national unity as soon as he assumes office.
Atiku spoke in Abuja on Friday during a meeting with the leaders of the Coalition of United Political Parties, who had earlier in the week endorsed him as their sole presidential candidate.
The CUPP is made up of about 46 political parties.
Atiku told the leaders of the parties that his government would be broad-based, and that there would be no room for any cabal to operate.
He said, "I want to commit myself to the continuation of the doctrine a government of national unity. We believe as a political party in a government of national unity and there must be stability before you can do anything – implement your economic programme, implement your healthcare programme.
"Right from the beginning, I have been a member of the PDP and I know we have always believe in a government of national unity.
"It takes a long time for a country as diverse as Nigeria to be united and stable even before we start talking about which ethnic group we come from or which religion we practise.
"I want to assure you that as long as we are having a government of national unity, there will not be a cabal. My government will be a government of the people."
Atilku narrated his journey into politics, stressing that were it not for the efforts of democracy advocates, President Muhammadu Buhari would not be seeking participation in the polity today.
He said, "In the 1980s when some of us joined politics, the reason was to drive the military out of power and restore democracy.
"That was what the late General Yar 'Adua told me. He said, "come and join me. I was in my late 30s and in the public service. I abandoned it and followed him. That was the beginning of my political career.
"If we did not drive the military, he won't be here today talking about political parties and wanting to be President."
In his contribution at the event, President of the Senate who is also the Director-General of the PDP Presidential Campaign Council, Dr Bukola Saraki, said Buhari had affected the country negatively since he assumed the leadership of the country in 2015.
He said that it was unfortunate that hunger "has taken over the land since the President came into power."
He said, "We should all work hard together to ensure victory for Atiku who understands the issues. The message everywhere we go is that this country must move forward and we have agreed that the existing President must give way because he is not leading us in the right direction.
"We have met with Nigerians all over the country, the old, the not-too-old and the message is that the President cannot lead us the right way.
"We must be part of the process to usher in a new direction. The most important thing is that we want a change, a new direction. We want a man that understand the issues.
"We have been to three zones and there is a common message and that message is one of insecurity and hunger. Everywhere in this country, hunger and poverty are the issues.
"So the challenge before us is how to bring back prosperity to this country. Unfortunately, our President today cannot do it. He cannot do it because he does not have the ability to do so.
"Government alone cannot bring prosperity to this country because close to 80 per cent of the revenue of government are going into personnel and servicing of debts. The remaining percentage cannot bring about development.
"To bring development to this country today, you need an environment that encourages people to bring in investment. Nigerians are even afraid to bring their monies out and so they need somebody that they have confidence will bring about the right environment for their business.
"At the moment, the verdict is that this government and this President do not give that confidence and without that investment, we are going nowhere."
A former governor of Osun State, who is also a prominent leaders in CUPP, Prince Olagunsoye Oyinlola, said more political parties had joined the coalition.
"We are moving steadily. More political parties, I think 15 or so, have just joined the coalition and they are all committed to the struggle, "he added.
Leaders of some political parties including PPA, ADC, KOWA and DPP were present at the event.