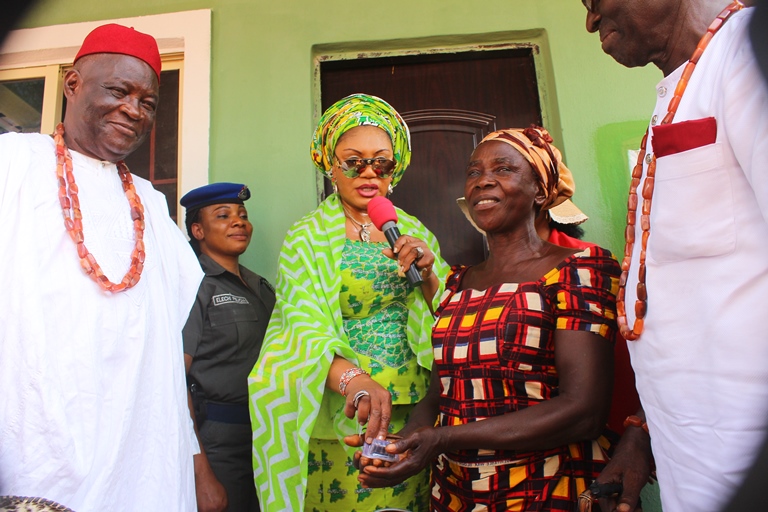 Fake Story: Obiano's Alleged Spat That Never Happened
By Ekene Okoye
It is again another season of wild tales and spurious concoctions as political gladiators go to the trenches. As usual Anambra State which has enjoyed unprecedented peace and tranquillity has been in the eye of the storm as smear campaign against the Governor Obiano and his wife is weaved by purveyors of falsehood to please their paymasters.
A speculative story developed by a Lagos based blogger paid by people bent on sullying the Obiano's alleged that the wife Ebelechukwu Obiano who is well-known for her involvement in charity projects across Anambra and beyond fought with the husband. I can attest as an outside observer who has followed development in the state in the last one week that the story is false and never happened. In fact I was amazed at the outpour of goodwill over last weekend when the Governor's was awarded doctorate degree (Honoris Causa) by Chukwuemeka Odimegwu Ojukwu University at Igbariam for improving human development through her NGO, CAFÉ.  
Why The Lie?
I was reliably informed that when political opponents find it difficult to break through the focus of the governor who approaches his job with professional gusto, they go after the wife. Of course you know by now you know that some persons are gearing up to 'conquer Anambra' enroute the Presidency and to achieve that they are trying to make state a theatre of fracas, even the State House of Assembly are testing their understanding of democracy. These are people who believe that in this game no weapon is spared lies, lies, and more lies.
My checks with the Governor's aide and the wife's returned with surprise and
Unfortunately, the consuming public in the age of the internet like fabulous tale that are salacious and tend to swallow it without asking basic questions. In the past one week the wheel of state activity and the private life of the first family in the state have been more exciting all in effort to sustain the tempo of development in the state. Whereas the governor is busy about state affairs, the wife as usual has been busy with several of her NGO programmes. For those who can still cross-check let's ask basic questions.
 Some Basic Questions?
Where did the said state function take place? Are there no witnesses or is it in the bedroom?

Many who followed government programmes in Awka the past two weeks have confirmed there nothing of such anywhere.

Although untrained hands tend to ignore the rule, there are basic structures in a story. Apart from the spurious allegation, there was no attempt to show evidence of who is the mystery mistress without identity, picture or video of the said incident.
This is a simple smear campaign meant to distract the Obianos and my advice is that it should be ignored.
Ekene is an Awka based journalist