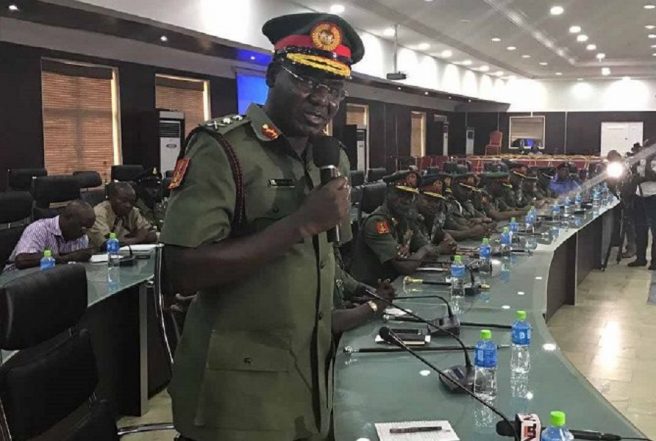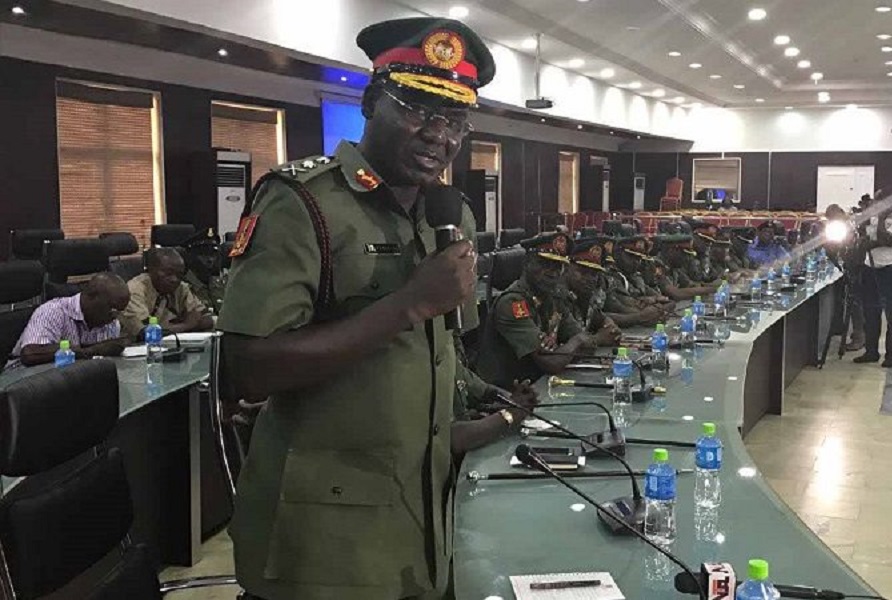 My Monguno Experience And Odyssey To Our Troops – By Okanga Agila
Life teaches us some prime lessons, which influence our skills of appreciation every day. We are often told, after dusk, comes dawn at day break; and after darkness, comes light, an indication of the interment of tribulations.
Your own beloved, the Chief Priest just came back from the deepest part of the north-east, specifically Monguno in Borno state. You know African Chief Priests are endowed with broad-mindedness and a heart steeped in mystic aura. It is an African cultural trait.
We all know the Northeast region in Nigeria, particularly was a few years earlier, the most dreaded enclave in the West African sub-region. Even angels with their miraculous prowess were terrified by it.
It was unthinkable for anybody to risk a journey to its forlorn villages and communities because of Boko Haram terrorists. They held the region, the natives and even the military captive, with very lethal terrorism, in the name of the devils they worship.
But my personal experience, from the latest trip to this liberated region is full of pleasant recollections and memories. In the last two years, I have journeyed to this area more than twice for no other reason than love for adventure and to feel first-hand the realities and afflictions of our people in this part of the country.
Each trip reveals to me a progression in the liberation of this troubled region. And dare say, the Nigerian Military has finally consolidated its hold on the region at the detriment of vicious tormenting terrorists. Many thanks to the Nigerian Army in particular, which have commandingly held the forte under the COAS and leader of the counter-insurgency operations, the charismatic Lt. Gen. TY Buratai.
At my recent trip, I was one of the uninvited guests at the Chief of Army Staff Conference (COASC) holding at Monguno, Borno State. As usual, my curiosity to know; the passion for adventure dusted any fears in me and my native credentials as Chief Priest bolstered the courage.
So, my team comprising a few like minds signified our intention and, the Abuja Army team to the COASC in Monguno beckoned us on board the convoy. The journey was quite smooth. As we sped pass villages and communities, it was visible that normalcy had not just returned,but serenity, was enlivened by the greenness of the land, with the return of rainfall.
And in Borno, my team headed to the Northern axis on a humanitarian mission to support returning families departing IDPs camps with our love and affection.
 We held this intention a top secret until we got to our destination. The Army team we had the privilege of journeying in their convoy were surprised. But I assured them to worry less, as the team was led by an African Priest.
Duty beckoned on me and I had to demonstrate the potency of my capabilities. Before now, there have been cacophonies of voices, with many querying our modus operandi in the African shrines, where the lord has ordained me as his Chief Priest, equivalent of a Bishop in the Western church.
Time was ripe for me to prove my mettle and I led my team to do it in Monguno faultlessly, as  our presence alone gave further hope and confidence to the IDP returnees. Their responses were full of praises to the Military.
The next day, we joined the 
Thursday
 session of the COASC that had Senate Committee chairman on Army, Senator George Akume (APC-Benue Northwest) representing the Senate President, Sen. Bukola Saraki. The gathering paraded a galaxy of personalities from the political and military leadership of the country.
The Vice President, Prof. Yemi Osinbajo was also in attendance. After the day's event, we started heading for Maiduguri at 
7pm
 with a military escort of just one gun truck and two Hilux vans. I can assertively say, it was a modest security back-up for the Vice President on any trip.
But something unexpected happened. In less than 30 minutes into the trip, I lost one of the tyres of my Lexus 470 Jeep. In Abuja, we heard tales about the danger on that road. But the troops assured us of our safety. In the words of our drivers, "Bros you need fear nothing. We done chase them from here and they no fit near us."
In the dark, every effort to remove the spare tyre failed. Perhaps, out of exasperation,   I didn't know where I misplaced my phones, which are like a cherished baby to me. I wanted to be online at all cost. I felt like I have been marooned in an Island alone.
The possibility of spending the night on the road appeared real. I have experienced night life in Maiduguri, but not anywhere on the fringes of Northern Borno up till that moment of the trip. But we eventually abandoned the vehicle and zoomed off to Maiduguri. So, gripping anxiety gave way to courage and instantly quashed indecisiveness.
Interestingly, my friends, Messers Daniel, an American and Francis, a Frenchman were all on the trip with me. As we journeyed back again, we saw enlivened villages along the road blistering with life. From the faces of the natives, it was clear the fear of Boko Haram was nowhere around. Terrorism has indeed vanished!
 I was just shocked at the confirmation that the things we read about the defeat of Boko Haram were not false after all. It is real and not film tricks or fiction.
Throughout the days, we traversed Borno, we saw in our troops courage;  I saw determination and confidence to keep Nigeria together. I saw sacrifices of troops in action and all that pointed revealingly to the immutable fact that Nigeria has overcome terrorism. We finally arrived our hotel rooms at about 
10pm
 and spent sometime in the open bar, rewinding the day's experience excitedly over drinks.
On the flipside, the trip also had exciting angles. Whilst all the dignitaries particularly members of the National Assembly (NASS)  used choppers to Monguno, our Military Generals and their subordinates all used the road for a journey of about 3-4hrs. This is how they risk their lives, yet we appreciate them not.
I recall the several summons the National Assembly had issued to Service Chiefs to appear before it to explain why they "claimed" Boko Haram was defeated. I shook my head in sadness.  But they came and saw it themselves.
I plead with politicians to show some empathy to troops, at least for once, rather than bossy combativeness. We must necessarily know that our troops deserve the hallowed chambers of the NASS just like legislators, but have chosen to spend weeks and months in the trenches defending fatherland against terrorists.
Meanwhile, on the return trip to Maiduguri , my team travelled from Abuja by road due to Medview flight cancellation. , through Bauchi  to Potiskum to Damaturu. And pleasantly too, my team also confirmed the safety of the road from Jos to Bauchi  through natives we met. Businesses are back to the roads and life returned to normalcy. God is really good and our military deserve some accolades.
But before I end this odyssey memoirs, I must not fail to celebrate the Benue born Maj. Gen. John  Malu, who bagged the Chief of Army Staff award at the COASC. He was honored for his prudence and accountability in the discharge of his duties. He was instrumental to some key Army building projects and everything Nigeria entrusted in his care.
I listened with trepidation as the COAS, Gen. Buratai confirmed that not a dime was mismanaged under Gen. Malu's  care. Kudos to my dear elder brother!
 I cannot help, but thank President Muhammadu Buhari immensely for keeping faith with his  covenant with Nigerians on security, especially ending Boko Haram terrorism. His very modest submissions are worth recalling here but keep a date with me again.
And in spite of whatever his critics and opponents say about this Presidency, I feel he should be happier as a one Nigerian President who restored the lost glory of our country and the dignity of nationhood.
Okanga, a traditional warrior wrote this piece from Agila, Benue State.