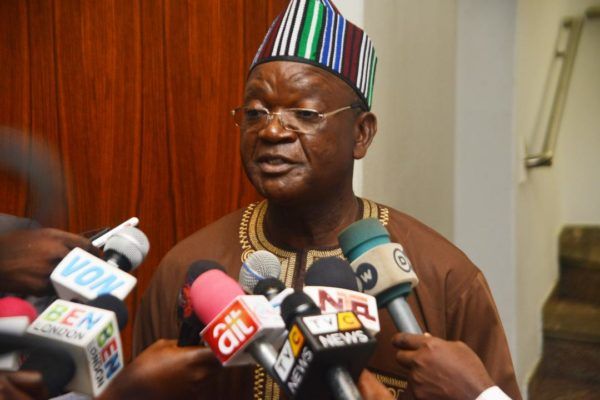 'It Doesn't Make Any Sense,' Governor Ortom Reacts To Impeachment Plot
Loading ...
Benue State Governor, Samuel Ortom, has reacted to the impeachment plot by some All Progressives Congress (APC) lawmakers.
The governor told journalists on Monday that the impeachment plot does not make sense.
He noted that the eight APC lawmakers led by the former Speaker, Terkimbi Ikyange, held the plenary illegally after a court order restraining him from parading himself as Speaker.
"The impeached Speaker and other principal officers paraded themselves in disobedience of the Benue High Court order that they should not do so until the substantive matter was heard. As law-abiding citizens that is what we encourage.
"They sat illegally without the clerk of the House or his deputy.
"Eight lawmakers claim to have suspended 22 members. Is this not laughable? It is only in a shithole country that you can do this kind of a thing. The same members without forming a quorum claim to illegally move a motion to serve an impeachment notice on me.
"It doesn't make any sense, it doesn't mean anything. We are learned people, we have read the constitution, we know the provisions," he said.
Governor Ortom then called on patriotic Nigerians and Benue people to rise and resist the action of the APC lawmakers which he described as 'impunity and rape of democracy.'
"This is not the Nigeria we are yearning for. This is not the kind of democracy we are talking about," the governor added.
The impeached Speaker of the Benue State Assembly, Terkimbi Ikyange, had earlier on Monday led eight of his colleagues, allegedly under heavy police protection, into the House.
The police officers blocked the entrance to the Assembly complex and also barred journalists from covering the plenary.
Ikyange told journalists after the plenary, that the APC lawmakers are moving to impeach Governor Ortom, over alleged diversion of state funds and abuse of office.
–
Source: Channels