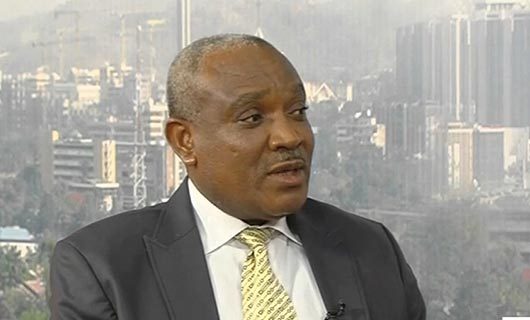 Certificate Forgery: Reps Panel Wants Buhari's Aide, Obono-Obla Prosecuted
Loading ...
An ad hoc committee of the House of Representatives has recommended the arrest and prosecution of the Chairman, Special Presidential Investigation Panel for the Recovery of Public Property, Chief Okoi Obono-Obla, for alleged forgery of his law degree certificate.
In addition, it recommends his sacking as a Special Adviser to President Muhammadu Buhari.
The committee, which is chaired by a member of the All Progressives Congress from Kwara State, Mr Ahman Pategi, also seeks the dissolution of the presidential panel on the grounds of alleged abuse of office by the chairman.
On Obono-Obla's degree, the committee stated that he did it "fraudulently" at the University of Jos, asking the institution to withdraw it.
The committee had submitted its report to the House on Tuesday, last week, shortly before the commencement of the current annual recess by members.
It noted in the report that Obono-Obla failed to honour several invitations to appear before it for questioning.
The recommendations of the committee are as follows: "The Recovery of Public Property (Special Provision) Act, Cap R4, Laws of the Federation of Nigeria, 2004 should be repealed.
"Urge the President to dissolve the panel in view of the arbitrary use of power and abuse of Office by the Chairman.
"The Code of Conduct Bureau should be strengthened to fill the gap that the panel seeks to fill in the current anti-corruption drive.
"The Independent Corrupt Practice Commission should investigate the allegations of corruption contained in the audit report on the Financial Transactions of the Panel by the Auditor-General of the Federation and prosecute the culprits.
"The Law degree obtained by Chief Okoi Obono-Obla having been done fraudulently should be withdrawn by the University of Jos.
"The Body of Benchers should withdraw the Law School Certificate awarded to Ofem, Okoi Ofem (now known as Chief Okoi Obono-Obla) as this was based on the degree which he obtained from the University of Jos through fraud.
"Mr President should discharge Chief Okoi Obono-Obla of his responsibility as Special Adviser and as Chairman of the Special Presidential Investigation Panel.
"Chief Okoi Obono-Obla should be arrested by the IGP and charged to Court for forgery and misrepresentation."
However, the House has yet to consider the report.
Attempts to reach Obono-Obla for his reaction were unsuccessful as his two known telephone lines were switched off as of the time of filing this report.
–
Source: https://punchng.com/alleged-forgery-reps-panel-wants-buharis-aide-prosecuted/