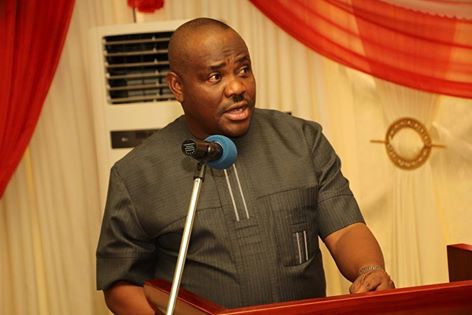 Rivers APC Carpets Wike For Setting Aside N500m To Smear ACP Akin Fakorede
Loading ...
*Commends both the IGP and the Rivers State Police Command for exonerating the SARS Commander and issue a seven day ultimatum to Wike to apologise to ACP Fakorede
 *Reiterates that the party does not need to rig to Ouster Wike in 2019
Rivers State chapter of All Progressives Congress (APC) has described as most unfortunate, disgraceful,misguided, witch-hunting, vicious, incredible, wicked, unacceptable and sad of Governor Nyesom Wike of Rivers State setting aside Five Hundred Million Naira (N500M) of the Rivers State government to sponsor a very devious smear campaign against the F-SARS commander for the purpose of ensuring that he is removed, after his failed attempts in the past through the failed #endSARS campaign to blackmail the Commander of the Federal Special Anti-Robbery Squad (F-SARS) Akin Fakorede, an assistant commissioner of Police (ACP).
The party in a press statement issued by Chief Eze Chukwuemeka Eze, the Media Consultant to Dr Ibiamu Davies Ikanya the ex-Rivers APC Chairman after due consultation with the current State Chairman of Rivers State APC, Hon. Ojukaye Flag-Amaechree on Thursday stated that though it is not the duty of the party to examine how the Police Command or its officers execute their tasks but APC as a party founded and rooted in fighting corruption, wicked acts and injustice in Nigeria, can't fold her hands and leave an officer desirous of a better Rivers State to be run down by a misguided Governor.
The party went further to state that, "for Governor Wike to budget such a whopping sum of money for a program to run down an innocent Officer who from all intents have being doing his work diligently and satisfactorily to the people of Rivers State during a period when Governor Wike could neither pay the salaries of the Civil Servants in the State or the Pension of our retired Civil Servants and unable to create jobs or employ any of the thousands of unemployed Rivers State youths is to us most incredible, unfortunate and unacceptable."
Today, after sponsoring series of campaign of calumny against this committed loyal officer of the Police Command of the Federal Republic of Nigeria, Governor Wike has gone further to place advertorial in the front page of all most key Newspapers in Nigeria to sustain the blackmail against ACP Akin Fakorede before the public in order to rubbish the great credentials of this soldier of democracy against militancy and criminal acts he put in place to sustain his hand on the killings and elimination of Rivers State people who are not ready to dance to his dastard acts.
The party noted that in "February of 2016, Wike called Akin Fakorede to his personal residence at midnight and offered him money to work with him. This was in the presence of two PDP chieftains. One is now a National Officer of PDP. Wike was enraged that Akin did not accept the offer. In 2016, two soldiers; Lance Corporal Yohanna Kamuji (No. 06NA/58/4456) and one Corporal Bello Lazarus (No. 96NA/143/9888) were brutally killed. Charles Emesiobi, Goodnews Kejeh and Goodluck Nwogbo were arrested with the soldiers' weapons and a large cache of ammunition. The Rivers state government through the office of the Attorney General and Commissioner of Justice asked for their release in writing. Akin refused. He went on to charge them to the Federal High Court – suit No. FHC/PH/10C/2016."
The fact remains that during the rerun elections on Dec. 10th, PDP's official agents were arrested with a large cache of weapons and INEC material. Again Akin Fakorede was asked to release them. Again he refused. The accused have been charged and are currently facing trial. Suit Nos. FHC/PH/86C/2017 and FHC/PH/90C/2017.
The party asked if it has become a crime that anybody who refuses to participate or toe the criminal acts of the Governor must be disgraced and humiliated to warrant the budgeting of a whopping sum of N500M just to pull down ACP Forkede for refusing to join Wike in his support for criminal acts in Rivers State.
The party observed that on the allegation of impropriety against Akin Fakorede, it is a fact that he has been exonerated of allegations of electoral impropriety against him both by the Rivers State Police Command. The investigation Team instituted by the Inspector General of Police (IGP), Ibrahim Idris to investigate Forkede exonerated him as stated a letter which contradicts Governor Nyesom Wike's claims that Fakorede was indicted for the 2015 elections and rerun elections in Rivers. The letter dated December 7, and signed by Deputy Force Secretary 2, DCP M, C. Mukaddas reads: "You will recall that you were queried for serious misconduct via a March 9, 2017 letter. The IGP has carefully considered your representation to the query and found that you are not blameable. He has decided that you be exonerated, and you are hereby exonerated, with effect from December 5, 2017."
The party commends IGP Idris for ordering the F-SARS Commander Fakorede to Sue the Rivers State Government following avalanches of libellous advertorials placed in some dailies against him. The IGP in a letter dated May 17, 2018 and signed by the IGP's Principal Staff Officer (PSO), Usman Umar through the Commissioner of Police, CP Zaki Ahmed reads "I refer to your letter No. CB:3960/RVS/VOL.1/3, dated May 16, 2018 with its attachment on the aforementioned subject (request for authorisation to seek legal/civil remedy against continuous publication of false, malicious and libellous publications against ACP Akin Fakorede by the Rivers State Governor, Ezenwo Nyesom Wike, and agents of the Rivers State government) and respectfully convey the approval of the IGP that you direct the officer (Fakorede) to go to court, please."
"With this fact, it is wicked and fallacious for Wike to continue to sponsor campaign of calumny against this man. It is clear that the role Akin played in exposing Wike and INEC's wrongdoings has placed a target on his back" the party maintained.
According to Governor Wike, ACP Fakorede is plotting, recruiting, training and arming a special squad to rig next year's polls but the party described such an allegation as the "thinking of a diseased mind that needs our collective prayer as the party need not engage itself in any rigging exercise seeing that Wike has already rigged himself out of power by his useless, wicked policies and none performance as his administration is nothing but a disaster."
The party noted that Wike is well known for his notoriety for rigging and feels that everybody is in thesame state of mind like him. The party asked Wike to honestly answer the following questions: "Was Fakorede among the six police officers dismissed from service and their families suffering today, because Wike used them to invade the Rivers East Senatorial District's collation centre in Port Harcourt, under heavy gunfire, during the December 10, 2016, legislative rerun election in the state?
"Was Fakorede the person that ran away with results from Emohua Local Government Area of Rivers State? Was Fakorede the person, who ensured that all election results from Ikwerre council were not collated?
"Has Wike forgotten his leaked phone conversation with certain electoral officers who he was instructing to manipulate the election of Senator Unchendu to PDP advantage? Was it Fakorede that caused the sack of 23 officials of Independent National Electoral Commission (INEC), who confessed to have received N360 million bribe from Wike to rig the polls?
The party counselled Governor Wike now knowing that his time is up to apologise to ACP Forkede and contemplate on how to atone for his sins against the people of Rivers State so that we can collectively pray to God to forgive him of his sins and stop the ridiculous attempt of diverting attention of the general public by accusing a man who is here to prevent him from further maiming the people of Rivers State.