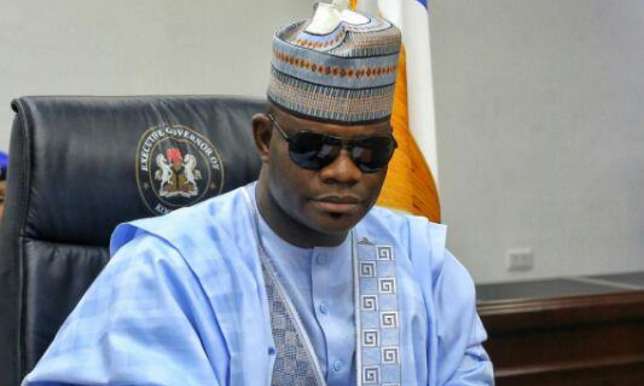 We'll Prosecute Bello For Double Registration, Says INEC
–
Loading ...
The Independent National Electoral Commission says its allegation of double registration against Governor Yahaya Bello of Kogi State still stands.
"The allegation of double registration has not been swept under the carpet; we cannot prosecute Bello now because he enjoys immunity as a sitting governor.
"He has committed an offence and we shall prosecute him when he is out office," INEC Resident Electoral Commissioner in Kogi, Prof. James Apam, said in Lokoja on Thursday.
He said that the recent issuance of a temporary voter card to the governor did not mean that the issue of double registration had been swept under the carpet.
The News Agency of Nigeria, reports that INEC had, on February 26, issued a temporary voter card to the governor after applying for the transfer of his permanent card from Abuja to Okene.
INEC last year declared the second registration done by Bello, on May 23 at the Government House, Lokoja as illegal and contrary to the Electoral Act.
The electoral body, through one of its National Electoral Commissioners, Mr. Emmanuel Shoyebi, said that the registration, which was done outside the designated registration centre, also amounted to double registration which is a criminal offence.
Shoyebi said that Bello did his first registration at Wuse Zone 11 in Abuja, on January 30, 2011.
For their involvement in the double registration saga, a senior official of INEC was compulsorily retired from service while two others were summarily dismissed last month.
Apam, however, explained that a temporary voter card was issued to the governor based on legal advice, saying that the governor would surely face the consequences of his crime at the appropriate time.
He said that INEC's legal advisers had advised the electoral body not to deny Bello his right to vote and be voted for since he could not be tried at the moment.
On the ongoing Continued Voters Registration, Apam said that INEC had registered 176,866 new voters in Kogi between April 2017 and February, 2018.
The Resident Electoral Commissioner said that the new registrants comprised of 90,553 male voters and 86,313 female voters.
During the period, he said that the organisation had transferred 7,169 permanent voter cards and replaced 9,400 lost or defaced cards.
Similarly, INEC said it distributed 57,148 permanent cards to their owners within the same period, while 202,289 voter cards were still uncollected.
Apam restated INEC's readiness to conduct free and acceptable elections in 2019, urging all stakeholders to help in achieving that.
Meanwhile, INEC has said it has received 108 applications from associations seeking to register as political parties and participate in the 2019 general elections.
Out of these applications, only nine had successfully gone through to the final stage, the Chairman of INEC, Prof. Mahmood Yakubu, said on Thursday at the Social Media Week 2018 in Lagos.
"The windows will soon close for associations to register as political parties," Yakubu said.
The INEC chairman, who addressed the theme, 'Citizens, government and technology,' via teleconferencing, stated that parties that registered six months to the elections would not be eligible to participate in the general elections.
To discourage vote buying, Yakubu said the commission would increase sensitisation, enforcement and improve polling unit administration by restructuring the ballot boxes in a way that would not allow voters to reveal the identities of the candidates they voted for.
–
Source: Punch