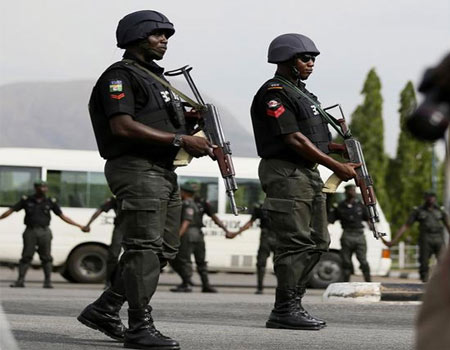 Police Arrest Man From Niger Republic With Ammunitions, Army Camouflage In Sokoto
–
Loading ...
The police in Sokoto State has paraded a national of Niger Republic with ammunitions and an Army camouflage.
Addressing journalists at the Police Command headquarters in Sokoto, State Commissioner of Police Murtala Usman Mani said the suspect was arrested at the border town of Bachaka in Gudu Local Government Area of the northern state.
The Commissioner, speaking through the Police Public Relations Officer of the Command, DSP Cordelia Nwiwe, said the suspect was arrested in possession of a pistol with seven rounds of ammunition, one pump action rifle with 76 rounds of live ammunition, and an axe.
Other items seized were two handsets with six SIM cards, a camouflage and police belt, international passport and a motorcycle.
"The Nigerien claimed that he is a hunter and that he was invited by some hunters in Nigeria to participate in a hunting exercise," said the spokeswoman, the suspect having also claimed to be a hunting leader from Dogon Dutsi town in Niger Republic.
"We are determined to curb crime in Sokoto and will not allow foreigners to infiltrate the country wearing camouflage and impersonating the Nigerian Army," the police stated.
The police also paraded one Umar Mohammed, who, it was disclosed has been passing himself off as an aid to Senator Ibrahim Abdullahi Danbaba representing Sokoto South senatorial district; whilst extorting money from unsuspecting parents under the guise of a scholarship awarded to their children.
"The suspect has been moving around collecting money from parents on the pretext that the senator has settled 50 percent of tuition fee of their wards in some selected private schools such as Success Academy, Blue Crescent and Global Kids Academy in Sokoto," said the police.
"In fact, he used to collect between N50,000 and N100,000 from each parent and issue them fake teller of Zenith Bank. However, luck ran out of him and he was arrested."
The suspects would be charged to court after investigation had been concluded, according to the Command.