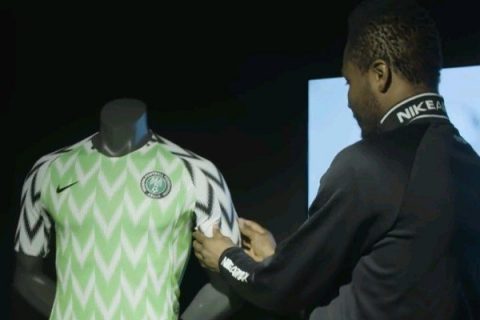 UK Mirror rates new Super Eagles' jersey as the best
Last year, the Super Eagles defeated Zambia, and qualified for the 2018 FIFA World Cup set to hold in Russia later this year. Alex Iwobi's 73rd-minute strike made Nigeria the first African country to qualify for the major international tournament – and as you can imagine, everyone is hyped.
To pile on to this hype, yesterday, Nike unveiled the new Super Eagles World Cup kit, and it's super duper cool!
For an occasion as huge as the World Cup, it's very important that the players look their best as they aim to bring the trophy home for the first time. This is why Nike's energetic collection for the Nigeria Football Federation is the perfect choice, as it exudes the pomp and swagger that it takes to be a Nigerian.
This kit by Nike pays homage to the 1994 World Cup kit; as the new home shirt features a bright green and white zig-zag pattern across the torso with contrasting sleeves, while the away shirt for the World Cup is a more understated plain dark jersey, and is in closer resemblance to their current jerseys.
Nike wanted to "tap into the attitude of the nation", and instead of assuming for themselves (only to get it wrong), they consulted actual Nigerians in partnership with our friends at The Native, the Super Eagles themselves (Alex Iwobi, Mikel Obi and more) and our star boy, Wizkid. This was a great shout, as we can see in the results that the Super Eagle's kit is wavy AF.
In Nike's official press release, Super Eagle Alex Iwobi said:
'I grew up in England, but Nigeria is my homeland. When I scored that goal, the players were dancing, the fans were playing trumpets and bringing drums… there was just so much passion and energy.

It is always an honour to wear the white and green. To compete this summer is not just our dream, it is also the dream of our fans. Together, we all represent Naija!'
For the first time since 1998, there seems to be genuine optimism around the Super Eagles at the World Cup and Nike have kitted the team out perfectly for success. Given the current political, economic and even the actual climate in the country, it's nice to have something inspiring and to lift our desolate spirits. We are for sure rooting for them, and can't wait to see them looking great in Russia this summer!!