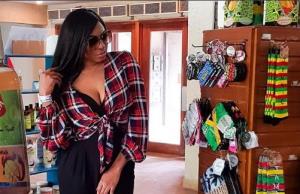 After Harvard Graduation, Actress, Chika Ike Spoils Herself in Jamaica
Nollywood actress, Chika Ike, has gone through lots of stress of recent and she is all set to give herself the best deserved vacation.
For some months now, she has been busy shooting her African Diva reality TV show mixed with her Harvard study which she has just completed in flying colours and it's time for relaxation.
The actress has taken a long trip to the dancehall country, Jamaica, and she is already walking round some stores in such of something to spoil herself with.