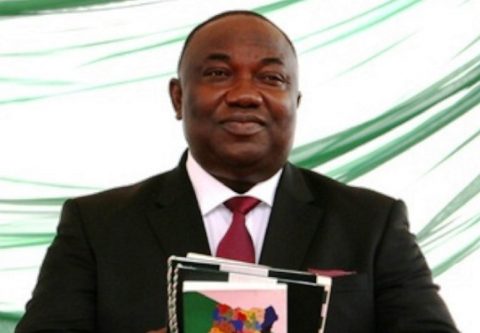 Press Statement
Group Passes Vote of Confidence on Gov. Ugwuanyi, Declares Enugu Opposition-Free State
A group known as Enugu Youths Coalition has passed a vote of confidence on Governor Ifeanyi Ugwuanyi of Enugu State.
In his New Year message, the national coordinator of the coalition, Dr. Edwin Obune said, Governor Ifeanyi Ugwuanyi has justified the mandate given to him by Ndi-Enugu to steer the ship of the state in the past few months, adding that the governor has used unprecedented performance to silence the activities of the opposition in the state.
He noted that the approval rating of the governor is second to none among the governors in Nigeria.
His word: "This is the only governor in Nigeria that have paid workers who worked for 12 months, a 13 months salary despite the fact that Enugu is number three on the list of states in Nigeria with little federal allocation."
He further noted that the intervention programmes of the governor in key areas like health, education, water resources, rural developments, urban renewal, security and commerce has put smiles on the faces of the people.
The leadership of the group also commended the governor for presenting a realistic budget of sustainable economic growth to the State House of Assembly for approval, saying the N98 billion budget for 2018 fiscal year would be judiciously implemented the same way the 2017 budget was implemented which resulted in the commissioning of 26 road projects and many other projects under construction.
The group expressed confidence in the governor and urged the people to give him their maximum supports and cooperation saying Enugu State is not only in God's hands, but also in a reliable, tested and safe hand.
While declaring Enugu an opposition-free state, the group said no force on earth can deny the governor his second term in 2019 as it is ready to defend every vote that went to the governor come 2019.
The coalition also warned Abuja-based politicians who have concluded arrangements to launch media war against the administration in the state so that they can gain access in to the state's electoral fortunes in 2019 to shelve such plan because it is ready to defend the governor and his administration from all kinds of negative publicity.
"Without trying to make mockery of endorsements enjoyed by the governor already, the coalition also endorsed the governor for re-election in 2019 noting that the governor is not only the "Ochili Ozua Gburugburu of Iwollo Omasi Kingdom, but also the Ochili Ozua Gburugburu 1 of Enugu State.
Signed:
Dr. Edwin Obune,
National Coordinator,
Enugu Youths Coalition