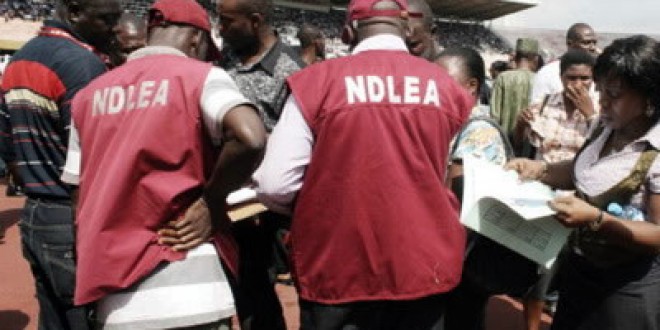 CSOs Charged Senate Not To Renege Promises To NDLEA
By Yakubu A Salisu, Kano
Civil society organizations in Kano have charged the Nigerian Senate to keep to promises it made in Kano during a two days round table discussion on drug related matters to tackle the menace by according the National Drug and Law Enforcement agency NDLEA with every necessary support needed in its fight against drug abuse cases which experts now describe as an epidemic.
The groups made this call during a joint media conference organized by both the civil societies and the NDLEA Kano command to mark the end of the year 2017.
Secretary NDLEA/CSOs Kano steering committee comrade Ibrahim A Waiya stated that the group deems it necessary to remind the Senate that it is important to keep to all its promises to support the drug and Law enforcement agency by ensuring special amount is set aside for the agency in the 2018 budget and the money released to the appropriate body.
" we are meeting today to deliberate on how to follow up on all the promises been made to provide and equip NDLEA with the necessary tools needed for operation. The Senate has promised to as matter of urgency, address problems that has bedeviled the Agency for long, we want to appreciate their concern and remind them that the people of Kano are looking up to them to keep to their words"
Members of the groups also called upon the senators from the state to do their possible best to ensure that the matter is not swept under the carpet considering the seriousness of the matter in their own very state which is said tops the chart of drug abuse in the whole country.
Speaking at the occasion, the agency's state commander Hamza Umar,(MNI) stated that the year 2017 was a challenging as well as a successful one considering the number of seizures made as well as successful number of convictions the command has secured.
Break down of the year's activities are as follows: cannabis arrested-5,525.577kg,
Psychotic substances- 11,587.454kg,
cocaine-344.922grams,
Heroine-88.2grams.
Total weight= 17,113.464KG.
Total number of suspects arrested : 619,
Total number of suspects convicted =165.
Hamza further revealed that 25 impersonators and the person who prints who fake NDLEA's ID card for them have been arrested and are currently facing the law. This people he said, go round extorting and duping the public.