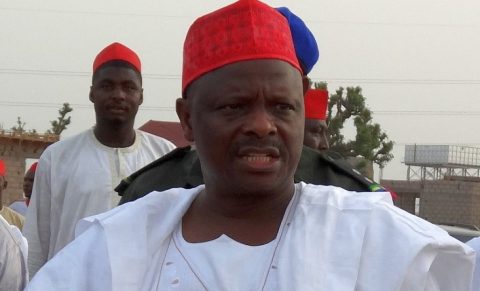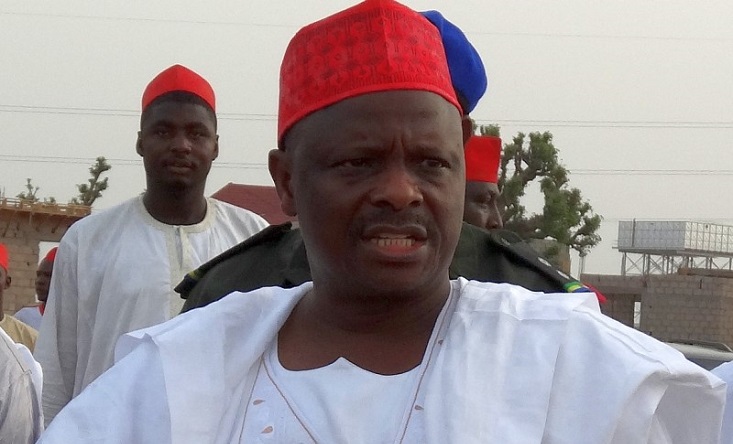 Buhari, Ganduje And Kwankwaso's Proposed Visit To Kano – By Malam Muhammad Garba
Penultimate week, President Muhammadu Buhari visited Kano amidst fanfare, despite all the propaganda by the Kwankwassiyya Movement that Mr. President was not going to visit a state that gave him two million votes in the 2015 presidential election. Now, they have covered their faces in shame when on December 6, in spite of all his tight schedules, our amiable President made his trip to the ancient commercial city where he spent two days commissioning projects executed by Governor Abdullahi Umar Ganduje.
President Muhammadu Buhari's visit to Kano was a historic visit that has come to stand the test of time. Shortly after the visit, to further define their closeness, President Buhari insisted that Governor Ganduje joined his delegation to France where he attended the One Planet Summit.  This very move further surprised enemies of Governor Ganduje's administration who spent their resources and time, even using surrogates to stop the presidential visit. They did not succeed as their dreams crashed like a pack of cards.
However, information available to us indicates that former Kano state Governor, Engr. Rabiu Musa Kwankwaso will be coming to Kano on December 30. Already, his supporters and members of Kwankwassiyya Movement have commenced arrangements to welcome their leader. To us, the coming of Kwankwaso is not a problem, but one wonders why it has taken him too long to visit his own state after he left office in 2015. Many important events have taken place in Kano which ordinarily should have attracted his presence. Unfortunately, he deliberately refused to show-up.
During the visit of President Buhari, his colleagues from National Assembly were on the presidential entourage—but Kwankwaso, a serving Senator representing Kano Central Senatorial district did not come. The former Governor also boycotted the burials and condolences of the death of the son of his very close political associate Comrade Aminu Abdulsalam Gwarzo and the death of the son of his blood brother, Alhaji Suraju Kwankwaso—Governor Ganduje personally visited the duo and commiserated with them. Also Kwankwaso did not come to Kano to pay condolences to the families of the late Dan Massanin Kano, Alhaji Yusuf Maitama Sule and Air Vice Marshal Mohammed Muktar (rtd). He also did not visit Kano to commiserate with victims of Sabon Gari market, Kurmi market, Farm Centre GSM market, Yan Katako furniture market and Singer market fire incidents that gulped billions of Naira. Rather, as usual, Senator Kwankwaso deliberately boycotted the fund-raising events for these victims of fire disasters. More worrisome is also the fact that he did not even find it worthwhile to use funds allocated for his Constituency Projects, by the Senate, to partly alleviate the loss recorded by these traders. Even the Senate President, Dr. Bukola Saraki donated to the victims of Kano fire disasters; and as well, his colleagues from Kano, Senators Ibrahim Kabiru Gaya, (Kano South) and Barau Jubril (Kano North) also gave their own widow's mind to victims of the Kano markets fire disaster. He also did not show up during the Kano Golden Jubilee celebrations.
We understand he is coming primarily to organize his supporters ahead the February Local Government election in the state. Indeed, he is welcome to Kano and we hope his supporters will behave themselves in good manners and avoid breaching the peace that we have been enjoying in the state. However, we advice those organizing his visit to take him round the state so that he will appreciate the good work His Excellency, Governor Abdullahi Umar Ganduje is doing in Kano state. He will be surprised at the rapid development Kano is witnessing under Ganduje's administration.
Kwankwaso will also be shocked to see that most of the projects he abandoned has been completed by Governor Ganduje's administration. If he is coming through Malam Aminu Kano International Airport (MAKIA), he should drive through the new airport gate—that gate was conceived and completed by Ganduje's administration. The organizers of his visit should take him to Kabuga Bridge, a project he abandoned—it has been completed by Ganduje's administration. He should visit Audu Aboki Bridge abandoned by his administration. It has been completed by Ganduje's administration.
If he will be visiting his village, Kwankwaso will need a guide—if he does not have one, we shall be gracious enough to give him somebody that will direct him because when he gets to Panshekara/Madobi Underpass, he may miss his way owing to the fact that the Underpass which was conceived and completed hundred per cent by Ganduje's administration is one of the best in Africa. It will interest him to assess the beauty of that project and compare it with the bridges he constructed which are more or less death traps, considering how narrow and badly shaped they are. We also advice the former Governor to visit KASCO, the state-owned agro company, abandoned for 10 years, but has been rehabilitated and revived by Governor Ganduje with state-of-the art equipments. Kwankwaso can also patronize KASCO by using his constituency project fund to purchase fertilizer for members of his constituency who have continued to complain that the former Governor who is now a Senator abandoned them. Kwankwaso will also be shocked if he goes to Muhammadu Buhari Specialist Hospital in Gingiyu and the Zoo Road Orthopedic hospitals and see what Ganduje has done with tax payers' money. Those two hospitals commissioned by President Muhammadu Buhari have been adjudged among the best in Africa with world-class equipments. He should also drive through the CBN quarters road recently commissioned by President Buhari and see the quality of work there.
It will interest Kwankwaso to observe that most of the projects he abandoned have been completed by Governor Ganduje as work is ongoing in other ones such as the Murtala Mohammed Way Fly Over, Sabon Gari Fly over, Wuju-Wuju Road, Dakata Bella Road, New Road (Phase one), Yahaya Gusau road, among others.
Indeed, Kwankwaso will be greeted with surprises to see that Ganduje, within a space of two years has been able to do what he could not do in four years. He will leave Kano with a lasting memory of how the state is gradually being transformed into a megacity. We believe that his visit will avail him the opportunity of appreciating Governor Ganduje's giant strides and as well have a rethink on his needless attack on the performing and people-oriented administration of Governor Ganduje. Once again, we urge him and his supporters to behave themselves in good manner and avoid plunging the state into unnecessary political crisis.
As it is, for the former Governor to have waited so long a time before coming to his constituency is left for the people to judge. However, it is now certain that he is only visiting Kano for his own political interest. We wish him well and we believe he will not end up being perturbed over the rapid development Kano is currently witnessing under the administration of Governor Abdullahi Umar Ganduje. On this light, we urge Kwankwaso to appreciate and commend the modest achievements recorded so far by Governor Abdullahi Umar Ganduje, just like the way President Muhammadu Buhari did when he visited Kano. We also believe that the tremendous improvement Kwankwaso will witness while visiting Kano will make him and his supporters duff their caps for Governor Abdullahi Umar Ganduje. Kano is working.
–
Malam Muhammad Garba is Kano state Commissioner for Information, Youths and Culture.