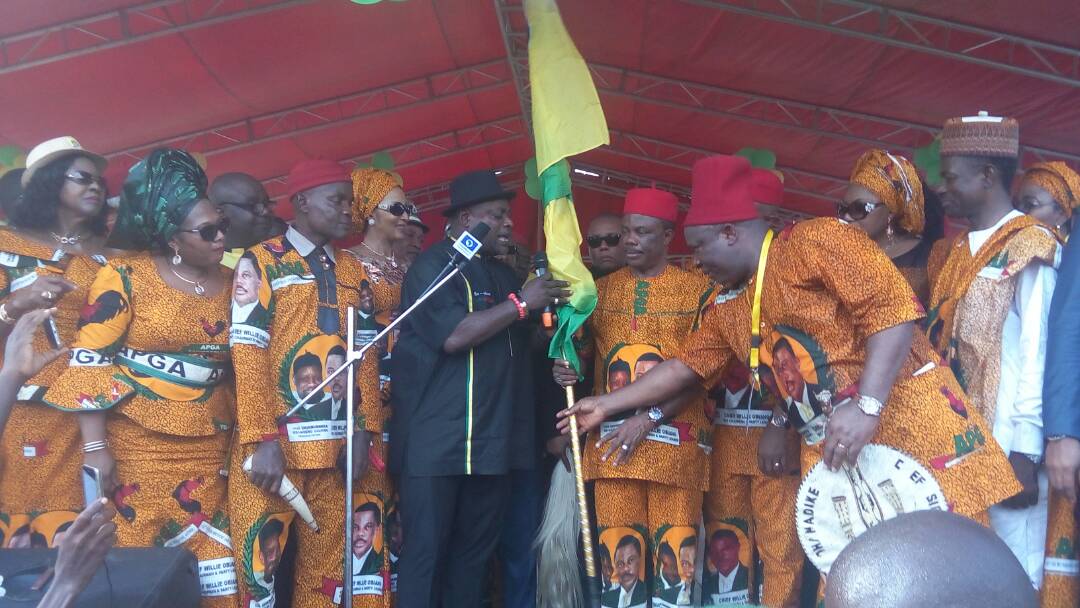 My Team and I Have Delivered Excellence – Obiano
Loading ...
[metaslider id=89223]
–
By James Eze (eziokwubundu@gmail.com)
The Governor of Anambra State, Chief Willie Obiano flagged of his re-election campaign on Monday with an affirmation that he and his team had delivered excellence to the people of Anambra State in the past three and a half years.
In an address titled "Towards the Consolidation of Excellence" Governor Obiano declared that any objective and comprehensive assessment of his administration in the past three and a half years would confirm that he had delivered on all our promises. "What is left now for my Team and I is to consolidate this excellent narrative and lend deeper roots to our dreams of a better Anambra," he stated.
Recalling that when he took the oath of office three and a half years ago he had delivered an inaugural address titled "Expanding the Frontiers of Excellence," Governor Obiano said that the gratitude expressed by the people of the state over his performance had made him view his re-election campaign flag-off as an effort in "consolidation of Excellence."
The governor further noted that Anambra had shrugged off her oppressive single story as a crime-ridden wasteland and transformed into the favourite destination of investors in the past few years.
Said he, "when I assumed office with my Team on March 17, 2014, we took-over a state that had no landmark infrastructure and no clear-cut strategic vision for the future. And perhaps more importantly, we met a state that was heavily traumatized by violent armed robbery, kidnapping, child-trafficking and endless cases of drug-related crimes. This crime-ridden scenario discouraged investments and successfully cut off the state from the grid of modern development. Ladies and gentlemen, my Team and I inherited a state with an average ambition but through strategic re-focusing and a commitment to excellence, we have repositioned Anambra among Nigeria's leading states today!"
Flaunting his Report Card, the governor maintained that he had turned the table on criminal elements in the state, saying "today, Anambra has been widely acknowledged as the safest state in Nigeria.  Our state is no more listed as a no-go area on the travel advisory of many embassies.  Our achievements in Security have been widely applauded by the US, the UK and Germany through their envoys. And I have been personally commended by two Nigerian Presidents – Presidents Jonathan and Buhari for leading Anambra out of its former security nightmare."
Giving updates on his economic blueprint, Governor Obiano observed that all the "pillars" and "enablers" recorded tremendous growth during the period under review and assured the people that he had even bigger plans for them in his second term in office.
The governor has cautionary words for his fellow contestants in the November 18, 2017 election, reminding them that the contest was not a life or death affair. "I say Congratulations to you all and welcome to the fray! But I must quickly remind you all that we are all brothers and this state belongs to all of us. Elections will come and go but Anambra State will be here for all of us. We must resist every temptation to make this election a do-or-die affair and turn our dear State into a war zone. We have a responsibility to preserve the peace that we have worked so hard to bring to Anambra State today. I reach out my hand in fellowship to you and I urge you to help keep Anambra State PEACEFUL!" he declared.
According to him, the November 18 election presents only two choices to Anambra State – "to consolidate the rapid progress we have made so far or to take a tragic step backwards into the dark days of lawlessness and shame!"
Arguing that he had proven himself competent enough to lead the state to greater heights in his second term in office, Governor Obiano pleaded with Ndi Anambra to give him and his team another chance to turn excellence into a habit in the state.
Finally making a pitch to the people, Governor Obiano declared that he represents the spirit of the New Anambra.
"I represent the spirit of equity and fairness that will ensure the peaceful transfer of power from Anambra North to Anambra South. I represent that spirit of peace among all religious groups in Anambra State which treats every denomination with fairness. I represent the spirit of Ozoemezina which celebrates the supreme sacrifices of Ndigbo for our country's unity and our collective efforts for peaceful coexistence among all ethnicities. I represent the celebrated aspirations of our people to thrive anywhere on God's green earth without let or hindrance.
I am the bridge between your dreams and their fulfilment!
Trust me with your votes. Vote for APGA. Vote for me," he pleaded.
Earlier,  notable political figures in the state, like former CBN Governor, Prof Chukwuma Soludo, first female governor in Nigeria, Dame Virgy Etiaba, former National Chairman of APGA, Chief Victor Umeh and Chief Mrs Ebelechukwu Obiano, wife of the governor, had drummed support for Obiano's second term bid. So had Ambassador Bianca Ojukwu, former Nigerian Ambassador to Spain, Dr. Alex Otti, renowned banker and former gubernatorial aspirant in Abia State as well as the National Chairman of APGA, Chief Ozonkpu Victor Oye.