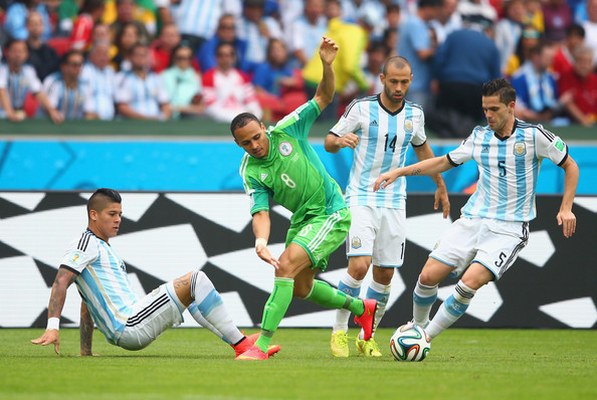 NFF Confirm Super Eagles Vs Argentina November Friendly In Russia
Nigeria will take on Argentina in a high-profile international friendly in the Russian city of Krasnodar on Tuesday, 14 November, the Nigeria Football Federation have announced.
The match will take place at the Krasnodar Arena Stadium.
Loading ...
NFF General Secretary, Dr. Mohammed Sanusi, confirmed on Saturday that nearly all arrangements have been concluded with regards to the big match, subject to approval by world football-ruling body FIFA and agreeable flight arrangements.
"We have had long and fruitful talks, and we can say that we have an agreement. We await the approval by FIFA and also, we have to agree on the flight arrangements that would be comfortable for the players and crew," Sanusi said in an NFF press release.
"The match will come up on 14th November, four days after the Super Eagles' final 2018 FIFA World Cup qualifying match away to Algeria. We had offers from teams like Iran, Saudi Arabia and Morocco but we have opted for the Argentines."
The Eagles, who have already qualified for the 2018 World Cup, face Algeria's Fennecs at the Stade Mohamed Hamlaoui in Constantine on Friday, 10 Novembe
Nigeria and Argentina played two friendly matches in 2011, the first in Abuja in June ending 4-1 in favour of the Super Eagles. The Albiceleste trumped the second encounter 3-1 in Dhaka, Bangladesh three months later.
NFF's FIFA Match Agent Jairo Pachon of Eurodata Sport, who also organised the friendly matches with the Argentines in 2011, told thenff.com: "We are very pleased to be able to deliver such a high-profile game to celebrate the Super Eagles' 2018 World Cup qualification.
"It was a lot of work over the past week but we are happy this has become reality. We will, in due course, reveal the Nigerian sponsor of the match who will have the match rights in Nigeria."
Nigeria have played Argentina in four of the Super Eagles' previous five FIFA World Cup appearances, starting with a 2-1 defeat in Boston, USA in the African team's debut in 1994. Argentina won another group phase clash 1-0 in Ibaraki, Japan in 2002, and with the same margin in Johannesburg, South Africa eight years later and then edged the Eagles 3-2 in Porto Alegre, Brazil in 2014.
Other famous encounters between both nations include two final matches of the Olympic Men's Football Tournament – Nigeria edging it in 1996 in America and the Argies winning by the odd goal in China 12 years later.
Argentina will clash will take on World Cup hosts Russia in a friendly on 10th November while the Eagles are playing the Fennecs in