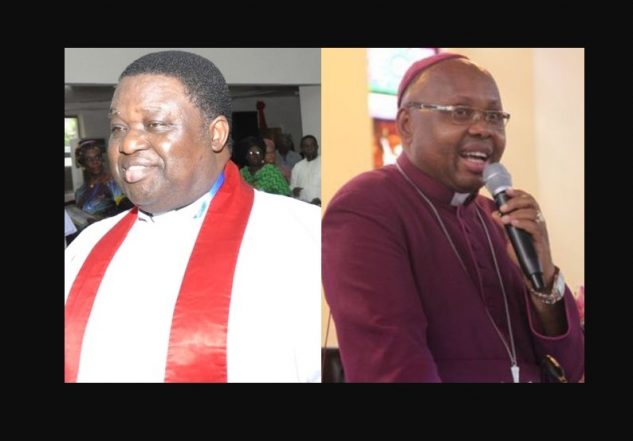 "Obiano Deserves 2nd Term, Stop The Hate Campaign" Says Bishops Ibezim & Okoye
The Anglican Bishop of Awka Diocese, Rt Revd Dr Ibezim has called on ndi Anambra to eschew the politics of division and bitterness and always embrace the truth. At the Ist Session of the third Synod of the Anglican Diocese of Ihiala,  Bishop Ibezim acknowledged before the congregation that Gov Obiano is his friend and he can never deny him.
Loading ...
Bishop Ibezim stated in clear languages that Anambra is the home of criminals and kidnappers during the past administration and his wife was a victim. He recounted how his family encountered criminals on more than three occasions which led to his use of Police security to move around. At one instance, his wife was attacked on the road by criminals, pulled out from her Camry and made to lie on the road face down.
The Bishop warned all those parading themselves as Candidates for the office of the Governor to desist from doing so because they are not qualified for the office. He maintained that the current Governor of Anambra State has done very well in Security, Agriculture, Health, Education etc and needs to be encouraged to complete his tenure.
In a follow up speech, the resident Bishop of Ihiala Diocese Rt Revd Prof. Isreal Chukwukelue Okoye lamented the Politics of hate and name calling witnessed in Anambra State today. He maintained that ndi Anambra knows that Gov Obiano has done very very well this past 3years and half especially in Security and for anyone to say that he has not done anything means that the person is playing the politics of deception.
He maintained that Gov Obiano has done well and must be encouraged to continue delivering the dividends of democracy to ndi Anambra. He warned the past Governor who also did well during his tenure not to allow Anambra politics to destroy the good image he has built over the years by aligning with falsehood and politics of hate and name calling. He warned that ndi Anambra are wiser and know when you tell them that white is black and black is white.
The truth is that Gov Obiano has done very very well and deserves to be allowed to complete his tenure. Bishop Okoye also lamented that this politics of hate has destroyed ndi Igbo so much that it is difficult to find someone worthy of Federal appointment. After destroying ourselves with lies, how do we expect others to respect us.
The Bishop noted also that he heard that some candidates are training the youths they will use as thugs come Nov. 18th 2017, he warned that politicians must remember that after Nov 18th, Nov 19th will come and those thugs will have no boundaries when they start unleashing their terror.
Bishop Okoye extolled the security put in place by Gov Obiano which has created the enabling environment for investors to come to Anambra State, he prayed that God will continue to bless Anambra through Gov Willie Obiano.
The Church service ended with the crowd cheering Gov Obiano and calling on him to continue his good works in Anambra State.