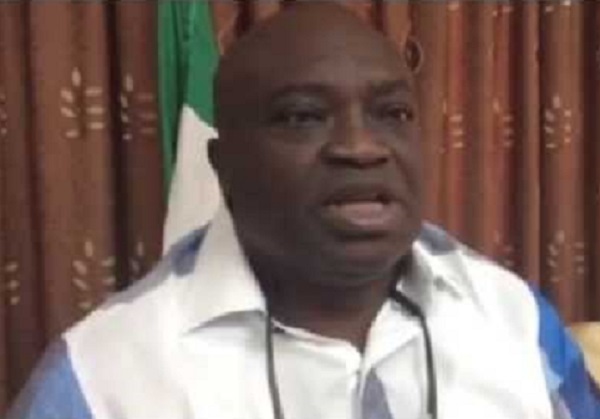 To say I am not happy with Governor Okezie Ikpeazu of Abia State is an
understatement. I am indeed shocked to notice he is a coward of high
breed nature.
Loading ...
Few days ago, the Nigeria Army led by General Tukur Burutai announced
its intention to carry out what it termed "Operation Python Dance Part
Two", having done a similar thing in the South East last year. The
Army said it would be looking for Armed Robbers, Kidnappers,
Secessionists, and criminals etc, but before anybody could decode
their statement, it invaded the entire Abia state, torturing,  killing
and maiming innocent citizens of the State. The video clips of the
atrocities of the Nigeria Army in Abia State have gone viral. Many
Properties have so far been destroyed. Economic activities in Abia
have been brought down to a near zero percent by the army.
The leader of the Indigenous People of Biafra, Citizen Nnamdi Kanu
has been placed under house arrest. His House in Afara-Ukwu Umuahia
has been surrounded with over twelve Armoured tanks by the army.
Obviously, the army has the instruction to kill him. I just received
information that his father's palace has been destroyed by the Army,
and many people were wounded, while others have been confirmed dead.
What is Nnamdi Kanu's offence? Nothing. Except that he Talks about
Biafra, Wears Biafran clothes, Wears Biafran shoes, Wears Biafran
wrist-bands, Speaks Biafran language, Eats Biafran food and Wants a
Biafran Republic. This is not a crime. But he has a court case
handling this very matter. So why the Court can't be allowed to
conclude the matter? Nnamdi Kanu is even on bail. These issues have
been over flogged in my various published articles. If he has flouted
his bail conditions, the federal Government should allow the Court to
say so. But it is on record that President Muhammadu first flouted the
Court orders (on two occasions) when Nnamdi Kanu was granted bail
initially in 2015. He swore that Kanu would remain in detention,
despite having fulfilled his bail conditions. So who should be
arrested first for flouting Court Orders? President Buhari or Citizen
Nnamdi Kanu?
The Northern Youths have openly threatened the Igbo; yet the Federal
Government has refused to arrest them. Rather than arresting them, the
Buhari led government has been busy giving spurious reasons why these
youths from the North cannot be arrested. President Buhari has shown
open hatred and disdain for the people of South East. He has denied us
strategic appointments in the Army, Navy, Police, Customs, Civil
Defence, Airforce etc. He has denied us strategic political
appointments in the Presidency, NNPC and other Federal boards etc. He
has refused to visit the South East since he became the President in
2015.
To add salt to malicious and criminal injury, President Buhari with
his own mouth told the whole world that he would only pay 5% attention
to the people of South East if necessary. Not satisfied, they North
unleashed Fulani Herdsmen on the South East who kill, maim, rape our
women and destroy our farmlands etc, yet President Buhari has refused
to call his uncircumcised Fulani brothers to order.
Yet in all these open display of hatred, President Buhari expects the
people of South East to clap for him.  He wants the South East to be
happy with him. Initially, we were happy with him. We even named him
"Okechukwu" Buhari. We gave him our clothes to wear. We taught him our
language. He even ate our food. Today, Buhari has paid us back with
evil. He is paying us back with the Army invasion in the South East.
He is (through his body language) paying us back with threats to
exterminate and annihilate us. Buhari has told us in unmistakable
terms that he is not our brother. He has told us he is not one of us.
Buhari is telling us he is not Okechukwu but Muhammadu.
Oh, I have just remembered President Umaru Musa Yar'Adua. He was also
a Fulani man like Buhari, but he was different. A good man. A great
leader. A humane man. A responsible man. He united this country with
love. When he unfortunately died in May 2010, the entire country
mourned him. It is on record that the people of South East and South
South mourned President Yar'Adua more than the people of the Northern
part of this country, where he came from. He came from the same state
(Katsina) with President Buhari. It is on record that this same Buhari
hated Yar'Adua with passion; hence he was forcing him to resign his
position as President through uncomplimentary and ''unstatesmanly''
comments.
The bible says in the book of Proverbs Chapter 17 verses 13 that "If
a man returns evil for good, evil will never depart from his house".
Also, the same bible says in the book of Proverbs chapter 22 verse 8
that "He who sows injustice shall reap calamity. So if Buhari likes
let him continue with his hatred, evil, injustice and marginalization
of the people of the South East. The word of God will surely come to
pass in this country. No shaking.
BACK TO THE ABIA STATE DEBACLE
It is during crisis that you know who a leader is. Mgberede Nyiri
Dike, Obu kwanu Mgberede ka Eji Ama Dike. That is when you know if a
leader has the capacity to protect his subjects. That is when you know
a real man. It is therefore very shameful and disgraceful to note that
Brother Okezie Ikpeazu, governor of Abia State has not lived up to
expectation.
It should be noted that there is no security threat in Abia State to
warrant President Buhari to reportedly order the Army through the
Chief of Army Staff to invade the State in a most criminal and crude
manner. Innocent lives have been tortured, maimed and killed in the
process. Brother Okezie Ikpeazu is the Chief Security Officer in Abia
State. He presides over security meetings in Abia State. If there is
security crisis in that state, he is expected to contain it. If he is
unable to contain the situation, he can then seek assistance from the
Presidency.
It is on record that Brother Okezie Ikpeazu has not complained to
anybody that he has a security threat situation in his State. And
there is no such threat in Abia State.
Why then should President Buhari order the Army to invade Abia State?
One had expected Brother Okezie Ikpeazu to have ordered (or at least
tell) the Army to leave his State. He should have told President
Buhari to withdraw the troops from Abia State within 24 hours. If
Buhari failed to do so, Brother Okezie Ikpeazu should have formally
informed the South East Governors Forum, the Nigerian Governors Forum
and the National Assembly Leadership of the illegal activity in his
state by the Presidency through the Army, for necessary action to be
taken against President Buhari. Simple. The criminal invasion of Abia
State by President Buhari using the Army to torture, maim and kill
innocent citizens is an impeachable offence.
But what did Brother Okezie Ikpeazu do? He sluggishly and cowardly
imposed a curfew in Aba, Abia State. He did not condemn the Army of
occupation in his State. He did not visit places where the Army
committed GENOCIDE in his State. He did not visit places to see the
destruction of properties by the Army. He did not visit Afaraukwu in
Umuahia to see how the Army surrounded Citizen Nnamdi Kanu's house
with over twelve Armored tanks.
Obviously, Brother Okezie Ikpeazu is not a man. He is timid. He is a
coward. He is a Political Efulefu.  He lost his voice at this crucial
time. He lost and forgot to step out to protect his subjects. It was
at this point that I got pissed up with Brother Okezie Ikpeazu. So I
fired the first shot at him through my facebook Account with the title
"GOVERNOR OKEZIE IKPEAZU IS A COMPLETE COWARD". Of course, it went
viral immediately I released it yesterday and he got the message. It
was a one page article, with a promise to do a comprehensive one
later. Somehow, Brother Okezie woke up from his sluggish slumber, but
this time around made a bigger blunder.
In a press release signed by Brother Okezie Ikpeazu yesterday
evening, he described his subjects as "Miscreants," Mischief makers
and "hoodlums". He refused to blame the Army for killing his subjects.
Chaiiii! Ewuoooo! I shedded tears when I read the release signed by
Brother Okezie Ikpeazu. He called his subjects miscreants, mischief
makers and hoodlums just to perhaps please the Federal Government and
the Northern cabal. But come 2019, Brother Okezie Ikpeazu will still
come back to beg these same "miscreants", "mischief makers" and
hoodlum for votes. It is very unfortunate.
Honestly, Brother Okezie Ikpeazu disappointed the Igbo nation when he
lost his sense of direction and authority. This is failure in
Leadership. Perhaps, he is afraid of losing his position through a
declaration of State of Emergency. Let me leave Brother Okezie Ikpeazu
for now.
I cannot conclude this piece without calling on President Buhari to
examine himself to see what he is bringing upon this country through
his clannish, tribalistic and sectional style of leadership. Nigeria
is at Cross roads due to Buhari's wicked utterances, body language and
directionless leadership.
He must rise up and be a father to all Nigerians. He should see a
Yoruba man as his son. He should see a South-South man as his son. He
should see an Igbo man as his son. We are his children and must be
treated equally. His jezebelic   and evilcratic style of leadership is
what has brought about the various agitations in the country. Whatever
Citizen Nnamdi is doing with his Biafra, is what the Northern cabal
are doing with their Arewa. And that is what the Yoruba people are
doing with their Oduduwa.
President Buhari should stop being insensitive to people's feelings.
Referendum, Restructuring, Equity, Fairness, Equal distribution of
resources etc, are sure ways of making Nigeria a united one country.
Emee Nwanyi ka Emere Ibe Ya, Obi Adi Ya Nma
I rest my pen
Signed:
Hon. Citizen Dr. Ikenna Samuelson Iwuoha FCAI, MKDA.