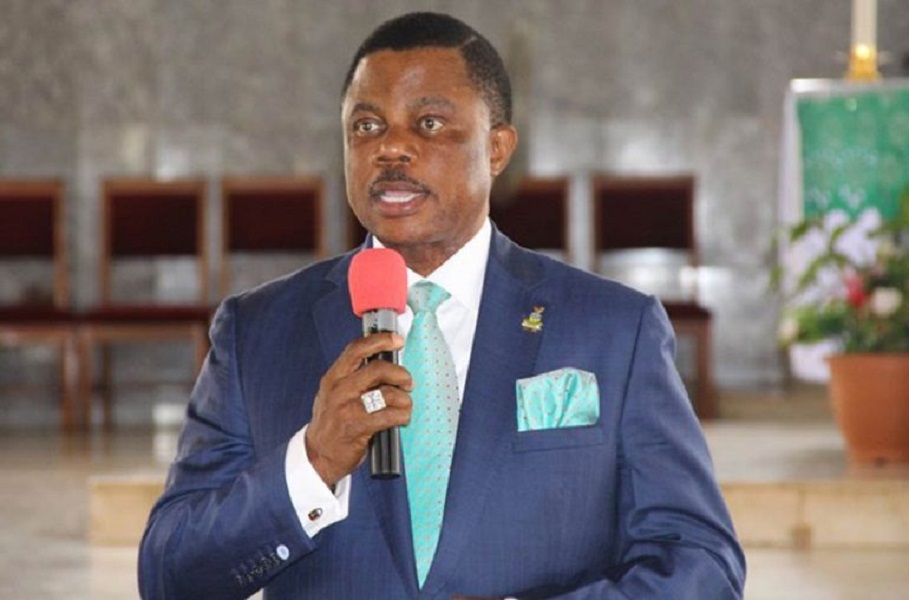 Loading ...
The Senior Special Assistant to Governor Willie Obiano of Anambra State on Media and Strategic Communications has Prince Oliver Okpala, said that the National Chairman of the All Progressives Congress (APC) John Odigie-Oyegun, lack integrity and moral ground to speak on good governance, saying the later does not have record of such.
The media aide to the governor who was reacting to a media reports credited to the APC National Chairman where he called on Governor Obiano to "write his handing over notes and start preparing to vacate office," said such statement lacks democratic spirit.
He has, however, called on all Nigerians, especially the Anambrians to be vigilant and prepare against "any evil plot by Oyegun led APC to perpetrate rigging in the forthcoming election."
In a statement signed in Abuja on Wednesday by the Senior Special Assistant to Governor Obiano on Media and Strategic Communications, Prince Oliver Okpala, described the statemnt credited to Oyegun as reckless and a political miscalculation.
Prince Okpala said Chief Oyegun's comment truly shown that the APC leader "is a political misfit who should have taken a second look at his unpopularity of leading such a ruling party like APC.
"This is a former Governor  who has no traceable achievement to his name as far as his tenure in Edo state is concerned . Apart from high level of thuggery, brigandage and insecurity, no one can recall any meaningful development  recorded during Oyegun's government in Edo state.
"It was also during his era that a very low level of governance was introduced to that state, a clear departure from the pragmatic and result oriented leadership style of the likes of Professor Ambrose Ali and Dr. Samuel Ogbemudia , both of blessed memory.
"It was during Oyegun's tenure that the song of 'no money' for projects became the regular cry in governance circle in Edo state. He could not think outside the box.
"Many Nigerians still remember that Oyegun also won the unenviable record of the Governor during whose tenure Edo state recorded the lowest score in WAEC. The records are there for all to see! So what is a failed Governor talking about when it comes to good governance?
"Indeed Oyegun has no moral right to speak on issue of good governance in Anambra state or any part of the country. If what we practice is a democracy then the will and wish of the people should be respected."
While making reference to how Oyegun has practically "mismanaged" APC as a ruling party, the Prince Okpala said "many Nigerians also know how he emerged as National Chairman of the APC. It was a clear case of political imposition which has left the party prostrate till date. As we speak the APC under his watch cannot hold meetings of it's crucial organs. No wonder it's house is in disarray."
The statement recalled how the former Vice President Atiku Abubakar described the lack of internal democracy in the country's political party system with APC under Oyegun in view.
According to former Vice President, "You cannot build democracy on a substructure of dictatorship and intolerance.
"A political party that constricts the freedom of its members cannot really offer freedom to the citizens of the nation. Democracy is not just an idea; is a cultural practice.
"For a number of years now we have had political parties, even governing ones, which hardly hold meetings of their important organs, including those meant for the democratic selection of their leadership, or even constitute institutions prescribed in their constitution… That is not party building but party bullying."
This statement attributed to Atiku Abubakar is a pitiable scenario in APC.
"What this clearly shows is that Oyegun is a virus in APC , as he has foisted his regime of lack of internal democracy in the party. No wonder the party is seriously bleeding today, suffering from constant defections, calamitous directionlessness, and crass incompetence. The implication is that the party is heading for doom if Oyegun is not quickly removed. No wonder, a prime founder and leader of APC Asiwaju Bola Ahmed Tinuba and his followers have since called for his removal.
"It is this weak leadership style that he wants to import into Anambra state. After all what is his business with Anambra when he has not been able to put his own house in order.
"Oyegun's declaration that his rudderless party would take over Anambra is also an unfortunate exposure of that undemocratic spirit and cancer that has befallen the APC. If what we practice is true democracy, where democracy is the government of the people, for the people and by the people Oyegun could not have made such an unguarded utterance.
"His declaration that 'APC must take over Anambra' is a signal that they are bent on forcefully overturning the will of the people who are the true custodian of democracy.
"Sadly , this is not the first time APC chieftains are making such calamitous declarations. Governor Rochas Okorocha of Imo state had earlier said so when he inuagurated an illegal , thuggery gang which he says he would use to override the will of the electorate in Anambra- as if Anambra is now a battlefield.
"Granted, as Oyegun said, Anambra is crucial to their plot of making inroads into the south east, but must that be achieved through undemocratic means which often leads to bloodletting and mayhem?"
The governor's aide also recalled that the Minister of Labour and Employment Dr. Chris Ngige had also made similar remarks, saying "the implication of this is that the APC has contrived a grave plot to undermine the will of the Anambra electorate, to forcefully take over the governance of Anambra state.
"Instead of working genuinely to win the love of the people of Anambra as required in a democratic setting, the APC leaders who know that Governor Obiano has performed creditably are rather working out sinister plots to unseat the Governor.
"We have it on good authority that they have been working at various options including an attempt to foment insecurity in the state to pave way for a state of emergency as a prelude to their take over . What this requires is that Anambra people and Nigerians in general, especially lovers of democracy and good governance should be alert .
"The naked truth is that if anything untoward happens in Anambra the world should hold Oyegun responsible. Power is given by God and must not be sought for by killing and devilish orchestrations. A destructive means cannot bring about a constructive end.
"Democracy is about the people, and its powers and legitimacy should flow from the ballot box, not the barrel of the gun, even as seemingly unattractive as that is. So Oyegun and the APC must accept that reality, and refrain from their evil plot to forcefully remove Governor Obiano from office come November 18 governorship election in Anambra state.
"No doubt this statement, which we consider as coming from not just Chief Oyegun but from the ruling APC is a clear threat to Nigeria's democracy and security in Anambra state.
"It has again re- affirmed the undemocratic nature of many APC apostles and this is unfortunate for our nation especially at this critical point in our history when democratic tenets should be nurtured.
"If unchecked, APC's negative political appetite would mean that the up coming elections and the inherent display of the power of choice by the electorate would all be an exercise in futility. For them , since they control the Federal government which is in charge of the crucial agencies such as INEC , the  Police and other security agencies  then their sinister motive would be easily achieved.
"This is how low our democracy has sunk under Oyegun and his APC. It is indeed an unfortunate event and a clear threat to our hard earned democracy which so many Nigerians fought hard to achieve. But the truth is that their evil plans would surely fail as God and the good people of Anambra are solidly behind Governor Willie Obiano."