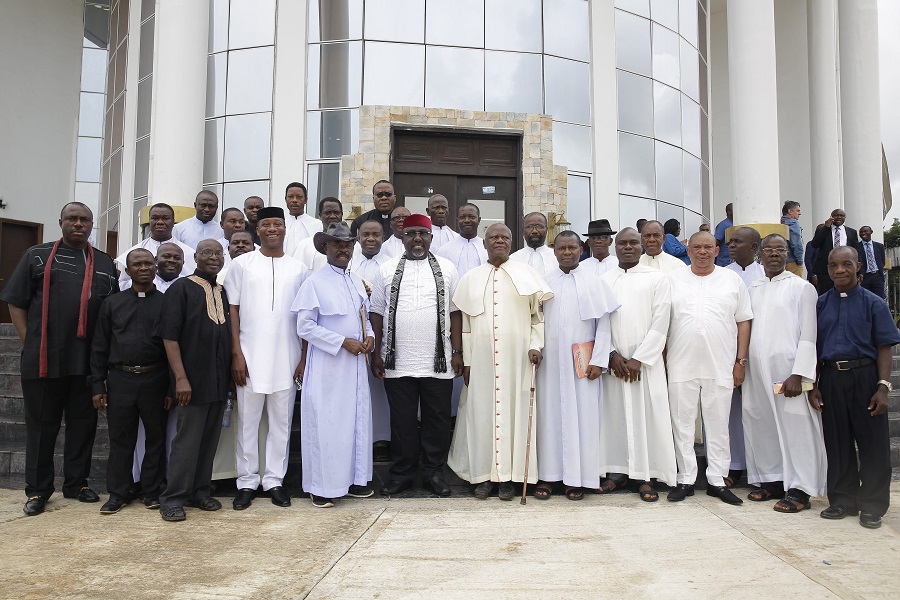 Following the visit of notable Priests from the Ahiara Catholic Diocese Mbaise, to Governor Rochas Okorocha concerning the lingering crisis in the Diocese over the Choice of Bishop, the governor has chosen to mediate in the whole saga to get whatever is the bone of contention resolved, in the overall interest of the Diocese, Mbaise people, the Catholic Church and Imo State in general.
The Priests had come on the visit few days after they were reported to have met with the Pope in Rome over the Crisis.
The delegation, made up of some of the old priests in the Diocese including Rev. Monsignor Edward Amakiri had met with the governor behind closed doors and they had discussed on how best the crux of the Crisis at the Ahiara Catholic Diocese can be resolved without further delay.
The governor said that the lingering crisis in the Diocese has never been a good public relation stuff for the State or for the Catholic Church or Mbaise people in particular, and must not be allowed to continue.
The governor explained that he had delayed his intervention in the matter to see whether the concerned parties could resolve the issue in contention without government's intervention, and noted that the situation now has called for his intervention.
The visiting priests had come up with the claim that they must have been misrepresented before the Pope following the decision of the Pope on the issue in question.
The governor described the Ahiara Diocese of Mbaise as one of the most vibrant Catholic Dioceses in the State and regretted that the crisis has not augured well for the Diocese, and that disputes concerning the Church and things of God should not be allowed to drag on for a long time.