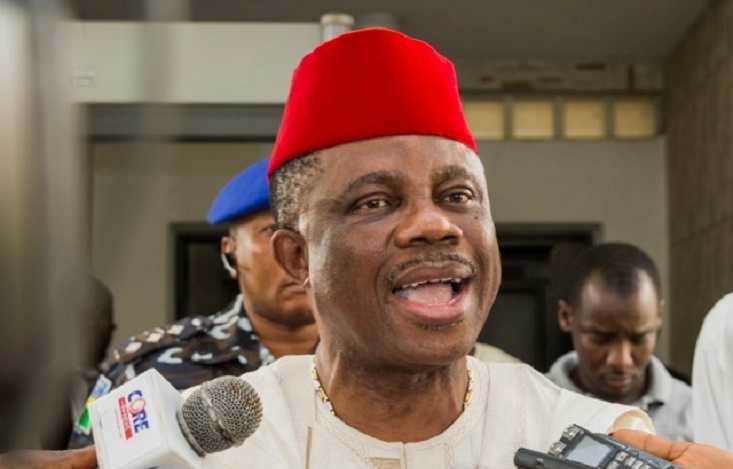 By James Eze (eziokwubundu@gmail.com)
The Governor of Anambra State, Chief Willie Obiano, has returned from his short annual vacation in the US. Governor Obiano arrived Awka the state capital yesterday evening to the warm welcome of family, friends, colleagues and Ndi Anambra thereby dispelling malicious rumours of illness reported in some newspapers the day before.
Governor Obiano who was bustling with energy and vitality when he arrived the Governor's Lodge in Amawbia seemed to have had a great time mapping out strategies on how to finish his first term in office on a strong note and endear himself to Ndi Anambra in readiness for the gubernatorial election that comes up later in the year.
Addressing the crowd that gathered to receive him on his arrival, Governor Obiano dismissed the story that he was flown overseas to receive treatment for an eye problem as a mere rumour that should be disregarded by Ndi Anambra.
"I went to the US for a short vacation.  But I am back in Awka. I do not have any injuries anywhere. I am in a great shape. I have no problem at all with my health," Governor Obiano declared while observing that the false story about his health may not have been unconnected with the people's wish to see their governor again after being away for short while on vacation. "Ndi Anambra were missing their governor. It is okay. I am back now! Dalunu," he assured with a broad smile.
He explained that after observing a period of rest, he had returned to focus more intensely on meeting the expectations of the people and widening the circle of excellence that his administration has established in the state to ensure that Anambra assumes its full status as a pacesetter among all the states in the federation.
It would be recalled that Governor Obiano had embarked on an annual vacation in the first week of January after what was widely adjudged to be a remarkable year for him; a year that brought out his fighting spirit as he competently managed the affairs of the state in a manner that minimized the impact of the current recession on the vulnerable populations of the state.
While away in the US, Governor Obiano had taken out some time to seek the grace of God in prayers, reflect on the challenges ahead of him as he prepares for his second term bid and read up a few important books on leadership and what it takes to inspire self-belief in the masses in times of general depression.
With his return, Ndi Anambra are hopeful that Governor Obiano's would resume his dazzling run in 2016 that made the state a reference point in good governance.
They recalled that Obiano's performance was so outstanding in 2016 that he won a string of important awards like the Zik Prize for Good Governance, Silverbird Man of the Year and Vanguard newspapers Man of the Year. Obiano is also winner of the Nigeria Integrity and Anti-corruption Award instituted by the Ethics and Corporate Compliance Institute of Nigeria, Outstanding Performance Award from New Telegraph newspapers as well as a Certificate of Recognition from   the Institute for Housing and Urban Development of the Erasmus University, Rotterdam, in the Netherlands.