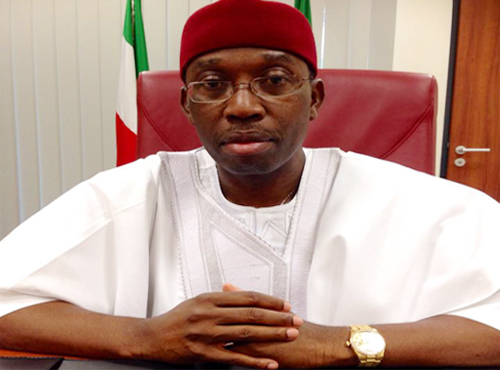 … All Lands, Shrines, Palaces Belong To Government – Convicted Commissioner
The Delta State government said it spends N650 million tax payers' money every year to landlords to offset the rent of 28 Ministries, Department and Agencies (MDAs) of government working in rented properties.
This was disclosed Friday during the state Ministerial Press Briefing held in Government House by the Commissioner for Lands, Survey and Urban Development Daniel Okenyi who was convicted recently by a High Court in Kwale, Ndokwa West local government area of the state for withholding vital information from some community leaders, Pa Moses Okpala, Benedict Okweye, Sunday Ndubuishi, Nwaizemeka Fredrick and Okweye Sunday.
Since the coming of Senator (Dr) Ifeanyi Arthur Okowa's administration in the state, over 10 MDAs occupying private properties in the state capital, Warri and other parts of the state have been placed on lock and key and staff shut out over rent related issues.
Some of the rents are running between 3-5 years without any payment. The Ministry of Agriculture and Natural Resources, the office of the Accountant General of the state, Delta State Independent Electoral Commission (DSIEC) among others have suffered the embarrassments from landlords.
Meanwhile, Okenyi has posited that all lands across the state including the ancestral shrines of the people belongs to the government, stressing that the state government could take over any land at any given time.
Responding to questions put to him by journalists, the convicted aide boasted "if what I know now, if I had known it in the last few months, nobody in Ogbe-Owele will say he/she has acquired a land. The lands belongs to government".
He also bereted indigenes of the communities around the state capital, particularly Asaba, "you asked for a state capital and they gave you a capital".
Threatening further, he noted, "now that we have this gazette, a document that gave power of ownership to government obtained in 8 October, 1991 by the then military administrator, I will swing into action. Those of you who built on government lands, you do not even have building plans for your house. Maybe government has been too soft".
"I will not allow myself to be rubbished by miscreants. You have not regularize nor done anything about your land. What you just have is the land. If we are pushed to the wall, we now have an instrument to use. There is nothing like community land".