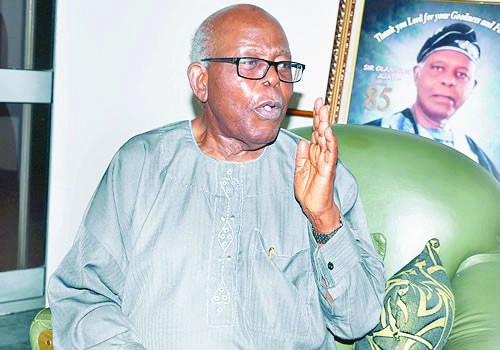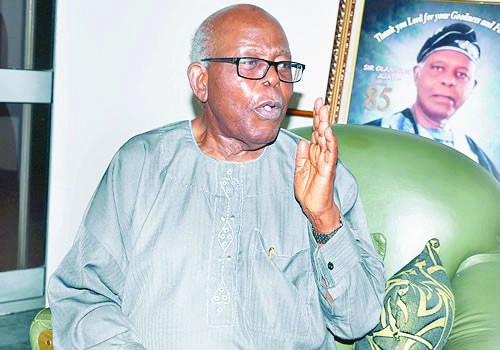 In the wee hours of 4 November 2016, I got a pop up on my hand set alerting me that Pa Olaniwun Ajayi had passed on. My mind raced quickly towards Pa Ayo Adebanjo, wondering how he would receive the breaking news at his age. All along, I had known the two as inseparable "twins".
Pa Olanuwun and Pa Adebanjo were close political disciples of Chief Obafemi Awolowo. I had admired their closeness a great deal, studying then at close range. At every meeting, the two would appear in style, a reason I sometime got tempted to tag them the 'Musketeers'.
Papa Awo was very fond of the duo. A day hardly passed without them paying homage to him at his Ikenne home. Without mincing words, the two disciples were functional members of Papa Awo's kitchen cabinet; some think-tank of sort. It is a mystery how the two managed to solidify their relationship in the face off oddities in politics those days.
Pa Adebanjo has always been ebullient being an extrovert. He is very cerebral and outspoken. On the other hand, Pa Ajayi had the nature of a dove. He was a bundle of intellect, all the same. I had long concluded that his intelligence quotient was unassailable. I tried to decode the chemistry that bound them together to no avail until I read Pa Adebanjo's tribute to Pa Ajayi in an interview.
He explained, " Now I am now alone. I am left with my God." He was a reliable, dependable and loyal friend. As an Awoist, I can confidently say that he was an Awoist to the core. He really understood what Awoism stands for and practiced it as Chief Awolowo taught us."
Indeed, the unflagging love for Papa Awo was the secret that kept the duo going. They were both undiluted Awoist. They slept, dreamt and embraced Awoism all through. Unknown to many, the Awoism philosophy was the brain child of the two and a few others. I knew so much about Pa Ajayi and Adebanjo in my days as a young reporter way back in the 70s. I was assigned to cover the political activities of Papa Awo who, along the line, drew me closer. I can proudly say that I helped in promoting Awo and Awoism from 1976 till 1987 when he passed on, a factor that endeared me to the family. I intend to reveal more in my memoir of what really made me an admirer of both Pa Adebanjo and Pa Ajayi.
Mama HID Awolowo had confided in me the kind of respect the husband had for the duo. She told me how the two were so attached to Papa Awo, that she had to allocate rooms adjacent to Papa bedroom during political meetings. She recalled also how she bought same dresses for them and Papa on many occasions. Mama agreed that Pa Adebanjo and Pa Ajayi were part of the family such that in any of their visiting days, they required nothing other than a vehicle to convey them to places. They stood physically and emotionally with Pa Awolowo most especially in the days of travails and turbulence that the family passed through. I had memorable moments with the committed Awoists during electioneering campaigns, most especially from 1978 to 1983 when we all traversed the nooks and crannies of Nigeria, marketing the progressive ideology to Nigerians.
Pa Ajayi fondly called me Olamiti! Olamiti!!. Regrettably, the last time I saw him was in November 25, 2015. That was the day the remains of Mama Awo were committed to mother earth. He was one of the first Awoists to arrive at the Saint Saviour Church Ikenne. He beckoned to me and asked that I accompany him to the rest room. Age was already having a telling effect on him. He held on to me as we descended the 20 steps to the rest room. He did not need my assistance as we started climbing back. All through, he was not panting, but was instead engaging me in political talks. He expressed concern on the deplorable state of the nation, while he blamed the Yoruba on being lethargic on national questions. And as if exasperated, he averred, "We have done our best and I hope that those coming behind us will acknowledge our contributions. Nigeria is a complex entity".
Pa Olaniwun Ajayi was born in Isara on 8 April 1925. He ran one of the leading law firms in Nigeria with a broad financial, corporate, energy and national resources. Over the years, the firm has consistently provided legal services to some of the biggest corporations in Africa and across the globe, equipping the firm with a good mix of local knowledge and international expertise.
He was one of the few Nigerians who travelled abroad for the Golden Fleece. On his return, he worked with the UAC where he rose to the position of the Assistant Group Legal Adviser with Chief Ernest Shonekan as his junior in legal department of UAC and later resigned.
Pa Ajayi became a commissioner of Education and later Health under Governor Of Western State Brigadier General Oluwole Rotimi after five years of service. He authored five books: House Of Oduduwa Must Not Fall, Odunola: In Retrospect , Nigeria Africa's Failed Asset, His Autobiography, and Isara Afotamodi: My Jerusalem . May His Gentle Soul Rest In Peace.
–
Olamiti Media Consultant wrote from Abuja