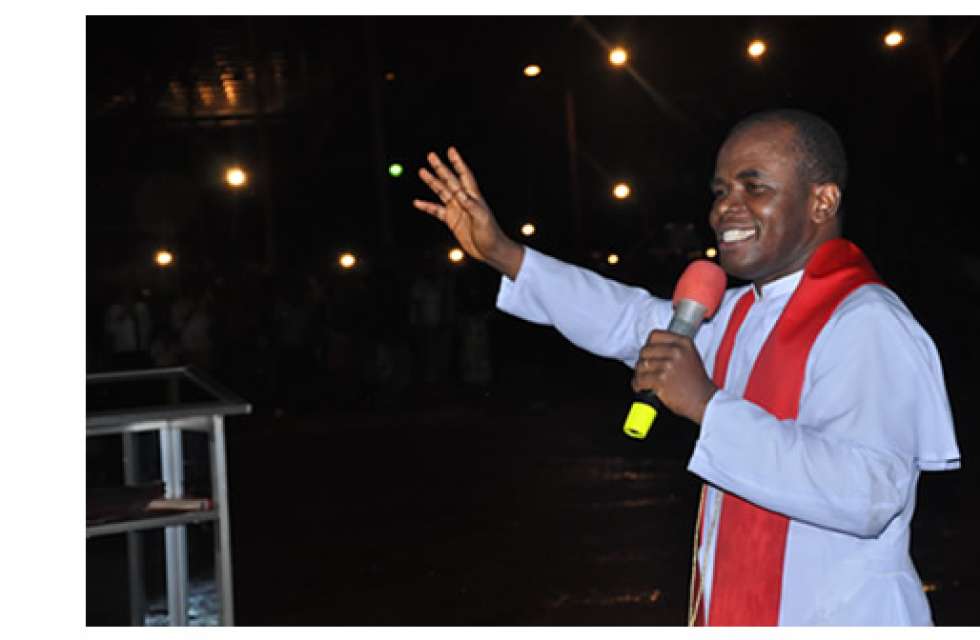 By Ogbonna Casmir
The Spiritual Director of Adoration Ministry, Emene (AMEN), Enugu,
Rev. Fr. Ejike Mbaka, yesterday advice legal practitioners in Nigeria
to have fear of God, eschew corruption and enthrone professionalism in
the discharge of their duties.
Fr. Mbaka spoke during the Holy Mass organized to inaugurate the
2016/2017 Legal Year of the Enugu State Judiciary held at his
ministry, also counseled the younger practitioners to imbibe the ethic
of hardwork and discipline that would enable them to rise to the
zenith of their career, praying that the new session will usher in a
turnaround in their career.
The cleric who described the legal year as 'year of favour' said the
nation's economy has multiple solutions to the economic recession,
urging the federal government to be more creative and look inward to
find ways of diversifying the economic to create jobs and empower the
youths.
The Catholic priest who used the moment to extol the performance of
the state Governor, Ifeanyi Ugwuanyi Gods doing, described his
leadership as commendable.
Fr. Mbaka also noted that it's instructive that Ugwuanyi's
administration has enthroned peace across the state and united diverse
political interests, urging the people to "continue to support his
administration because it has been anointed by God".
He noted that the governor's leadership style has fostered development
especially in this period of recession, praying God to grant him the
grace to expand infrastructural growth to suburban communities to link
up such areas with the urban centres.
Delivering an address to mark the legal, Acting Chief Judge of Enugu
State, Justice Priscilla Emehelu commending Gov. Ifeanyi Ugwuanyi for
helping the judiciary in the dispensation of justice in Enugu State.
Emehelu said that cordial relationship exists between the bench and
the executive under Gov. Ugwuanyi whom, she said, acknowledges the
independence of the judiciary.
She said that he makes himself accessible as well as gives rapid
response to the needs of the judiciary such as the provision of
residential quarters and vehicles for judges appointed recently, the
release of funds for the purchase of generating sets for the judiciary
headquarters, Enugu as well the provision of a 2016 Model Land Cruiser
Prado Jeep as official car for the President of Customary Court of
Appeal.
Other dignitaries who graced the event include, the acting Chief Judge
of Enugu State, Justice Priscilla Emehelu; the President of Enugu
State Customary Court of Appeal, Hon. Justice George Nnamani; the
former Chief Judge of Enugu State, Justice Innocent Umezulike; the
Attorney General/Commissioner for Justice, Enugu State, Hon. Mellitus
Eze, as well as several other judges and judicial officers.